In partnership with The Broad: In anticipation of its opening, The Broad has launched "The Un-Private Collection," a talk series featuring unexpected pairings of cultural leaders and influential artists in the Broad collections, taking place at venues around Los Angeles.
There is a Zen koan in which the Buddha sees one of his disciples Manjushri standing outside the gate and asks, "Manjushri, why don't you enter?" The disciple responds, "I don't see myself as outside the gate. Why enter?"
In Buddhist thought, reality is not absolute, but is something fluid and shifting depending on one's point of view. So a work of Zen calligraphy, for example, can be both a masterpiece of spontaneous brushwork to one person and a collection of scribbles to another. In secular art, a pile of bricks can be both an inspired sculpture and, well, a pile of bricks. In architecture, the Japanese verandah, or engawa, is at once inside and outside, an in-between space of great energy and potential. In the Buddhist world, reality is subjective. There are no either-ors, and there is no gate.
This is the reality inhabited by Japanese artist Takashi Murakami. According to writer and cultural commentator Pico Iyer, who has for years explored the borders, passageways and gateways between worlds, "Japan is a culture of both-and," and "Murakami is the consummate artist of this both-and sensibility in its post-war form," blending together high and popular culture, East and West, art and business. At the MOCA Geffen's 2007 retrospective, paintings of Buddhist sages and his spectacular silver "Oval Buddha" sculpture shared gallery space with hyper-erotic figures of naked young anime girls with huge breasts and boys ejaculating swirling jets of semen, as well as a Louis Vuitton store daringly positioned at the heart of the exhibition. Though many museum goers were outraged, this juxtaposition would have probably elicited a knowing smile from Zen Buddhist. Murakami's various controversial approaches beg questions. Is he Japanese or has he been Westernized? Is he embracing or rejecting his own culture? Is he an artist or a merchandise-maker? Is he sweet or subversive? Is he pop or is he deep? The answer is "both-and."
Murakami earned a PhD in Nihonga-style modern Japanese painting, but is also a life-long fan of Japanese anime, coining the term "superflat" to refer to the two-dimensional painting style found in traditional Japanese art and continued in manga and anime. Just as Japanese manga and anime are often vehicles for dark subject matter, Murakami's paintings contain multiple messages in their meticulous detail. In "Hustle Punch by Kaikai and Kiki," recently purchased by Los Angeles art collectors Eli and Edythe Broad, smiling flowers, bunny creatures and cheerful colors lure us like bees to the canvas. But peering closer, we spot fangs, frowns and strong sense of discord lurking just a petal-thin layer beneath the surface. His DOB paintings and sculptures, in which a Mickey Mouse-like character DOB explores fantastic realms like mushroom forests. The figure is Murakami's alter-ego, and these works allude to Murakami's own artistic and spiritual explorations. Murakami has said, "an artist is a necromancer...someone who understands the border between this world and that one." In these works, which are both sweet and sinister, we sense that Murakami has passed between worlds and now resides somewhere in between, creating work that offers us multiple perspectives on life.
It is perhaps this both-and aspect of Murakami that makes him so appealing in Southern California, where residents can be simultaneously from several different cultures, drive from Caltech to Disneyland within an hour, wear skimpy shorts with Ugg boots -- all symptoms of a "both-and" culture. He has certainly won the attention and respect of the Broads, who clearly see him as a "vanguard innovator," an important criterion for a place in their important collection of post-war and contemporary art. In a few years, they have purchased nine major works by Murakami, several of which will be on view in their new Broad Museum when it opens in Los Angeles in 2015.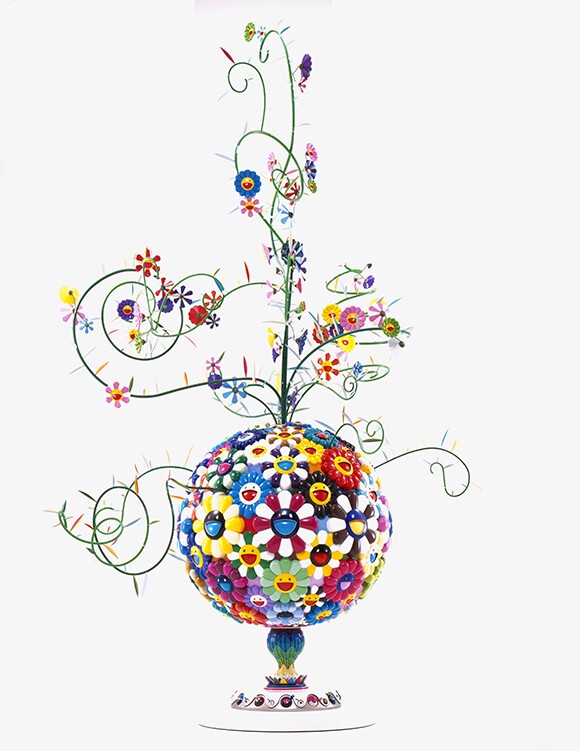 For their collection catalog the Broads made the inspired choice of Pico Iyer to write about Murakami. Iyer, who is officially a resident of Santa Barbara, was born to Indian parents, educated in England and has spent the last 27 years living in Japan and traveling to almost every corner of the world. As well as sharing Murakami's ability to inhabit multiple realms, he also perceives a growing affinity between Japan and California, which helps explain why Murakami's work resonates so much with people here. "I've always loved the fact that the Far East and the Far West seem to be drawing ever closer together," he recently explained to me, "to the point where it's ever harder to tell (as in the work of Takashi Murakami, or the novelist Haruki Murakami) where Japan ends and California begins." But this is not something to worry about. Instead, Iyer believes, "so much of the energy in the world now seems to take place in the space between, the passageways (and convergences) between cultures -- and of course Japan is the spiritual home of the idea that the empty space is the home of energy and power."
If we take time to contemplate the words of Iyer and the images of Murakami, two of the most insightful cultural commentators today, the conundrum of Manjusri at the gate becomes clearer, the gate begins to melt away, and we find ourselves in a far more comfortable place.
The Broad Museum will present Pico Iyer in Conversation with Takashi Murakami as part of its Un-Private Collection Talk Series on Thursday May 29, 2014 at the Orpheum Theater, Los Angeles.
Asian Accents: This article is part of an ongoing series that explores the diverse range of artistic influences from Asia in the arts and culture of Southern California.
Dig this story? Sign up for our newsletter to get unique arts & culture stories and videos from across Southern California in your inbox. Also, follow Artbound on Facebook, Twitter, and Youtube