Vireo, the groundbreaking made-for-TV opera, is now available for streaming. Watch the 12 full episodes and dive into the world of Vireo through librettos, essays and production notes. Find more bonus content on KCET.org and LinkTV.org.
There aren't too many lyric baritones who can not only sing in a number of Philip Glass operas and work with Björk, but also assume the guise of Desi Arnaz, the late Cuban bandleader and husband of Lucille Ball, not to mention lead the New Xavier Cugat Orchestra.
Oh: Then there's the notion that Gregory Purnhagen has also mastered the art of Tibetan throat singing. Talk about niche music! Seriously, this talented Manhattan-based performer, at 56, continues to be at the top of his game. Growing up in a middle class Italian-American family, Purnhagen, is also the picture of diversity.
"My father's name is Dutch and my mother was Italian-American, but I was adopted and knew that I was part Cuban, so Gomez is my birth father's real family name. When I reunited with my birth mom, and I was working on 'Babalu-cy! – The Art of Desi Arnaz,' I kept having to explain 'Purnhagen,' so I go by Greg Gomez for [both] that and the Cugat show."
Purnhagen said he didn't have any role models growing up, but that he was a huge "I Love Lucy" fan. And with the show on in thrice-daily re-runs, he became enamored of the zany redhead and her crooner husband.
"My friends would call me Ricky Ricardo [Arnaz's TV name]. At that point," he recalled, "Latino music and the celebrity culture hadn't burgeoned yet, but I was trying to find my inner Desi, and looked to him to supply some points of reference for being a Latino. That was what set me off on doing the show. I decided I would emulate him."
Purnhagen said he was always musical. He started playing piano by ear when he was four before starting formal lessons. "I also picked up clarinet in public school and stopped singing when my voice changed."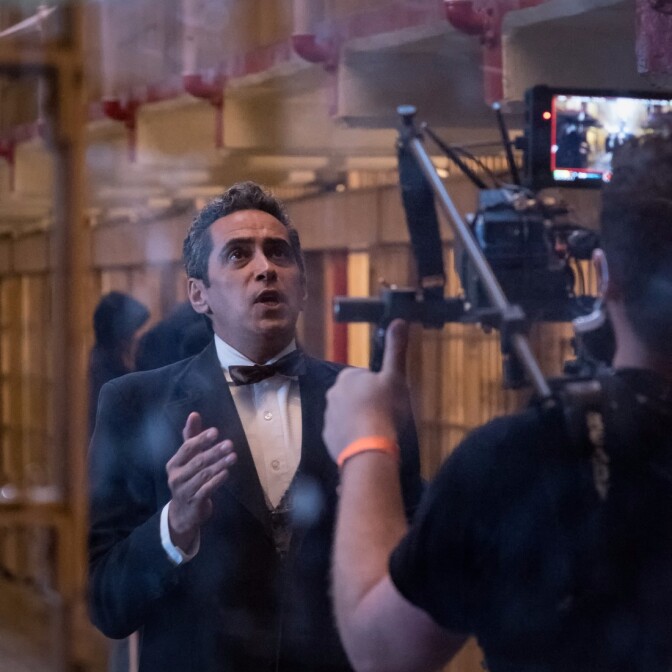 Fortunately, after hitting puberty, Purnhagen was able to not only find his inner Desi, but also cultivate a voice that is in much demand. His "Babalu-cy!" debuted at New York's Metropolitan Room in 2007, won a Backstage Bistro Award in 2008 and went on to an Off-Broadway run, while a 2010 presentation of the show at Hofstra University brought him to the attention of Bob Kasha and Ada Cavallo, the husband and wife team that took over the Xavier Cugat Orchestra after its bandleader retired. Shortly thereafter, Purnhagen became the bandleader, his voice and moves the epitome of Latin sizzle.
With 13 musicians, plus Purhagen and the dance team, the Cugat show, which features an homage to Arnaz as part of its 90-minutes, has been performed off and on for the past six years, including enjoying successful runs in Florida. It will also be seen at the Montreal Jazz Festival in July.
"Latin music has always been hip," said Purnhagen. "It's got the beat and the tunes are still catchy. They get people bopping in their seats. One great thing about the story," he added, "is that Desi was discovered by Cugat in 1937, so 70 years later, I'm playing Desi and the people who were playing Cugat's music discovered me."
For those unfamiliar with Arnaz, his signature tune – performed with a large conga drum – was "Babalú." Written by Margarita Lecuona, the song title is a reference to the Santería deity, Babalú-Ayé, a voodoo god. By the time Arnaz had adopted the song, it had become a Latin American music standard, associated mainly with Cuban singer Miguelito Valdés – and Xavier Cugat - who recorded one of its many versions.
But it was Arnaz who made the song a pop cultural phenomenon in the States.
"It's an Afro-Cuban song that's basically about somebody who's making a sacrifice in the woods or jungle at night to make sure his woman stays with him. And also to be wealthy and lucky! I tell the story of how the song was so associated with Desi – he added the conga – that in the show I say half-jokingly, I assume he was born singing 'Babalú,'" explained Purnhagen.
​Purnhagen's relationship with Philip Glass is also a felicitous one, with the baritone having sung an array of roles in a number of touring productions, including "La Belle et la Bête," "Galileo Galilei," "Einstein on the Beach," and "Monsters of Grace."
Purnhagen recalled auditioning for "Einstein" in 1992, for both stage director Robert Wilson and composer/conductor Michael Riesman, the latter also being the music director of the Philip Glass Ensemble.
"I was cast in that," recalled Purnhagen, "and while we were doing 'Einstein,' Philip was also doing 'Hydrogen Jukebox,' and decided to re-do it for six of us altogether. That was in '93 and that's when Philip got to know my voice.
"We were recording a piece, 'Father's Death Blues,' that starts with a simple line and keeps piling on singers until there are all six of us, and then it's whittled back down," continued Purnhagen. "The last thing is that I sing the phrase myself. The day I was recording it, Philip came to the studio and I'm in the booth, singing a capella by myself, and he was happy with what I was doing."
From that, Purnhagen pointed out, Glass had him in mind when he was casting "La Belle et la Bête," and the baritone toured with the production to Europe, Japan and the States, beginning in 1994. And now, nearly 25 years later, Purnhagen will be singing in that very same Glass piece at the Theatre at Ace Hotel, October 28, 29 and 31, as part of Los Angeles Opera's 2017-18 season.
"Philip and I have been on the road for a long time, and I have had him over for dinner," said Purnhagen. "It's always a pleasure to see him and it's always an honor to work for him. His is a strong art [form], that doesn't invoke a middling response. And it's great to see that he's still pushing the parameters within his signature style - that it's not just the same old, same old with him, but new musical events are always happening."
As they are – or were - with Purnhagen, who just happened to have studied Tibetan throat singing (also known as overtone chanting or harmonic singing.) He made use of this skill in Glass' "Songs of Milarepa," a work set to the poems of one of Tibet's most famous saints and poets, Milarepa,who lived from 1052 to1135.
Originally premiered in 1997 in Perugia, Italy, for orchestra and baritone (sans Purnhagen), "Songs" weaves throat singing into the texture of the music and was developed for string quartet and baritone, with Purnhagen singing in last year's iteration, a benefit for Tibet House in New York.
As everything seems to be connected, especially in the world of classical music, learning to throat sing was also where Purnhagen met Lisa Bielawa, the composer of "Vireo: The Spiritual Biography of a Witch's Accuser."
"I met Lisa right before she got the gig as a soprano soloist in the Glass Ensemble. It was the fall of '91 and we hit it off immediately in this eclectic avant-garde quartet," he recalled. "Toby Twining was the composer and we were yodeling, overtone singing, percussive clicking with the tongue and Tibetan throat singing."
Purnhagen said that since that meeting, he and Bielawa have worked on a number of new music projects together, and that when she started composing, "Vireo," she'd asked him to do some workshop presentations to get it "up on its feet."
"Vireo," is a made-for-TV-and-online opera that considers the usage of "female hysteria" throughout the decades. With a libretto by Erik Ehn and directed by Charles Otte, the work is unprecedented in that it was created expressly in a dozen, 10-to-15-minute episodes for release online and on television.
In addition to Bielawa and crew, John Spiak, the director and chief curator of Cal State Fullerton's Grand Central Art Center, was also instrumental in bringing "Vireo" to life. Purnhagen, who is in 10 of the 12 episodes, reprises his role as the Doctor, recalling that he also sang some of the earlier versions of that role in the work that had been taking shape for more than 20 years.
"I play different versions of the male patriarchy," he explained, "and when Lisa connected with John Spiak, and knew this was going to happen, we met for lunch and she asked me if I wanted to do this. I joined the company and was thrilled to be part of it."
All twelve episodes of "Vireo" will be released online May 31, with a broadcast premiere on June 13. Having performed in a number of traditional operas, Purnhagen noted that "Vireo" was, in every sense of the word, a filmed opera, and not merely a televised broadcast of an opera, something the Metropolitan Opera does on a weekly basis during its season.
"The wonderful thing that was so interesting and rewarding," said Purnhagen, "is that we were staged with no audience and no fourth wall. You were so immersed in the action that you didn't have to think about any of that. Sometimes the camera was behind you, sometimes on the side – the way it's done in a movie with different set-ups, like a medium shot or reversals, when cameras face the other characters.
"In terms of performing it, you felt like you were going into the world of the story. We did re-takes, but everything was recorded live. They broke down the scenes with blocking, and at the end of the day, we would go straight through, as seamlessly as possible."
Purnhagen obviously loves singing, and singing – in its many guises, including his "amazing" experience working with Björk on her album "Medúlla" - has also been good to him. Getting most of his classical jobs from word-of-mouth, Purnhagen also intends to keep the music of Cugat and Arnaz alive. And he's always happy to do more Glass.
"I love performing "La Belle et la Bête," he enthused. "In the history of the piece, I've only missed two single performances. Michael Riesman and I have yet to figure out how many we've done. It's wonderful to know a piece so intimately," added Purnhagen, "and yet over time, things change. You change as a human, you change as a performer, and bring something different to each performance."
Top Image: "Vireo" | David Soderlund