Artbound's season seven debut episode explores Afrofuturism and contemporary Black art. Catch the premiere Tuesday, November 17 on KCET and nationwide on Monday, November 23 via Link TV.
Tisa Bryant's work defies time. As a critical studies faculty member at Cal Arts in Valencia, Bryant's work and pedagogy center around the fluidity of time, space and the meaning of race. Noted for her book, "Unexplained Presence," Bryant can be counted among the Southern California creatives who are influenced by Afrofuturism, though she might not readily define herself in that way. Traditionally, Afrofuturism has been defined as the intersection of blackness and technology as found in works of literature, particularly science fiction. But as the concept continues to take shape, more artists, musicians and writers are integrating the notion that Afrofuturism, as Chardine Taylor-Stone writes in the Guardian, also goes beyond spaceships, androids and aliens, and encompasses African mythology and cosmology with an aim to connect those from across the Black diaspora to their forgotten African ancestry." It is the genre-bending writings of Bryant which embody just this notion of connecting the African diasporic past with both its present and its future.
A lady of fashion with her indispensable accessories: a huge wig, a lap dog, and an ornately-dressed young black page. An illustration of 1771 in "Drolleries." | Image: Dartmouth College Library.
Within Bryant's 2007 text, "Unexplained Presence," she explores the presence of Black subjects in the background of noted artistic and literary pieces. She says she's drawn to the "little change in how Black people are regarded [in texts]: lazy, immoral, etc." She also focuses within her work on the muted nature of Black images in the history of European art. An example is S.H. Grimm's 1771 "Drolleries" with the caption, "Heyday! Is this my DAUGHER ANNE." Within this illustration, a well-dressed lady with a sky-high wig capped with a hat meets her mother followed by a Black footman carrying a small dog.
In "Unexplained Presence" she writes:
An old woman in a humble cloak stops, thunderstruck, at the sight of a euphemisitic "lady of fashion," emerging from an avenue of lindens. Behind her trails a black page in ornate suiting, a plumed turban on his head, her lapdog tucked in his arms. He, too, is the mark of fashion among such of the period, who promoted their charms within sight of the well-heeled. The lady's hair is teased to an exaggerated height that rises into the trees. At the summit of her coiffure sits a ribboned hat. The old woman must lean back and scope with her hand cupped around her eye in order to take it all in. Her wrinkled hand reaches for her heart in dismay. Her mouth drops open. "Heyday!" reads the caption. "Is this my daughter Anne?"
Historically, Bryant asserts, scholars considered Black subjects in the backgrounds of European images as insignificant. "The history of being seen in the background has [had] a psychic effect on the Black community," she says. Her book grants a voice to the allegedly unexplained presence of blackness in European art and moves the subjects into the foreground of academic exchange and discourse. Bryant says she's interested in offering "a direct challenge to white supremacy's ongoing project."
Citing the writings of Toni Morrison, Bryant concurs that in images, "Black or colored people are markers for the benevolent and the wicked; the spiritual and the voluptuous; of 'sinful' but delicious sensuality coupled with demands for purity and restraint." In other words, Bryant reaches into the past to give voice to subjects who are historically silent but significant too. These historic Black images stood as an almost subconscious marker of darkness to highlight the main image's whiteness. Her work asserts that these images do not simply need a voice but that the African diasporic community needs to be acknowledged as greater than a backdrop used to accentuate the three-dimensionality of whiteness found in art.
Beyond interrogating the history of blackness set in predominately white frames, Bryant also connects her use of hybrid writing with centuries-old literary expressions predating genre. Bryant says the construction of literary genres, such as fiction, non-fiction, poetry, oratory, established themselves around the 17th century. Not until the corporatization of literature were authors confined by a set literary style. Instead, historical writings incorporated a variety of genres with the aim of communicating an emotion or idea, and not merely to satisfy a style. Within her own hybrid publications, Bryant echoes nearly forgotten Black voices like that of Hannah Crafts author of "The Bondwoman's Narrative" believed to have been written between 1853 and 1861. Using a variety of literary styles, Crafts constructed the tale of a fair-skinned enslaved woman who ultimately wins her freedom. Such publications serve as crucial for Bryant as she establishes the heritage of the Black arts as the future of Black diasporic expression; in essence, she says she sees "[going] back to African culture and tradition, as futuristic."
Bryant's philosophy of writing is fascinating in the way that it anchors in Black artistic traditions while firmly remaining focused upon the future. In a sense, Bryant's ongoing access to past archives and imagery stands as a unique form of artistic time travel. By not confining her work to any moment on a linear timeline, Bryant simultaneously draws from a various literary tradition in order to construct a basically futuristic approach to research and writing. Bryant says her defiance of genre, time and location also allows her to "trust that there is an audience and trust [her] best impulses while writing."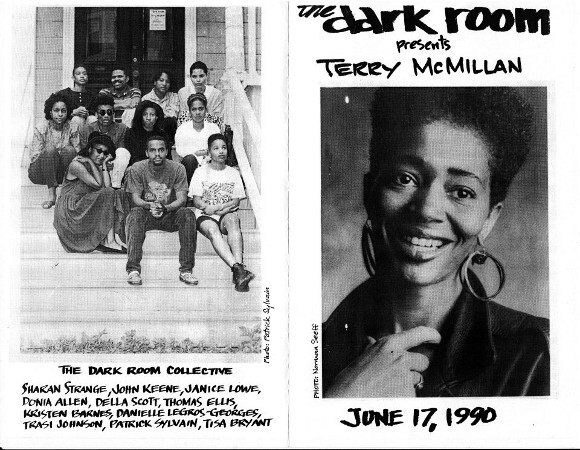 Her evolution as a Afrofuturist has its roots in her time as a member of Boston's esteemed Dark Room Collective. Founded after the death of James Baldwin, poets Sharan Strange and Thomas Sayers Ellis lamented that they resided nearly in the shadow of Baldwin and never shared space with him as artists. As a result, they constructed a literary collective in a three-story Victorian house in Cambridge, Massachusetts. Within this collective, aspiring Black poets and writers gathered to read their work aloud and receive tutelage from a variety of Black literary greats plucked from behind the podiums of Harvard, MIT and other nearby illustrious institutions. The motto "Never let our living legacies get away," drove the Dark Room Collective. Bryant says during her time there, she met writers including Samuel Delany, Ntozake Shange, and Toni Cade Bambara. She says it was as the most impactful education she could have received (even after graduating from Brown). Once again, it was her connection with tradition that fueled her efforts in literary innovation.
Bryant's work as a hybrid writer, "resurrector" of voiceless archives and literary time traveler centers her firmly within the ever-expanding world of Afrofuturism. Her ongoing search for connection of traditional literary styles with assertions of modernity reflects what she asserts as the broader Afrofuturistc movement's marriage of "technology, liberation and innovation." Just as the early 20th century masters like Pablo Picasso and Henri Matisse harkened back to African design, architecture, and art for inspiration and went on to birth modern art as a result of that inspiration, Bryant's work reminds audiences, in her words, that the "work of the Black diaspora is always the future."
Tisa Bryant Reading at Small Press Traffic 05-06-1
---
Related:
Erin Christovale: Creating Narratives With Black Experimental Film
Archivist and curator Erin Christovale addresses the artistic traditions of Black California, her "Black Radical Imagination" film project and the importance of claiming blackness today.
---
Dig this story? Sign up for our newsletter to get unique arts & culture stories and videos from across Southern California in your inbox. Also, follow Artbound on Facebook, Twitter, and Youtube.