San Diego's Balboa Park is thick with museums, but it has only one venue whose primary focus is contemporary art: the San Diego Art Institute (SDAI). It has been in Balboa Park since 1941, with a brief interlude in Mission Valley and Little Italy in the 1990s, and has occupied its current space in the House of Charm since 1996.
But while it has enjoyed prime space in one of San Diego's most heavily trafficked destinations, it has been obscure in the contemporary art landscape, locally and beyond. Its emphasis has been on juried and solo exhibitions for member artists. Paying a fee earned one the right to show and do so frequently. The exhibitions became predictable and the public for art didn't see it as any kind of cultural barometer. Nor did artists.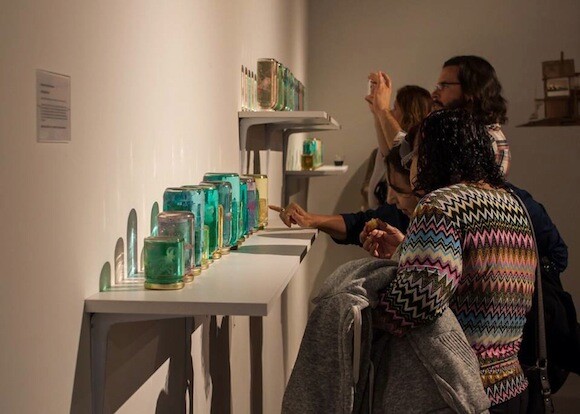 You could say it was the institutional equivalent of Rip Van Winkle. And the new director, Ginger Shulick Porcella, 33, has been the one to shake it out of hibernation and awaken it to the notion of becoming a municipal gallery.
After earning a B.A. in Art History from DePaul University and an M.A. in Socio-Cultural Anthropology at Columbia University, Porcella pursued a career as a curator, arts administrator and advocate in New York. She co-founded an arts consulting organization, Big Deal Arts Advisory, and served most recently as executive director of Art Connects, a non-profit that links artists to social service agencies to create exhibitions and works for their spaces.
Her husband, artist Don Porcella, earned his B.A. in Psychology at UCSD before going on to earn his BFA and MFA in painting and drawing elsewhere. For her, though, San Diego was entirely new territory when she started work here in March 2014. The first task, as she saw it, was to understand how the community felt about the SDAI.
"I asked people a few simple questions about the Art Institute and one of them was: 'What did it do well?' Generally, people answered: 'Not very much.'"
She also felt heartened to learn, as she posed questions, that "what the community wanted was mirrored in what I wanted."
And what she wanted to do, she explained, "was to bring fragments of the art community together."
A year and half later, she has earned the attention of highly regarded, established artists who never paid attention to the SDAI before. And the SDAI has also become a magnet for emerging San Diego artists too, as recent exhibitions have demonstrated.
Among these longstanding notables is Raul Guerrero, whose 27-foot long painting is featured in an installation called "The Art Gallery" (through December 2016). Others like Robin Bright and Shauna Peck are included in a wide ranging exhibition devoted to uses of the world in art, "(Con)text: Rethinking Language In Art" (through August 23). (Also on view through August 23: a solo show devoted to longtime SDAI member Judith Parenio.)
Guerrero's comments are indicative of the reversal in perceptions about the SDAI.
"Since her tenure as director," he said, "Porcella and the board have transformed the SDAI into a relevant venue for exhibiting contemporary avant-garde art made in this city and exhibiting there is my way of showing support for their endeavors. And the venue is located in San Diego's cultural vortex, Balboa Park, which I feel gives it greater legitimacy."
Peck, who has two new works in "(Con)text," commented, "Ginger made a studio visit out of pure interest to look at my new work. We had not had any interaction up to that point. I found her to be engaged and thoughtful in regard to new ideas. She certainly seemed to have a grasp and respect for history, as well as a strong desire to reflect and participate in a contemporary dialogue. Her background lends credibility to her understanding of history and her vision for the SDAI."
Not everyone is happy about the widespread changes at the Art Institute. The former board president Joseph Nalven, who initially supported her appointment, has been leading a charge to have her removed. His argument and that of fellow dissenters, as presented in a letter to the board, can be summed up in this way: the work being shown does not represent the artists' membership well enough. But that would mean turning back organizational reforms and going back to the old membership structure, which appears doubtful at this point.
Porcella is somewhat perplexed by the resistance to her innovations. She feels as if she has become a champion of San Diego artists.
"Great art is being made here and I hope these artists will stay in the area," Porcella added. "I want people to be proud of this place and not feel as if they live in the shadow of L.A. We want to help them make work, and make money. We aim to be an incubator for artists and want to be in a position to commission work."
This vision is already reflected in the programming of the SDAI. The website encourages artists to seek three month residencies with studio space provided. Nina Preisendorfer, a recent graduate of UCSD's MFA program in art and a current artist in residence, has a prominent installation of panels in the current exhibition. Other educational workshops include one to succeed at crafting proposals for grants, fellowships and residencies.
It will be the 75th anniversary of the organization in 2016. (Actually, it began as the San Diego Business Men's Art Club in 1941 and nine years later became the SDAI.) Porcella sees this moment in its history as a great opportunity to fundraise more effectively and given the current enthusiasm in the local art world for the SDAI, she just might be right.
---
Dig this story? Sign up for our newsletter to get unique arts & culture stories and videos from across Southern California in your inbox. Also, follow Artbound on Facebook, Twitter, and Youtube.