Artist Yevgeniya Mikhailik creates artwork that flows through phases of obsession -- space kitties, singing foxes, crystal like specimens, maps and places -- and her signature style pairs whimsy with delicate and innovative imagination, creating places and creatures that almost make magic seem real. Mikhailik recently took on a major curatorial position with the city of Irvine as the Art Exhibition and Education Specialist at Irvine Fine Arts Center, where she gets to explore and play with exhibitions, installations and giving other worthy artists great exposure. But, the Russian-American artist creates whole worlds with her hands, and chases the objects and places she creates with pure fascination and adoration. "I'm really interested in the idea of place and how we relate to places," Mikhailik says, "and I feel like this sort of presentation kind of makes the object or place kind of precious."
A curator by day and an artist by night, Mikhailik's art studio, in the historic Santora Building in downtown Santa Ana, is impeccably decorated and adorned with intention and whimsy. Her commercial line of cards and stationary keeps her happy expressing her cute and kitschy side, but her fine art stands out in thoughtful, sublime contrast. Mikhailik is one of the most exhibited young artists in Orange County.
Mikhailik's background is in illustration and she used to make fairy tale-like narratives involving forest woodland creatures having poetic adventures or sweet personal experiences. Though her style has evolved in recent years, her love for tiny animals and adventures hasn't gone away, only taking a backseat to her fondness exploration, process, and the concept of place. Today, her material works with her to create imaginary, often abstract works that focus her obsession with space, place and home.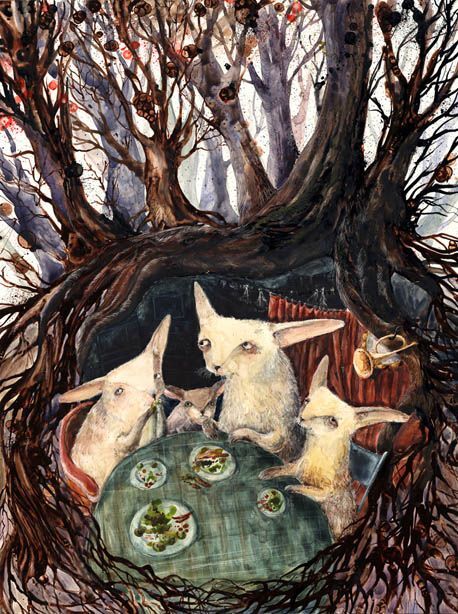 Originally from Tomsk, Russia, Mikhailik and her family emigrated to the United States through a citizenship lottery back when she was only 13. An outdated practice, the United States would invite different populations into the country for citizenship when things seemed unbalanced across cultures in our little melting pot of a country. The U.S. Embassy would put a call out for a chance to move to America, in a lottery. "My dad applied for us, and we forgot about it," Mikhailik says. "Then, about a year later, we got this packet in the mail saying 'Congratulations! You're going to America.' It was a totally surreal experience, with a ton of interviews we had to do and details we had to figure out, and a year later, we were here."
She moved around a lot, and has mixed feelings about her seemingly nomadic life. "It was hard," she said. "I moved when I was thirteen. Everything is hard when you're thirteen. But because of this experience and history, all throughout my life, now I'm easily adaptable. I think that helps with the downside of this process, but I also think it's kind of fascinating."
Her attraction to a sense of space, place or home stems from this lifelong history of moving and travel. But most of her family, including her parents and her brother are architects, only furthering the constant attention to place in her life and work. Growing up watching her parents and relatives create intricate drawings of buildings, places, homes and businesses inspired her to explore these concepts further through art. Compelled to study maps as a visual language accepted across many cultures, the transformation of a three-dimensional object into a two-dimensional visual description intrigues Mikhailik's creative brain. "The language of organizing that information is interesting to me," she explains. "How in charts and diagrams, it's all very abstract information that we find a way to present."
"I think the whole idea of maps and how it's a completely flat representation of this physical landscape is interesting. And, you know, I've never been to Yuma, but if it was my hometown, this map of Yuma would be a really precious thing to me."
Mikhailik's landscapes aren't like any landscape on our earthly plain, though. She admits that she has a tendency to get attached to places where she spends a lot of time, and even feels emotionally attached to her imagined places as she creates them. "Some of these places I am painting, they're not necessarily real or from memory even, but they feel like beings. There's a psychological attachment to a place I'm kind of trying to put on canvas."
Her studio, housed inside of the artist's space Mutual Aid in the basement of the Santora, is shared with a handful of other artists, often rotating and changing, halfway serving as a gallery for the artists, and halfway as a clubhouse and art studio. They open their doors for Santa Ana's art walk, and engage with each other about process, options, and ideas on other nights.
Working with such delicate materials, like watercolor paint, graphite and ink on clay board help keep Mikhailik's work seem gentle in its visual style, and also forces the collectors to be aware and mindful of their art piece. "They're really fragile and tender," she says, "and I feel like having them so exposed and vulnerable kind of adds to the piece a little bit more."
Some pieces, she creates as if they were portraits of a person, lovingly cared for, delicately rendered, examined and represented. Others are map-like windows, halfway between two-dimensional flatness and three-dimensional explorations. Mountains that look like geodes, single rocks that have hundreds of detailed cracks and crinkles, unique and personal attributes, delicate and thorough.
Mikhailik's world is one of beauty and seemingly effortless detail, with only a few visitors ever. An occasional astronaut kitty or albino snake may come to grace her illustrative world, but these creations feel inhabited, if not by any person or creature, then by her love and excitement, as if she is exploring them herself, as she is creating them.
New work by Yevgeniya will be on view at the inaugural opening of RAWsalt, at Salt Fine Art in Laguna Beach, opening April 25, 2015.
---
Dig this story? Sign up for our newsletter to get unique arts & culture stories and videos from across Southern California in your inbox. Also, follow Artbound on Facebook, Twitter, and Youtube.