It is no exaggeration to say that in the space of only a few months, the whole world has been upturned, re-arranged into an unrecognizable shape and form. A worldwide pandemic — the stuff of sci-fi thriller films — has kept families, friends and communities apart. But for some, that unjust exclusion and separation from a mainstream community have been happening long before this pandemic ever began. Perhaps it is only now, in the wake of protests and unrest has the nation started to see the injustice that has insidiously become integral to the bedrock of our current society.
The inequities that have only been revealed to most are not new, and it is not without victims. In fact, for many, it is a matter of life and death. As New York Times graphics editor and opinion writer Gus Wezerek so aptly illustrates in his op-ed piece last March, "If Black people were immune to the coronavirus, their mortality rate in 2020 would still probably surpass white people's." As long as the data has been available (as far back as 1900), the gap between Black deaths and white has existed, it points out.
This season, "Artbound" explores how communities have fought to survive, to stay resilient by creating the art forms, forums and spaces they need to band together as communities, combat erasure and unapologetically express themselves. In the process, they're redefining what it means to be an artist and their role in society.
In "The New West Coast Sound: An L.A. Jazz Legacy," the season's second episode, we wade into the world of drummer Mekala Session, who grew up among jazz legends in the Leimert Park community. "Hollywood is the throbbing, beating heart of commercial entertainment for the world, but you know South Central is the soul, baby. That's where the love is, the hate is, That's where the fear is, the courage is. That is what you're hearing," says Session in the episode. It isn't easy listening by any means, but it is music that carries with it gravitas because of the intentions behind it.
On Session's young shoulders rests the heavy mantle of leadership for Pan Afrikan Peoples Arkestra, which legendary jazzman Horace Tapscott founded in 1961. Session has big shoes to fill; the Ark's founder was a man whose music and perspective has shaped lives, and his influence has reverberated through the decades. "Tapscott and his Ark is the source of so many movements that continue to this day. In addition to his incredible music, Tapscott's status is further bolstered by his integrity and how he lived his life," writes Mike Sonksen, "Though the man was an enormous talent on piano, early in his career, he decided that leading a community orchestra was a bigger priority than his solo success."
Instead of chasing success, Tapscott found in music a way to keep people together. The Ark's outlook is inspired by the Central Avenue Jazz scene, where high-caliber musicians not only played at the clubs but city parks and everyday settings. Those jazz greats weren't reverential figures; they were extended family: the kind that would pick you up and take you to rehearsals, Tapscott recalls in his autobiography "Songs of the Unsung."
Such community spirit is what animates the Ark, even today when a new generation of voices like Mekala Session, Jamael Dean and Jimetta Rose are lifting their voices and instruments in song. L.A. Commons founder Karen Mack may have been describing Leimert Park's Day of Ancestors: Festival of Masks when she said, "I think what in some ways distinguishes African and African American culture from other ways of being is this finding the joy, finding the laughter while we're in tears. That duality has always been there," but her words easily resonate as we see Session leading rehearsals in garages, foraging for sheet music from his elders, and bringing together multi-generational band members (including his father) to one stage.
Tapscott wasn't alone in his views. In neighboring Watts, beneath the shadow of its famed towers, Noah Purifoy would sharpen his philosophy of what constitutes a community artist. "I had a beret and all. I ate cheese and drank wine, but I wasn't an artist yet until Watts. That made me an artist," Purifoy would later say in his oral history.
Watts, like other sections of segregated Los Angeles, became a place where people were pushed into. "As you have the opportunity to try to live the American dream and allegedly move up no matter what your racial background, the housing becomes available to the next group that's trying to move. The difference is for African Americans, as we desegregated, what got left behind was the poorest of us, those least able to move," said cultural leader Charmain Jefferson in "The Watts Towers Arts Center," the season's fourth episode. "What that does is that it starts to leave areas like Watts, and Compton...abandoned, not because the industries have started to move away, but there was no desire, no interest to put resources into the Black community."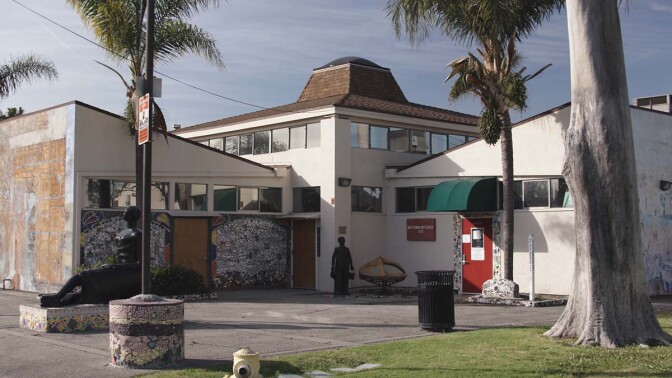 Left with meager resources, artists in L.A.'s Black communities found ways, entire forms of new expression, particularly in assemblage. As Mark Steven Greenfield, former director of the Watts Towers Art Center, says, "In most instances, these artists were working without a reference to any Western canons of art. They were working out of a sheer need to communicate something based on what they had to work with." Artists like Purifoy, Betye Saar, John Outterbridge, David Hammons all challenged what Art (with a capital A) could mean.
Rather than simply an art school, the Watts Towers Arts Center became a vital hub, where — absent mainstream support — cultural capital inherent in communities could be seen, appreciated, taken pride in, where alternative views and ideas could be explored. Such is the role of yesterday's spaces like Compton's Communicative Arts Academy, Mechanico Art Center in East Los Angeles. It still is the role of the Watts Towers Arts Center, Self-Help Graphics & Art, Vincent Price Art Museum and the like today.
Throughout history, the arts and culture have been used to give voice to difficult, unnameable things, to shine the light on the ignored, the invisible. In "Current:LA FOOD," the season's third episode, we see artists use Los Angeles parks, one of the city's most public spaces, as a platform to make visible these issues simmering beneath the surface, these unjust systems that society has all but shrugged its shoulders on. Affordable healthy food, homelessness, immigration: these are some of the deep-seated issues artists tackle in the city's recent triennial. Whether it means creating a "Stonehenge of Cheetos" or re-contextualizing a picnic with the marginalized in mind, artists have found ways to jog us out of our comfort zones, to help us see beyond ourselves.
In "Light & Space," the season's first episode, we see just how far artists have gone to give people a new way to see. This movement, which also saw its beginnings in the '60s, came at a time of great tumult perhaps for a reason. Art isn't just a way to encourage change in society; it also functions as a respite. As people grappled with the difficult things, they also needed a refuge, a place where they can remove themselves from the social world's noise and recalibrate. Devoid of identity, politic or agenda, the Light and Space movement provokes a more existential and phenomenological experience.
See a few minutes of "Artbound" Light & Space. Watch this preview.
Light & Space (Preview)
In this non-place that the Light and Space art movement sought to uncover, people would find themselves transported to a space where they can exist without the pressures of the material pressing in on them. Through lifetimes of work by Robert Irwin, Larry Bell and Helen Pashgian, we are given windows into true seeing, and we are also challenged to find new perspectives of what art can be and what we are capable of because of it.
Join us as we discover the many ways that art is an essential part of the human experience on "Artbound." Tune in with this episode guide.
Top Image: Light shimmers through a scrim showing through Robert Irwin's 'Dawn to Dusk,' 2016 at Chinati Foundation | Still from "Light & Space"