In a Chinatown gallery, more than 200 turkey platters congregate on a wall. Spanning 120 years of traditional porcelain, ceramic and earthware turkey platters, these platters cover the walls of the Red Pipe Gallery in Chinatown's gallery row, Chung King Road. Nestled next one another, the ceramics portray patriotic and nostalgic scenes, evoking the consumerist spirit of the holidays.
The hundreds of plates and platters were collected over 30 years by Helen Gleason. Her son, Mat Gleason curates the exhibit, and owns and operates another local art gallery space, Coagula Curatorial in Chinatown. Helen and her son Mat had been planning on doing an exhibit like this for years, but when a last minute opening showed up in the programming, both Gleasons decided to create the Turkey Platter Museum. Though most Thanksgiving themed decorations and collectibles tend to range between cliché and pedestrian, Helen's collection is impressive and tasteful -- a wide variety of plates, from the craftier, swap meet style platters to the high-end, antique British chinaware. The collection feels personally significant, not just kitschy and clever. "My mom has seven kids, and Thanksgiving was the only time every year where she could get a picture of all her kids together," Mat explains. "I know it was always an important holiday for her, more important than a lot of the others. Thanksgiving was all about her family, you know, the big important things to her, everyone being together. I guess it came from that."
Helen started her collection back in the 1980s and got really into researching and seeking out great turkey platters at home and when she traveled. She got one as a gift from her sister. "After she got two, forget it," Mat said. "Every time she went to a thrift store, garage sale, or swap meet; anything with turkeys, she would buy. Just for about 30 years, she's been picking them up wherever she would go."
The platters and plates that cover the walls in this gallery depict turkeys in styles that range from realism to expressionism, and represent a history of 120 years. The Turkey Platter Museum is a temporary exhibition, but caries an interesting mix of antique, one-of-a-kind pieces and contemporary mass-produced replicas.
With their economy struggling shortly after the Revolutionary War, the British began targeting America as a market by offering dinnerware depicting historical landmarks, the expansion of the West and patriotic scenes. English potters began producing turkey themed wares for the American market circa 1870, shortly after Abraham Lincoln declared the fourth Thursday of November to be the nation's federally official Thanksgiving Day in 1863. By the 1870s, America's growing middle class embraced the celebratory hungered to celebrate the occasion, and to do so with fine Thanksgiving china. Many companies response to the need was to create a series of elegant, crafty, or whole-heartedly American dinnerware patterns depicting the holiday's signature imagery and bird, the turkey.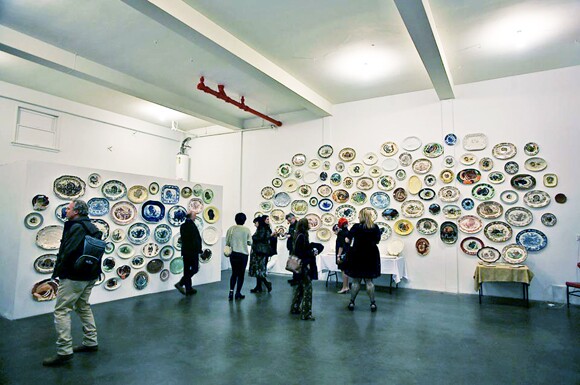 "Most of them were made to be wedding gifts, Mat explained. "When someone would get married, especially in the 30s, 40s, and 50s, they're going to obviously start a family--because that's why you got married back then--so you get them a turkey platter because they're going to be having their own thanksgiving. It was a big gift to give somebody."
The companies that produced the platters have very little documentation of the history of these holiday plates, but some of the more well-known creators include Wedgewood, Johnson Brothers, Enoch Wood, Masons, Churchill (modern), Spode, Staffordshire, Barker Brothers, and many more. With the lack in research and records, the collection of the plates and platters becomes a kind of treasure hunt, with excitement and history to be uncovered with every new addition. "There aren't really many known turkey platter artists," Mat said, "but there are certain kilns, from like 100 years ago or 80 years ago, from England--if you have a turkey platter from this kiln, which is marked on the back, that's a big deal, those are considered to be like the best, the ones that other people copied."
Ranging in price and size, Helen and Mat were able to determine what a lot of the platters were worth based on research, markings and information on the backs of many of these turkey themed dishes. The oldest platters in the collection dating back to the later 1890s. "Those are called the 'bleu floue,'" Mat said, "blurry blue in French, and there have been a number of people come in that were excited about those, people that know antiques well." Obviously, there are many that are kitschy, mass-produced replicas as well, but there are also quite a few that look original and distinctive in some way. "Some are hand-painted and seem like they may be unique, and that even though they might have been working with a stencil or some kind of style that any other versions of this might be somehow altered, especially the Italian ones, they seem to be very intricately hand-painted."
When removed from their function, the platters become something else: art objects.They are artifacts from everyday America, revealing who we are by the way we celebrate.
Turkey Platter Museum is open until January 4, 2015 in Chinatown's Red Pipe Gallery.
Dig this story? Sign up for our newsletter to get unique arts & culture stories and videos from across Southern California in your inbox. Also, follow Artbound on Facebook, Twitter, and Youtube.