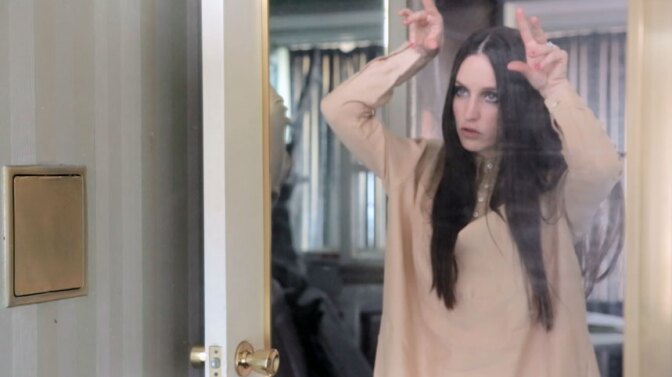 Inspiration can arrive at any moment. Mercedes Nasta knows this well. For those sudden instances when creativity strikes, the Mexico City-based actor, composer, painter, and performer keeps a microphone close by and plugs into her computer quickly to document a dream or poem before it escapes the memory.
Best known as a creative contributor and touring member of electronic rock group Disco Ruido, these days the multidisciplinarian is busy at work finishing her debut solo album "Basalto." Scheduled for release sometime this 2015, Nasta began teasing the record in 2013 with the online release of "Paricutín" -- a minimalist cumbia single. Then, with the debut of tracks "Petit Prince" and "Barragán," and accompanying videos, "Basalto" is showing a definite shift for the artist, from producing fast-electronic beats in favor of atmospheric latin rhythms.
"Border Blaster" recently caught up with Nasta to discuss her experimental cumbia sounds, the Mexican cultural and geographic landscape as muse, and how the other artistic mediums she practices make their way into her music.
Mercedes Nasta's abstract cumbias are inspired by nature, the beautifully raw and inspiring Mexico, and the dreams she documents religiously every morning.
Mercedes Nasta - Paricutín
Mercedes Nasta Q & A
You've been a frequent collaborator to electronic collective Disco Ruido. How long have you contributed to the band? How did that come about?
Mercedes Nasta: Disco Ruido were my favorite DJs in town back in 2007, and we eventually became friends. At the time, I had realize[d] my lifetime hobby of writing poetry could evolve into raps. They invited me to be their MC for the Disco Ruido live show during the 2008 MXBeat Festival. The first song I composed with them was "Mrs. Love" in 2009, which was a hit in the city. The songs I wrote during this period became the album "Sistema Solar," released in 2010. It was a thrill. In 2013 we went our separate ways to explore different rhythms. They recently released an album of collaborations called "Radiofutura" in which I sing a couple of songs.
Have you been part of any other musical ensembles/ projects?
I recently composed the music for Mexico City's aquarium and I DJ on special occasions.
Here in Southern California, there's a rising interest in the highly-rhythmic cumbia sub-genre [Sonidero], but your cumbia takes a different approach. Tell us about your sound. What inspired you to compose cumbia?
I love the sounds in vernacular cumbia, which are all present in my cumbia, but my approach was to extract the core elements of cumbia to make a more abstract, electronic, and spacey song. A song I could dance to in slow motion. Nature inspires me: the movement of the waves, birds flying, storms. Andres Landero, a Colombian musician considered the father of cumbia, is a big inspiration.
Your songs have been described as ethereal. Do dreams influence your musical compositions?
Yes they do. There is a fantastic expanding kingdom I go back to in my dreams. I write them all down every morning, so they continue to exist. I believe my music portrays the feeling of being suspended in time in a projected state of mind.
How long have you been painting? Does this visual artform inform your songwriting?
Ever since I was a child. Mexico is beautifully raw and inspiring. I grew up in a colonial city in central Mexico. The light is very special. The grand churches, the old walls, and the countryside affected my aesthetic sensibility from a young age. I think the process of mixing colors and forms together in order to build the diagram of a vision mirrors what happens in a song with words and music weaved as a whole.
You act as well. What was it like to be part of Diego de Haro's short "Bestial"?
"Bestial" is based on a true story of narco. I played a troubled woman in conflict with killing the man that killed his father, whom she has a story with. The thriller is set in a mystical forest outside Mexico City and in an abandoned house where the man kept exotic jaguars and an enormous snake. Diego is a very talented young director and it was beautifully photographed by Guillermo Garza whom I had previously worked with in the videos for Disco Ruido's "Morfeo" and "Amorfos." I felt very confident.
You released the video for "Paricutín" early last year. What's the concept behind it? We're you involved with choreographing the performance seen throughout?
It tells the story of three beautiful aliens that have been sent to Earth to experiment with the feeling of love. They receive clues from the spectrum of an alien, explore the area, make magic, and encounter three gorgeous trees who they fall in love with. I wrote the story and made the masks, but we were all involved in the different scenes. I choreographed some of the dances, but it was mainly my friends being their dancing selves in the name of Paricutín.
So many influential Mexican figures make an appearance in video "Barragán." Can you describe what takes place in the video? Where was it filmed?
It was filmed in an uninhabited 1940s architectural gem in Mexico City. In the video, I play a ghost from the '70s who imagines an idyllic picnic in the garden with artists she admires, played by my friends. The poets notice my presence and release me. The video is an ode to Mexican art and architecture, while the song is an ode to [Luis] Barragán and the obsessive forms in human nature.
I remember coming across your blog "Chic Mamacita" years ago, and recognized designer Alejandra Quesada in "Barragán." How does fashion/ design impact your work?
I enjoy the process of choosing the correct attire to sing or to wear in videos, like wearing costumes and playing roles. It highlights interpretation, which is a core element in my performance. I like wearing pieces designed by friends. Ale is a brilliant designer. Wearing her Pedro Friedeberg dress was very psychedelic. My good friend Gerardo Ruiz Musi, who plays the drums in the video, tailored the beautiful dress I wear in "Barragán." His "traveller bag" is my companion on tour, and [he] designed emblematic pieces for the DR tour.
Are you listening to any Mexican singers/ bands currently? Which ones?
I am listening to Lobo y Melón as we speak, a Mexican tropical son ensemble from the '60s. And I recently discovered "Resguardo," a song by Vaya Futuro, a band from Tijuana.