After Breakup of Avenue 26 Night Market, Vendors Rebuild Around the City
Avenue 26 Night Market's immense popularity in the pandemic became its downfall. More than half a year after its fateful shutdown, vendors share what has become of their burgeoning businesses while navigating city politics and a pandemic.
Editor's note: The article has been updated to reflect that German Perez-Lopez purchased his wood-fired oven November 2020 and to correct one instance where the market shutdown was mistakenly noted as August 2022.
In the spring and summer of 2021, the hardest place to find public parking in Los Angeles wasn't The Grove, Venice Beach or even Dodger Stadium. It was the Avenue 26 Night Market in Lincoln Heights, which before its abrupt shut down last summer, transformed an industrial warren of warehouses, steel gates and concrete walls into the largest and most dynamic open-air street market in California.
At its peak of popularity, more than 100 vendors filled Artesian Street, the heart of market, with tents, tables, flat-top grills and portable deep-fryers. They sold every iteration of modern-era L.A. street food — elote smothered in mayonnaise, butter and lime; griddle-crisped pupusas and tlayudas; deep-fried sushi rolls; sugary churros and mini-pancakes; and dizzying quantities of tacos, birria and carnitas. As the market grew, merchants selling clothes, jewelry, plants, novelty bongs, toys, and eventually, alcoholic beverages, also staked their spot among the stalls, push carts and food trucks.
Avenue 26's explosive popularity — by some accounts, it grew by 400% in the span of a few weeks — came following a brutal fall and winter COVID surge in greater Los Angeles that left the city reeling from loss. For many, the market offered respite and a sense of community after months of social distancing and pandemic-fueled economic shutdowns. Local Latinx families came to stroll in the open air for the first time in months. Off-the-beaten path tourists came to experience a slice of Los Angeles life and culture not typically celebrated in movies or television. TikTok influencers faithfully documented the market's untamed kinetic energy in viral clips — the bleating music and lights, the always-evolving cornucopia of street foods, the spontaneous outbursts of street dancing. One family, according to a local news report, drove eight hours from northern California to experience the market for themselves after seeing it on TikTok.
"I had customers who came from as far away as Kansas, Alaska, even Mexico," remembers German Perez-Lopez, the owner of Pizzeria Principe, whose wood-fired pizzas were a crowd favorite on Artesian Street.
"People loved the food, the people-watching and the music," said Perez. "Unfortunately, there were also some problems with that location."
Roy and guests unpack the broken systems of the restaurant industry. Watch the preview.
The Future of Restaurants
On the morning of Aug. 5, 2021, L.A. city officials in heavy-duty work trucks descended onto Artesian Street, barricading the area with concrete barriers, chain-link fence and yellow police tape. The barricades remain in place to this day. "The illegal activity taking place at the Ave 26/Artesian Night Market is unacceptable," wrote Councilmember Gil Cedillo in an Aug. 6 press release, citing noise, public safety, lack of proper sanitation and public defacement for the closure.
Overnight, hundreds of street vendors — many who relied on the market's steady foot traffic for economic survival amid the pandemic — were displaced.
The rise of Avenue 26 Night Market, and its abrupt closure, is a uniquely Los Angeles story — one that underscores the ongoing struggle and the enormous demand for public spaces, particularly in municipalities and neighborhoods with a large Latinx presence, where street vendors can work without threat of being shut down, beaten or robbed.
For many of the vendors who made up the lifeblood of the original market, the search for a safe place to work on the streets of Los Angeles continues.
A Brief History of Avenue 26
The area around Artesian Street and Humboldt has long been a hub for street vendors: Erasmo Reyes, owner of Avenue 26 Tacos, set up a taco stand in the area in the mid-2000s. The stand's reputation for excellent suadero and al pastor tacos grew exponentially over the years, spawning a mini-taco empire; today, there are four locations in the city, including two brick-and-mortar restaurants.
Over the years, the popularity of Avenue 26 Tacos attracted more vendors, who gradually turned Humboldt and Artesian Street into a well-established street food hub.
"For a long time, it was just a handful of us: the elotero, the pizzeria and the taco stand," remembers Raul Quiroz, who began selling ice cream and then tacos de canasta near Artesian Street in 2019. A friend told him about the popular and spacious spot anchored by the Avenue 26 Tacos stand.
It proved to be a good place to grow his fledgling business; on his first night, he sold out of tacos by 8 p.m.
Over time, Quiroz established a rapport with other vendors and customers. "My favorite part was being able to establish regular customers. I made some really good relationships there," he said.
Perez-Lopez brought his custom-made wood-fired oven to Artesian Street in November of 2020 after the pandemic dried up his steady construction work.
Before the construction work, Perez-Lopez, a native of Oaxaca, Mexico, worked for more than a decade in an Italian restaurant, where he learned the craft of making blistery, Neapolitan-style pizzas.
"The pizzeria really took off at Avenue 26," said Perez-Lopez, whose business has grown so much that he's now saving money to buy another wood-fired oven. He hopes to open a second location of his mobile pizzeria this year.
Many vendors seek out vending hubs like Avenue 26 because they are safer than working alone, said Eduardo, a churro vendor at Avenue 26 who preferred not to give his surname because he is undocumented. "I've had several friends who were robbed and attacked while selling tacos by themselves on Figueroa," he said, citing a string of recent attacks on street vendors: In June of 2021, Maria Lopez, a street vendor in Lynwood, was beaten and robbed while selling shaved ice. In August, Ignacio Torres, a well-known Boyle Heights vendor, was stabbed repeatedly.
Norma Osorno, who sold Mexican artisanal goods — religious amulets, baskets, leather bags — on the outskirts of Avenue 26, said it can be hard to find safe places to work.
She remembers the good, and the bad, of working near Avenue 26: "It was a good place to sell. We did pretty well some nights," she said.
"But it could also feel dangerous."
Many vendors say the appearance of alcohol and beer at the market attracted what Osorno called a "more dangerous element."
Sometime last summer, she was harassed by a group of men who tried to extort money from her and other vendors, she said. She refused to give them money and she was left unharmed. But the memory fills her with the opposite of nostalgia: "I felt uncomfortable there," she said.
"It felt like something bad could happen at any moment."

Finding a Safe Place to Land: Rebuilding Avenue 26
When Avenue 26 was shut down last August, a core group of vendors and community advocates attempted to relocate the market to a new location in the City of Bell, but it was shut down after only one weekend by the city, who described it as "unauthorized" in an official statement.
Since then, vendors of the original market have gone on to organize at least two new major offshoots: Avenue 26 on Imperial, a smaller, weekend market tucked into an industrial row south of downtown L.A., and the Avenue 26 Family Night Market, which is held on most Saturday and Sunday nights on the grounds of the Pico Rivera Sports Arena.
"There was a lot of confusion from the vendors when Avenue 26 shut down. They didn't know what was going to happen. They're still figuring it out," said Edin Enamorado, a street vendor advocate and a city commissioner for the city of Cudahy Parks and Recreation Department, who remembers watching vendors being turned away from the Humboldt and Artesian site last August.
Councilmember Gil Cedillo's office offered only "false promises" to help vendors, who have been left to scramble on their own, he said.
Enamorado began working with street vendors in 2020 after meeting a Long Beach-based vendor who was robbed and attacked. Since then, he has equipped dozens of vendors with pepper spray, organized free self-defense classes and raised funds to pay for private security details for those working in "hotspots" for theft and violent street crimes.
Enamorado was at an event near 15th Street and Imperial near downtown L.A. last year when he spotted the spacious industrial row abutting the historic Edmund A. Gray Co. building, which turns into a dead zone after hours and on the weekends. Working with vendors, he secured permission from the building's owners to use the empty space.
"We basically are free security guards. We keep the graffiti off the walls," joked Perez-Lopez, who has been active in organizing the Imperial Street market.
Other Avenue 26 vendors have migrated to Pico Rivera Sports, which launched a weekend night market in September of 2021. So far, it's proven to be a major regional attraction: On a recent Saturday evening, the market throbbed with live music, crowds of families and more than 60 vendors.
On the same Saturday night, about 20 miles away at the Imperial Street night market near downtown L.A., the crowds were smaller and more sedate around sundown.
Raul Quiroz, the tacos de canasta vendor, was chatting and tidying his stand when he spotted a TikTok creator holding an enormous DSLR camera, filming what appeared to be a steady-cam shot down the center of the market.
"Over here!" said Quiroz, waving him over. The young man with the camera did not break his stride.
Quiroz shrugged and continued to watch over the empty parking space next to his stand, which he was saving for the couple who runs the market's tlayuda stand.
"Esta ocupado," he called in Spanish to the two men — new vendors at the market — who were eyeing the empty space with intense interest. In other words: "This spot is taken."
"I like it here," said Quiroz, gesturing to the market. "But it's not as organized as I wish."
"There's a lot of anxiety among vendors. We constantly worry about being shut down by the city," he said. "I wish we had our own private space."
By eight o'clock, crowds of families and teenagers began to crowd his stall. Quiroz and other vendors hustled to keep up with orders.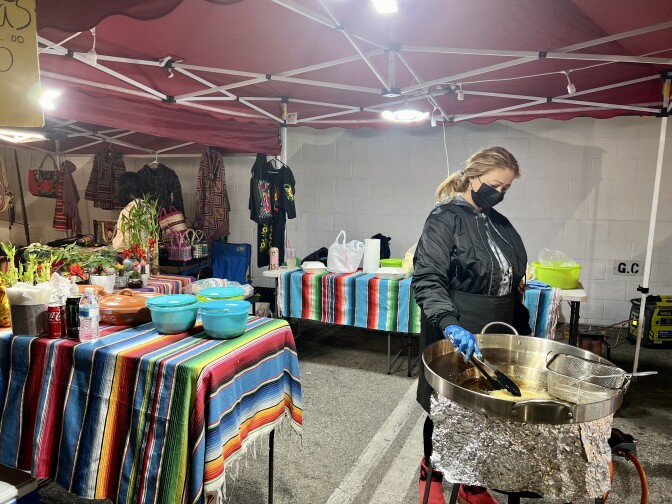 Minerva Osorno, who sold Mexican artisanal products on Avenue 26, stood in front of her new food stand, recently launched at Imperial Street, where she sells $5 quesadillas stuffed with chicken, beef and chicharrón prensado. Carefully, she slipped the bulky, cheesy mass into a bubbling vat of hot oil, gently turning the yellow corn tortilla with tongs until it turned golden brown.
Osorno hopes the quesadilla stand will someday evolve into a food truck with "proper seating."
Osorno, who on this night was five months pregnant with her sixth child, a boy, had recently left her job working for a flower vendor at the Santa Monica Farmer's Market, where her bosses verbally harassed her. She quit because the work, which required heavy lifting, became too physically demanding.
Like many vendors, she longs for a place where she can work "en paz" — in peace.
"I wanted to start my own business so I can work without being bothered or yelled at all the time," said Osorno.
"Little by little, I hope to get there — if we don't get shut down," she said. "These days, nothing is guaranteed."
It is only her second Saturday night selling food on Imperial Street, she said, but she's hopeful it won't be her last.