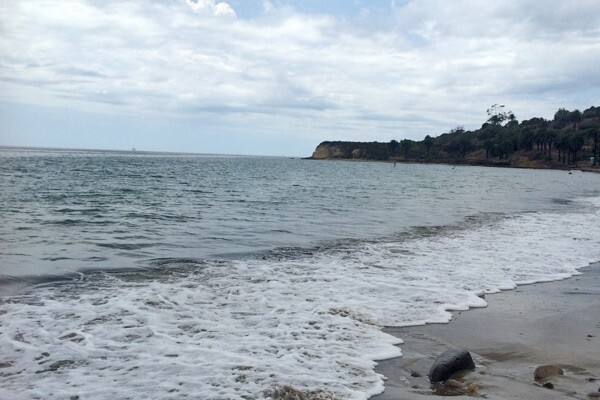 Today, a visit to Refugio State Beach in Santa Barbara County is like going to summer camp, or the coolest small town in the world. Tents and RVs are lined up side by side, forming makeshift streets. There is a basketball court, café and a playground. Packs of children ride around on bikes while parents sip beer and play horseshoes. The cove's narrow beach is packed with beach chairs and boogie boards and kids building sandcastles. Everything seems wholesome, innocent, and bright. But this cove has a shady history filled with smugglers, trickery, and a brush with Pacific's most famous pirate.
In 1795, Spanish Governor Diego de Borica granted Jose Francisco Ortega 26,529 acres of land 20 miles north of the pueblo of Santa Barbara. Ortega, originally from Spain, had come to California in 1769, a soldier in the service of Gasper De Portola and Father Junipero Serra. Ortega served the new Spanish colony for many years, helping to found Santa Barbara and serving as an official there and in Monterey. After his land grant, he moved his family to their new home, which he named Nuestra Senora del Refugio, otherwise known as Rancho El Refugio. The family built a hacienda and garden on a knoll overlooking the Rancho's small bay. However, Ortega only had a few years to enjoy his new home. In 1798, he fell off his horse near Refugio Beach and died as a result of his injuries.
Ortega's sons, Jose Maria and Jose Vicente, took over the rancho. It was soon producing cattle, horses, wheat, wine, and lemons-but the work was not easy. Jose Maria remembered years later, "It was only with my own sweat and labor that I started out with 30 head of cattle and horses and 25 brood mare. After my discharge, I hustled for everything else I have on my ranch." This "hustling" seems to have included a good deal of illegal activity. The cove at Refugio Bay, secluded and on private property, was the ideal place for smuggling goods and contraband from "foreign" ships. Since Spain forbade trade with all other countries along the California coast, Refugio Cove became a haven for Yankee ships from the East Coast trading for illegal otter pelts. George Washington Ayers, of the Boston based merchant ship Mercury, recalled bartering for otter pelts and brandy with Jose Vicente, while anchored in Refugio Bay.
The Ortegas were soon one of the richest families in Alta California. Over the years, as Spain failed to adequately supply its growing colony with goods, the illegal smuggling at Refugio Cove became an essential activity. One report claimed that hardware, crockery, fishhooks, gunpowder, cotton cloths and blankets, shoes, shawls, silks, fine handkerchiefs, decorated water jars, gilded crystal stands, porcelain plates, British linens, peppers, and nutmegs were just some of the items the Ortegas were smuggling in. And it wasn't just the Ortegas who were involved in illegal trade. As pueblos ran out of basic supplies, padres from the missions became increasingly involved in smuggling, believing that rule of canonical law said "necessity makes lawful that which by law is illicit." Ayers remembered a padre meeting him on the shore at Refugio and inviting him to dinner at the Ortegas' hacienda. "Come with the vaquero, and we will talk of what is interesting, the news from Europe and the whole world. We will also trade."
By November 1818, Spain had basically lost its grip on Alta California, leaving her to fend for herself. It was a rainy, grim winter. From Monterey, the Governor sent a message to Santa Barbara captain and beloved patriarch Don Jose de la Guerra y Noriega reporting that the city had been sacked by Hippolyte Bouchard, the notorious French born "pirate" and revolutionary sailing under the flag of the year-old nation of Argentina. He was now travelling south, and would soon be in Santa Barbara. De la Guerra was actually already aware of the danger. A friendly American named Henry Gyzelaar, who had been arrested two years earlier for smuggling at Refugio Bay, had sailed from the Sandwich Islands to warn him that the brutal Bouchard was on his way. De la Guerra began to prepare, stating that he had "forty Indian horsemen and about one hundred armed archers ready to carry out any order I may give them." All those living on the coast were ordered to evacuate -- and the Ortega family and their retainers fled inland with most of their valuables.
After a month and a half of waiting, scouts spotted two ships in Refugio Bay. Commanding the bigger ship known as La Fragata Negra -- featuring 40 cannons and a crew of 280 men -- was none other than the legendary Hippolyte Bouchard. Bouchard was a career revolutionary. He had fought for Napoleon around the world, before migrating to Baltimore. By 1810, he had made his way to Buenos Aires, where criollos (Spanish descendants born in the new world) had begun fighting for independence from Spain. He joined the revolution, and became a beloved (if feared) member of the fledgling nation. After Argentina declared independence in 1816, Bouchard was charged to privateer on behalf of Argentina. He began terrorizing Spanish territories from the Philippines to Monterey, in an attempt to weaken the once mighty empire and its colonies.
On December 2, 1818, Bouchard's men stormed the beach at Refugio Cove, making their way to the famously opulent Ortega hacienda. Furious to find that the Ortegas and most of their valuables were gone, his men stole what was left behind, shot the cattle and set fire to the hacienda. That evening, Sergeant Carlos Carrillo (De la Guerra's brother-in-law) arrived with 30 men, including Chumash warriors, friars, and Refugio evacuees. They ambushed Bouchard's forces, capturing three men (some say by lassoes). Bouchard's forces retreated, and sailed to Santa Cruz to get fresh water and other supplies.
On December 6th, Bouchard's boats were back, this time in the ocean off Santa Barbara. However, they stayed on their ships, fearful of what they saw. De La Guerra had commanded his small troop to march round and round a small clump of willow trees near the beach. From Bouchard's ship, it looked like a mighty force. Soon one of his men waded ashore and stuck a stick into the sand. On it was a letter from Bouchard proposing an exchange of prisoners. De La Guerra responded that whatever happened would depend on Bouchard's actions. This challenge upset Bouchard, leading him to reply, "If your men are so anxious to fight, let me assure you that mine are desperate to come to blows." De La Guerra refused to be intimidated, responding that his "moderate answer comes of my good manners, not from any fear of your threats which are of no concern to me."
In the end, Bouchard exchanged one prisoner (who happened to be Santa Barbara's resident drunk) for Bouchard's three, and sailed off for good on December 12th. Given the all clear, the Ortegas went back to the Rancho. There they built a new hacienda, but this time much further inland. After Spain ceded to Mexican rule in 1822, trade opened up. The Ortegas built a proper wharf at Refugio Cove, and illicit smuggling became a thing of the past. In a strange twist of fate, an American named Joseph Chapman, who had jumped Bouchard's ship and sought refuge in Santa Barbara, ended up marrying Guadalupe Ortega.
The family held onto the Rancho for many more years. In the early 1900s, broken plates, and gold coins minted in 1811 were found on Rancho land. One can only hope that there is more contraband treasure to be uncovered, perhaps by a little camper digging in the sand of what is now idyllic Refugio State Beach.
Further reading:
La Campana: The Santa Barbara Trust for Historic Preservation Journal: Winter 1997-98
Noticias Journal: Autumn 1990
The Gaviota Land by Merlyn Chesnut