Love was a grocery cart
Full of frequency from microphones
A music stand with brass sax and trumpet
Piano ivory and chips of ebony
Platinum stranded locks
Slow roasted stars - excerpt from Ode for Richard -A. K. Toney
It was an evening in November 1992; I was homeless. I made my way to the entrance of a black gate surrounded by plants. The space was long and tall. As I walked up to the counter I passed a lengthy dark wooden bar with spinning stools for seating. I was carrying some heavy books at the time that were stolen from the library -- mostly old African-American poetry books that had collected dust, along with some ancient Broadsides that now I wish I'd kept -- the only mementos of value to be held sacred.
There was jazz, Coltrane was heard in the atmosphere on the surrounding speakers. I passed a stairway that led to an upper loft lounge.
Approaching the serving counter I was greeted by a grey haired, dark skinned man who introduced himself as Richard Fulton. "What can I do for you young brother?" I simply wanted a cup of coffee, and a place where I could write. "I would like a cup of coffee and what kind of pastries do you serve?" Richard replied, "Have you ever tried a slice of sweet potato cake?"
That became the tastiest moment that would turn into an experience of a lifetime. I had arrived in this once homeless man's house and soon it would become my new home. Richard's roots stemmed from the streets; he was an addict that walked twelve steps to create an artistic jazz and poetry community. He was a man with a grocery cart that pushed up and down 5th Street in downtown Los Angeles; this is how one knows 5th Street Dick's, it was the logo for the Café. Richard gave a piece of advice that will always linger: "Never forget where you come from. Always come back to give back." He lived this motto by providing a communal healing space where everyone was welcome. Richard Fulton would change so many lives at once; indirectly and directly while never making any of his affairs more important.These were the beginnings of the art village's "golden years," and it was 5th Street Dick's Coffee Company that would brew the java and pump the jazz. Eventually, it would become known as the heartbeat of the community. Through 5th St. Dicks, Richard resuscitated the neighborhood.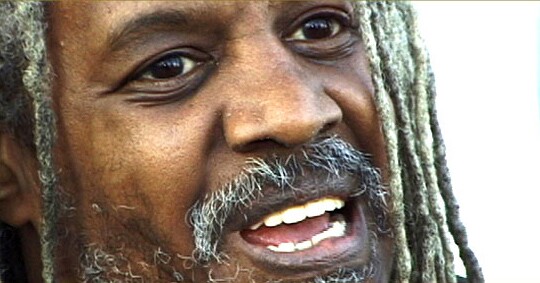 Richard Fulton of Fifth Street Dick's, in a still from the film Leimert Park: The Story of a Village in South Central L.A. | Courtesy of www.leimertparkmovie.com
When I explored the interior of 5th Street Dick's, I found myself taking my coffee and cake upstairs, where tables and chairs were set up for a performance -- a ragtime piano was part of the ambiance, alongside an old drum trap. I can recall many a jam session with local jazz groups like Black Note, Strange Fruit, JMD with the Underground Railroad, and The Taambu International Jazz Ensemble. Weekly poetry sessions were held on Wednesdays with the World Wide Open Mic, hosted by Scrap Lover Zulu and Art.Us Mansoir.
The first evening I walked into Richard's coffeehouse, I met Michael Datcher, an aspiring writer that became a catalyst in my life. As I was reading, drinking my coffee after my delicious sweet potato cake, I noticed a studious and intellectual looking young light-skinned brother with glasses and beige silk jacket, writing intensely. I watched, stared, moreso observed someone I wanted to meet, someone I wanted to be. I walked over and introduced myself with a question, "Excuse me brother, but I was curious, are you a writer?" He looked up at me with surprise, "I do a little somethin', somethin'." I was stunned to experience such down to earthness. As Michael introduced himself, he stood up and I accidentally spilled his cappuccino on that beige London Fog jacket. He forgave me without even a thought. He later would be responsible for hooking a brother up, publishing some of my first and most cherished poems.
Michael took part in the revitalization of culture being brought to the hood. He would be responsible for introducing me to Wanda Coleman, whom one day would have me recite my poetry over the airwaves of KPFK. He utilized a structure within the World Stage writer's workshop that helped develop more publishable voices for poetry and prose. Michael is now a novelist and professor at Loyola Marymount University.
These were the moments Richard Fulton was solely responsible for, and in turn we created community, a real urban artist's village. I found myself becoming a regular denizen by name and reputation, all due to frequenting 5th Street Dick's. The coffeehouse was the muse, library and entertainment space for a diverse array of personalities. Richard once stated, "We have a spot where people can see their culture, can come and touch their culture. Now that doesn't exclude anybody. What it does is invites you to enjoy my culture. Once you enjoy my culture, you automatically understand who I am other than what people tell you about who I am. At the end of the day all the world needs is a little harmony."
Richard was responsible for giving me my first community job as a doorman for Jazz at 5th Street Dick's. It was my responsibility to collect the five or seven dollar cover charge while greeting patrons as they went upstairs to listen. I always enjoyed my job as long as everything went smoothly and everyone was happy. Richard would serve the coffee while I made sure the side bar was clean and the stools were in place working properly. At the end of the night I would have to gather the heavy chess tables and chairs from the outside, and load them in the front area before locking the gate entrance.
As time passed, Richard began to lock his head of grey, and jazz continued to play steadily. All types of musicians would come through, such as Roy Hargrove, Herbie Hancock, Tina Marie, Yo-Yo, Brandy; even movie actors and actresses like Laurence Fishburne and Queen Latifah. Jazz Players such as Billy Higgins, Horace Tapscott, Baba Juno Lewis, Dwight Tribble, Nate Morgan, and Bobby Bryant Jr. would always frequent. Being the doorman for the upstairs sessions had many advantages. I learned and eventually performed with those artists. Richard always said, "Jazz is more of an improvisation, so it makes people improvise. You start to make art, you open up a coffee shop, you think about ideas and say to yourself maybe you could do this, or maybe that." Indirectly Richard would make an impact that would be difficult to replicate. His essence created ideas that will vibrate for ages in L.A.
Richard Fulton went through many transitions with 5th Street Dicks Coffee Company. He eventually opened a second space alongside the coffeehouse; it was a few spaces down near the corner of 43rd Place and Leimert Boulevard, currently now part of KAOS Network. The venue was called The Great Negus Empire. It was an independent art gallery that was short lived. Richard was having hard times with the owner of the space for 5th Street Dick's and was eventually evicted. He relocated the coffeehouse to the space of The Great Negus. Times were becoming tough for the community as well. The age of festivals and cultural art was beginning to dissipate. Jazz was and is still being played, though as things were changing so were the crowds. The community was going through a redevelopment that is still occurring today. Richard died soon after the redevelopments started.
Richard Fulton always reminds me to turn the music up in my memories of him. He leaves everyone with a prophetic quote, "Once you get rhythm, you can get harmony and that's the heartbeat of the community. So if you take jazz music and play it loud enough and long enough people will come together in the community because the music makes everything gel."
There will always be a piece of Richard Fulton in the community. Just walk down Degnan Boulevard toward the corner of 43rd Street, in front of the Community Build building, right outside the window of Adassa's, just past the courtyard; You will find a plaque on the side walk reading "Artists' Hero" Richard Fulton. That is Sankofa Walk so turn the music up!