A Seat at the Table: Post & Beam in Crenshaw Builds Community One Course at a Time
Any long-time Angeleno can tell you, the term "community" is one of this city's more bedeviling concepts. It's a catch-all and a euphemism; a designation that is as vague as it is deliberate.
Restaurateur Brad Johnson has been circulating L.A. long enough to know that real community here -- a tangible one -- is not just a matter of geography or proximity, but about creating a sense of common ground. If you want to build and foster something meaningful -- you have to understand it from the ground up. This was at the front of his mind, a few years back, as he and real estate developer Ken Lombard rolled through Southwest L.A. Johnson was trying to get a specific sense of what made up the sweep of territory so often haphazardly summed up as "below the I-10."
He took it all in block by block: fanning out from the s-curve of Crenshaw Boulevard's business district, a collection of distinctive neighborhoods stretched west, south, and east -- Baldwin Hills and View Park, Leimert Park and Angelus Vista. Along a gentle rise of hill, classic '20s-style red-tile and stucco houses with aprons of neatly edged lawns mixed with mid-century-modern dream homes that overlook million-dollar city views. On the flats below, corridors of "dingbat"-style apartment houses overrun with tropical flora (an area long-known colloquially as "The Jungle" -- for both the landscaping and the periodic percolating street violence) had a mixed history of its own. One meandering sweep told him that there were many different and distinct Los Angeles-es only footsteps apart.
Post the white-flight wave of the late '60s, the Crenshaw-Leimert-Baldwin HIlls hub became a predominantly African American neighborhood -- the seat of various venerable institutions invested in black uplift -- among them the Los Angeles Sentinel, the Urban League, and Leimert Park's mix of African-oriented arts and cultural centers, artist studios, and independent businesses. And while it's long been a tightly-knit, vivid community with deep generational roots, if you were tuned-in to mainstream media, it still read as an indistinct blur.
Johnson figured he was up for the challenge, saw something solid he could work with.
He'd been in conversation with Lombard, then Magic Johnson's business partner, about the redevelopment projects taking shape both at the Baldwin Hills-Crenshaw Plaza and at the theater complex. A new restaurant seemed a natural fit. "I'm a process junkie," he admits. "I had this germ of an idea and as I looked around it just began to grow." Johnson already had his eye on a chef, Govind Armstrong -- most recently of 8oz, Chadwick, and Table 8 (and whose L.A. restaurant pedigree included the original Spago, Border Grill, City, and Campanile). "I liked the fact that he wasn't just an expert in the kitchen but knew the business side as well." It was strategic, says Johnson, "I wanted someone who couldn't be ignored."
Post & Beam opened New Years Eve 2011, along the western edge of the Crenshaw-Baldwin Hills Plaza on Santa Rosalia Drive. Low slung, airy with flowing indoor-outdoor space stirred by a hint of ocean breeze, the restaurant is an oasis; its clean lines echoing the architecture of the surrounding dwellings. It instantly telegraphed home, both metaphorically and literally: the back-patio, arranged with furniture with touches of aqua and lime, harkened back to long-summer days captured in old Kodak snapshots. Indoors, along the north wall hangs a collection of vintage, space age clocks and funk and jazz LP covers, the records, Johnson admits with a laugh, "Those are mine."
In short time the restaurant became a meeting spot -- an after-work watering hole, a "lets meet in the middle" supper spot. And Johnson was right about Armstrong's pull. Los Angeles Times restaurant critic Jonathan Gold twice ranked Post & Beam on his 101 best restaurants list, calling it "perhaps the most ambitious restaurant ever to open in the Crenshaw district." This was no small feat, and it would take a team who understood the disequilibrium of neighborhoods in transition as well as the fickle nature of the restaurant business itself.
If you've been around Los Angeles long enough and in the swirl of the restaurant and club scene, you'll know Johnson from a string of successful, high-profile nightspots: Roxbury and Georgia in the '90s; the Sunset Room and Menemsha, a New England-inspired restaurant and seafood bar in Venice, in the early aughts. From 2003 to 2007 he managed Windows in downtown, and in 2008 took over the old Le Dome space in Hollywood and opened BLT Steak.
Johnson had come to Los Angeles in the late '80s with deep roots in the hospitality business. His experience was anchored by a restaurateur father, Howard (who died seven years ago), who owned and operated the Cellar on New York's Upper West Side. It was a place that orbited with devoted regulars and where guests could relax and see their friends, but also get some classic bistro fare.
"I grew up working at the restaurant," says Johnson. "I studied hotel management in college, but when I really decided I wanted to give it a go, it just felt very natural to be there," Johnson explains on a recent afternoon, tucked behind a wrought-iron table at the very corner of the busy patio where he can keep his eye on the comings and goings. "I could have gone into corporate environment, but my Dad had a business that I could just slip right into -- and he could take some time off. Finally."
In the '80s, Johnson made his own foray into the NYC restaurant world with Memphis -- featuring a soul food/New Orleans Creole menu that was a well-reviewed, out-the-gate-hit.
Johnson moved to L.A. in 1989, coaxed out to the west coast by longtime friends Norm Nixon and Debbie Allen. "I used to play basketball against Norm in college. I'd always fantasized about coming to L.A. At the time, New York was a ahead of L.A. in terms of food and clubs ... and the bar scene, and I thought it was a huge opportunity to do something." As chance would have it, while on a vacation in Acapulco with his father, he'd met Elie Samaha. He remembers, "Elie, who went on to be a big was also really savvy in real estate, so when I landed in L.A. he ended up showing me a bunch of locations. There was a spot -- the old Imperial Gardens across from Carlos & Charlie's on the Sunset Strip." In terms of location and energy, it seemed perfect.
Roxbury had a red-carpet run in L.A., a see-and-be-seen, luxe watering hole that attracted an intersection of L.A. high-rollers -- Hollywood, sports, and the business world. "But," says Johnson, "working in a nightclub is like going to a nightclub, that's the lifestyle." He needed a break. "I longed to get back into the restaurant business." He put out some feelers. Going into the new project, his business partners were Denzel Washington, Lou Adler, as well as Allen and Nixon (who had also helped fundraise for Roxbury); his investors: comedian Eddie Murphy, actress Connie Stevens, ex-Laker Kareem Abdul-Jabbar. He secured a location on Melrose, then late in its second bloom, and Georgia opened it doors in 1993.
In thinking of a model for the space, Johnson was inspired by Alberta Wright's New York eatery, Jezebel. "She had Warhols on the walls, chandeliers hanging from the ceiling, and mac and cheese on the menu," he remembers. "I didn't want to mimic the experience, but I wanted that same elegant but comfortable feeling."
Because of its location -- geographically adjacent to a collection of L.A.'s ethnically diverse neighborhoods -- Georgia became an opportunity to pull in clientele from all over L.A. to experience not just southern cuisine, but the hospitality and community that grew out of it.
Memories of those Georgia years circled as the car idled in front of a carcass of a building along Santa Rosalia Drive, the remnants of an old Golden Bird Chicken fast-food outpost. He pondered Ken Lombard's question: "What would you think of opening up a place here?"
He inked a deal and got to work. He spent more time exploring the neighborhood, thinking about what would communicate a sense of place. "I loved all of that post and beam architecture around the neighborhood, so that's how I settled on the name." After meeting with Armstrong, he began attending community meetings about the surrounding development projects. He was struck by a repeated refrain, one not simply about what the community desired but what they felt they deserved: "Please give us a sit down restaurant" -- a special place that people could bring family and friends.
The neighborhood was dotted with all sorts of solid, long-standing casual eateries -- stands, shacks, and counters set up for a quick in-and-out or pick up -- but a comfortable place where you could meet your co-workers or take your mother to a fancy after-church brunch required a different sort of effort. Aside from the long-standing, linen-and-silver, Creole cuisine-focused Harold and Belle's or La Louisianne, a sit-down experience meant a drive into Culver City or the Marina, or parts north into Hollywood.
Their test: to bring those experiences closer to home while keeping in mind what "home" really means.
"It was a straight up challenge," Armstrong admits over a cup of coffee during the post-lunch pause on a recent afternoon. Like Johnson, Armstrong's interest was piqued by the potential. "I wanted to do this because of this," he pauses to scroll through his smart phone's photo app, and then taps open a "before" photo of the shuttered Golden Bird. "I kept this because I fell in love with that. What a challenge. This is when the thinking really started."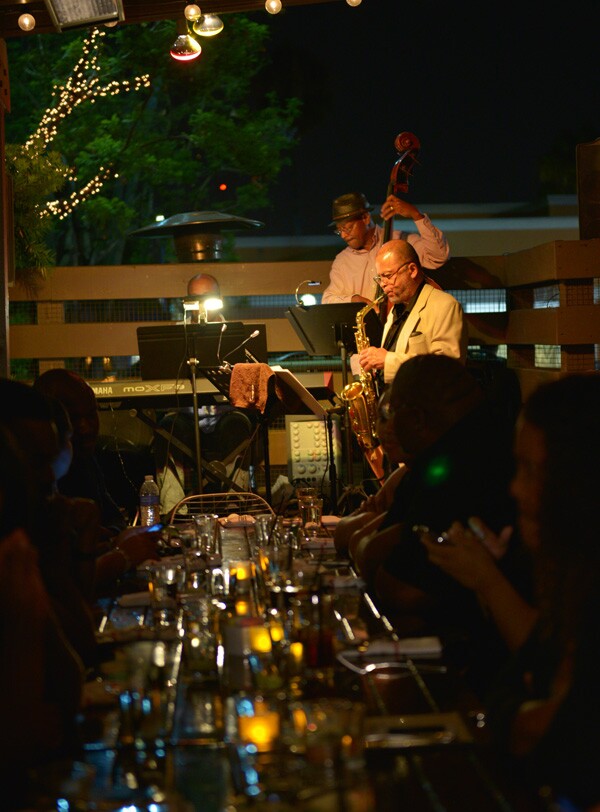 The transformation was total. Armstrong gestures toward his prolific garden of herbs and vegetables, identifying each. At the far end of the patio's leafy enclosure is a small stage, which features live jazz on most Friday nights. Also, as a way to continue a different sort of ongoing conversation with neighbors and their regular clientele, Armstrong offers gardening, cooking, and composting classes and pairs other special events tied to neighborhood functions.
When Johnson approached him, Armstrong says he was already somewhat familiar with the neighborhood and had a sense of the lay of the land: "There wasn't a mid-range gourmet restaurant anywhere nearby," he recalls. "So it was really about, what's going to keep them coming. What's going to fit. And keeping it interesting every day."
In the beginning they brainstormed -- fast-casual, pizza, burgers. Just trying to see what stuck. But all the while, he remembers, "I just kept thinking three things: comfortable, accessible, and high quality." Armstrong was born nearby, in Inglewood, but spent several years in Costa Rica after his father died and his mother returned home to regroup. He was nine when they landed back in L.A., and by then he was already interested in not just cooking, but in all the steps it took to bring food to the table -- planting, growing and harvesting. "My mother would invite people over and I would cook for them. They'd ask: Who's the caterer? And she'd say: 'Oh, it's Govind!'"
One of those ambitious meals got him an audience with Wolfgang Puck. Armstrong, then 13, showed up at Spago with a photo album featuring his best dishes and a collection of recipes to share with the chef. He was hired, as an apprentice, on the spot.
In many ways the menu Armstrong crafted represents both the breadth and depth of his training as well as the many moods of this now-transitioning Southwest Los Angeles. Most everything has an inventive, unexpected spin. There's locally grown "California Seasonal" fare, along with pizzas, steaks and ribs, and salmon or kale salad. And -- after a bit of a tug of war, admits Armstrong, laughing -- "Fried chicken. At first I didn't have it on the menu. My thinking was, 'You can get that anywhere around here -- maybe even better. But customers kept asking. So, I had to listen and give them what they wanted."
For longtime neighborhood denizens, the Post & Beam experience sets up all manner of emotional collisions between the familiar and the new: hints of the South (the roots) and the promise of the West (the possibility); it honors the past and celebrates the vivid mix of Los Angeles of the present.
Mostly through word of mouth, the restaurant evolved into that essential third place: the between home and work spot that facilitates and anchors community. What makes it truly L.A. is that Johnson and Armstrong have hit upon just the right sense-of-place alchemy; in other words you're just as likely to give a nod to the mayor or a former Laker as you are to catch up with your long-lost beautician. Another feature is Tuesday's busy lunch service, when Johnson's mother, Phyllis, works host duties, asking after guests. "It's the personal touch," she tells her son, "that keeps people coming back."
With close attention to the smallest sentimental detail -- mason jar glasses, black-eye pea sides -- the space serves as a touchstone for Angelenos who have grown up in one of these contiguous neighborhoods and may want to travel back, to not just a physical place, but to a time. "There's a reason why this is a neighborhood," Johnson reflects. "So many did stay rooted here emotionally, even after they moved away."
While both Johnson and Armstrong divide their time with another local spot, Willie Jane, a country-Southern restaurant along the tangle of touristy boutiques and ever-evolving eateries on Abbot Kinney, Post & Beam offers a very different and specific experience -- not just one that serves a loyal clientele, but one that nourishes the two of them. "We both know why we're here and we take pride in it," says Armstrong. "There are some nights when I'm in the kitchen and I look up and I'll see people getting up from their food and running across the room. All of this hugging and kissing. Like long lost cousins. Sometimes it gets a little loud. You know, everyone chiming in. But there is something so satisfying in watching people connect like that. It's one of the coolest things," he reflects, "and that happens every night."