Jerry Fukui has seen many faces of death. So has his father, grandfather and great-grandfather. And that's business as usual for the family, whose mortuary in Little Tokyo has dealt with matters of life and death of the Japanese American community in Los Angeles for almost a century.
It is believed that Fukui Mortuary began around 1918 ("So much history has been lost," Jerry Fukui says) when Soji Fukui, Jerry's great grandfather, along with two partners, purchased the mortuary from its non-Japanese owners. Originally from Hiroshima, Soji had come to the U.S. in 1885 to work in the sugar cane fields in Hawaii. After brief stints in Seattle and San Francisco, he arrived in Los Angeles, where he soon found work in what is now LIttle Tokyo, when the mortuary needed his help in serving the growing number of Japanese settlers in the area and nearby Boyle Heights.
For Jerry Fukui, a fourth-generation Japanese American who grew up in the free-loving hippie era of the '60s and '70s, a career at the mortuary wasn't exactly a priority.
"Hell no," he says when asked if he had wanted to follow in his family's tradition, "I didn't want to be a mortician."
Part of it was because, Fukui admits, he was spoiled. The freedom of his post-college years had him occupied with having too much fun, and working for his family was far from his mind. It helped that his father never pressured him into working for him. But as the euphoria settled, he had to make a choice.
"I had a hard time, I struggled with it," he remembers, but he eventually -- and perhaps inevitably -- entered the family business. "Now that I look back, it was the best choice I ever made," he says.
It was the kind of choice not afforded by his ancestors when they began to settle in Los Angeles. Fukui knows how hard his issei ancestors had to work to save money for their children.
"They did it all," he says. "[The nisei kids] had the opportunity that their parents didn't have. A lot of niseis are educators or doctors -- white collar jobs. So they prospered. Sansei (third generation) and yonsei (fourth generation) are more spoiled, like myself, and I see it."
Now with the nisei generation slowly fading and the sansei starting to pass away, the funeral tradition is gradually being redefined. Fukui has seen a lot of families moving away from the traditional services, partly due to the fact that "many of the sansei, the yonsei -- they're not gonna speak a smidgen of Japanese," he says. "They're not gonna know the customs, they're not gonna know the history."
A Japanese-style funeral is a fairly involved process; a traditional Buddhist-style service is especially complicated. According to Fukui, when someone passes away, first there's the makuragyo, which translates to "pillow-service," held immediately following the death. "Then the wake service, the funeral service, the committal service, the seventh day, 49th day, 100th day, one year ... they just keep going on and on," he says.
These days, simpler services are more common. For many families who aren't steeped in tradition, choosing the type of funeral is not an easy process. Fukui often has to offer advice, and tell them that funeral service is a tradition, a custom. There's no set rule or law saying it must be done one way or another. "So it's whatever you're happy with," he says.
According to a recent study, out of all Asians in America today, Japanese are most likely to marry outside of their race. So along with that comes a clash of cultures and a change in tradition. For example, a Japanese family may have difficulty in planning services for a spouse that is not Japanese. Fukui has experienced first hand this shifting of cultures -- his sister, manager, and several counselors at the mortuary -- they all married non-Japanese.
"So when you see the mixture, you do see the change," he says.
The balance between the old and the new, between life and death is a theme that is echoed in the neighborhood that Fukui Mortuary has served for almost a century. As new generations bring fresh energy to the area, the old traditions slowly fade away. At the same time, the yonsei and the gosei Japanese Americans veer further away from the traditions that their parents and their grandparents fought so hard to retain.
"I think some of these sanseis yonseis, they don't care what happens to Little Tokyo," says Fukui. "They've assimilated so much that the they've lost all interest in who they really are or who their ancestors really were."
All is not hopeless with the new generation, however. Eric Tanaka, the great great grandson of the man who founded the mortuary, is the latest in line to take over the family business. And Fukui is proud and relieved to be able to keep it all in the family.
"I think it's important to our customers to know that they're being taken care of by a Fukui," he says. "I should tell him to change his name though," he says jokingly about his nephew, "[Eric] does have Fukui blood, even though he's a Tanaka."
Even if it's just business as usual for the most part, it's not easy to have to face death every day. For Jerry Fukui, seeing lifeless bodies doesn't bother him so much as having to face his own mortality. "It makes you think about it more," he says, "about how vulnerable we are, how mortal we are."
He continues: "The majority [of deaths], obviously and fortunately, are people who are elderly. But even those people, they don't wanna die. There are many that are vibrant with life and are healthy that pass away. There are others that are frail and sick, and don't know who they are -- and they linger and linger and don't pass away for years."
And it's not always the case that they deal with those who have reached the end of a long life. Fukui has seen young people that have passed away suddenly, sometimes due to congenital problems that they didn't know about. "So I realize how fragile life is," he says.
When Jerry Fukui was younger, Little Tokyo didn't mean much to him; it was just the place where his family worked. But now he realizes that the neighborhood is as fragile as life itself, and it needs to be cared for. He now spends much of his time serving the community as a board member of various organizations around town. He's not ready to plan a funeral for Little Tokyo just yet.
"[Little Tokyo] is the home for the future," Jerry says. "I'm hoping that my children, who are goseis, when they get married, they can come back and know my heritage that's over 100 years. We've been living here for 120 years now, our family. So I want them to come back in 130 years to say this is our culture, this is where we came from."
With planning underway for various development projects, including new condos, the Budokan, and Metro's regional connector, Little Tokyo is on the upswing. It will be some time -- if ever -- before a funeral is needed for the neighborhood that the Fukui family has called home for generations. But if it ever happens, they will be there to plan it all.
"We'll always be here to serve the Japanese community," Fukui says.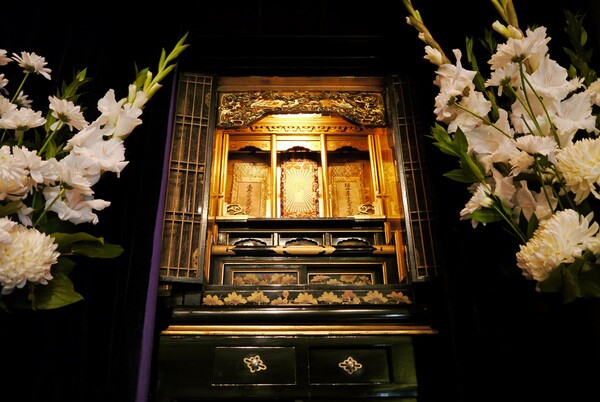 Photos by Yosuke Kitazawa