This is part of a series exploring environmental and health issues in South Los Angeles, produced in partnership with the California Endowment.
Freeway pollution. Auto-body shop fumes. Airplane exhaust. These are just some of the pollution sources that residents rattled off at our recent community conference, Environmental Health Challenges in South Los Angeles. As they huddled over the maps of their South L.A. neighborhoods, residents shared stories of the constant rumble of trucks driving past their homes, and the steady streams of planes flying overhead into and out of the Los Angeles International Airport. Nodding in understanding of each other's stories, they realized they all had something in common: they all experienced pollution in the places where they lived, worked, studied, and played.
Residents of South L.A., a predominantly African American and Latino neighborhood, are exposed to several sources of pollution on a daily basis. From the traffic pollution constantly emitted from the 10, 110, and 105 freeways, to the air toxins released from industrial facilities, most South L.A. residents are unwillingly bombarded with a wide range of harmful toxins. Among these pollutants are black carbon -- a component of soot emitted from on and off-road diesel engines and some industrial facilities -- and tropospheric ozone -- a harmful air toxic primarily used in air conditioning, refrigeration, and aerosols. Both are air pollutants for which the South Coast Air Basin (the air quality management district containing Los Angeles) does not meet the emission restrictions outlined in the Clean Air Act. According to the Health Atlas for the City of Los Angeles, 9% of residents in South L.A. live in close proximity to truck routes, and 21% of residents in South East L.A. live adjacent to noxious land uses.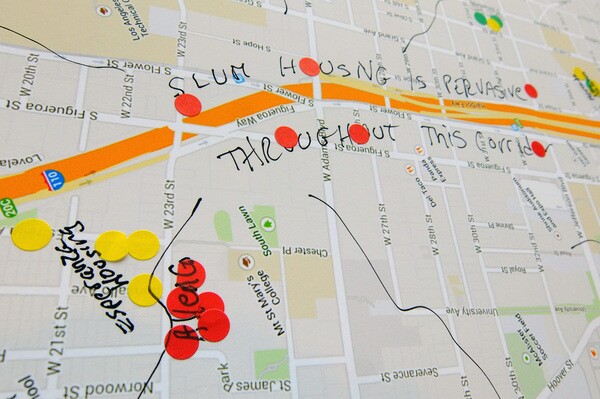 The cumulative health impacts of exposure to these types of pollution is severe. The leading cause of death in Service Planning Area South -- the Service Planning area that includes South L.A. -- is coronary heart disease, followed by stroke and lung cancer. In comparison to the rest of the county, zip codes within and adjacent to South and South East Los Angeles have the highest rates of hospitalization and emergency department visits due to asthma for both adults and children.
For years, advocates have had a clear understanding of the pollution burden and health impacts facing these communities -- an understanding that is constantly substantiated by the lived experiences of the residents we serve. But defining solutions to these problems is tricky. The disproportionate health and environmental challenges faced by South Los Angeles communities, similarly faced by many low-income communities and communities of color across the United States, is tied to the history of 20th century race-based urban planning policies, and perpetuated by current environmental practices that do not protect all communities equally. In order to craft solutions to the present-day realities of environmental harm in our local Los Angeles neighborhoods, it is important to understand the historical roots which created them.
Like many 20th century cities in the United States, Los Angeles practiced residential segregation through land use planning policies such as redlining and restrictive covenants. Redlining -- the practice by which the Federal Housing Authority (FHA) denied loans to residents in working class and predominately African American neighborhoods -- allowed the federal government to control the racial makeup of Los Angeles (check out the T-Races project to find historical "redlining" maps of Los Angeles). In addition to redlining, local restrictive covenanting prevented African Americans, Asian Americans and Latinos from purchasing homes in predominately white neighborhoods. In his book City of Quartz, political activist and writer Mike Davis writes, "By World War I, deed restrictions were helping to define the insulated, middle-class world of Los Angeles's Westside. At the same time, acting as private Jim Crow legislation, deed restrictions were also building a 'white wall' around the Black community on Central Avenue." The homogenous racial composition of most Los Angeles neighborhoods continues to reflect that which was created decades ago by these discriminatory planning practices.
As industrialization picked up steam between the 1920s and the 1960s, city planners began to take an increasingly active role in determining how our cities were shaped. In an attempt to safeguard both the health and safety of residents, planning tools were developed to keep sensitive land uses separate. One such tool -- zoning -- was developed in order to separate incompatible land uses, such as factories in residential neighborhoods. But as industrialization unraveled in Los Angeles, these well-intentioned planning guides were not utilized with the interests of all communities in mind. To make space for burgeoning industries (such as the defense, garment, and automobile industries), hundreds of homes in predominately African American neighborhoods were consumed, the land taken over for industrial use. Mike Davis writes, "But every foray by Black homebuyers into an outside residential area was met by the immediate wrath of white homeowners." In other words, in a community like South L.A., the health of economically and politically vulnerable residents was compromised to make way for profitable industry.
Decades of literature from the environmental justice movement sheds light on why pollution and other forms of environmental degradation over burdens low-income and communities of color across the nation. Since the 1980s, numerous studies and scientific literature have come out to confirm what communities already knew -- that some groups receive far less protection from environmental harm due to their race and economic status. For example, across the Southern regions of the United States, three out of every four hazardous-waste sites are located in low-income minority communities as are six of the nine largest commercial landfills. South L.A. reflects this national trend, with its abundance of mobile (such as freeways) and stationary (such as incinerators) sources of environmental pollution cited within its boundaries. The unequal regulation and distribution of environmental harm among low income communities and communities of color is what the environmental justice movement seeks to rectify.
In order to alleviate the health impacts faced by communities that have and continue to experience this unequal burden of environmental pollutants, PSR-LA and our allies are working on multiple fronts. At the local level, we are engaging the city of Los Angeles and the planning department on both crafting a comprehensive vision for a healthier Los Angeles through the new Health Chapter of the General Plan, and by creating stricter environmental health standards in the South and Southeast L.A. community plans. Our advocacy has already proven successful -- the city agreed to incorporate into their vision for a healthy L.A. the topics of incompatible land use, remediation of brownfields, and regulation of noxious toxins from stationary sources of pollution such as industrial sites. For the community plans, we are asking the planning department to incorporate stricter monitoring and enforcement of truck routes that pass through residential neighborhoods. In general, the planning department has positively received our policy recommendations around truck routes. At the state, we are leading the advocacy around regulating short-lived climate pollutants such as black carbon and ozone. In 2015, we will be taking the lead in providing guidance on the new guidelines for regulating short-lived climate pollutants through our state climate laws. By setting emission standards and future targets for the reduction of these harmful pollutants, we are taking the first steps towards outlining a plan for reducing pollution at the source.