Observers, denizens, and visitors of Leimert Park Village might never imagine or believe that the area is below sea level, and was once a marshland with a stream running right through Leimert Boulevard to 11th Avenue. Presently, there is a Church capping that stream. This land was once part of the wet lands; a valley with greenery surrounding small peninsulas. It was a paradise in California where living would find its way to anyone, including the Chumash of the Santa Barbara Coast. They would eventually find their way to southern California and into some parts of what is now central Los Angeles via Malibu. More than three centuries ago, the Chumash were one of the largest nomadic people in California.
Fast forward, it is 1930; this little valley across the hill becomes Vernon Avenue crossing the heart of Crenshaw Boulevard. Imagine a panoramic of cars we would call "jalopies" today, lined up leading into a park; there is a vaudeville show going on next to a Citizens Bank in the Leimert Business Center. This is their grand opening. A pharmacy is next door with a large local market adjacent to the building. There are houses in the background, but there is considerable distance between them and the park. Until 1948, the Leimert Park Village area was "protected" by the era's racial covenants, meaning, California state law permitted real estate agents to deny the sale or rent of property on the basis of nationality or race. During this time people of color were only allowed in the area as workers and maids, and many entered a building or house through the back door. Twenty years later, a gradual combination of southern migration and mainstream cultural shifts were underway.
The landscape has changed so much, from a stream that became a fountain, from Chumash to Jewish/White American to African-American. The diverse future progressions have dislocated artists, retailers, craftsmen, and more importantly, patrons and denizens. Yet the history of a land is not just the landscape but the moment of a people which determines its existence. The land is a magnet which attracts negative and positive ions to make an energy that describes what it means to belong. As a stranger passing through, everything seems amazing and new; however you the stranger adapt to customs, language, and culture to belong.
The Leimert Park art village is that sense of place. Ultimately, what is at stake here is more than a place; it is a sense of culture, ideas, rituals, beliefs, art, music, and literature. People are the essential component that connect moments to a place.
I was once a fixture on the corner of 43rd Place and Degnan Boulevard, the heart of Leimert Park Village. Artisans' source or muse came from the streets. It was a T-section that connected creativity with nature, the park, and a community of artists. I would literally hang out there. Joining freestyle sessions where conversation would occur, while herbal essences were smoked and passed; moments would turn into exhibition from exhilaration of fine aesthetic that could be seen, heard, and then ultimately felt.
Drummers would park their cars on the corner, get out and set their instruments up for rhythms to be played. Others graciously joined in, and of course, I would get down with an improv poetic moment to sync with these rhythms. I guess you could say, that corner was a poet's nook.
On the opposite side of Degnan just half-way down the block is the famous World Stage Performance Gallery. This is the source of my realization that I could become a poet, a great poet. I finally found a place worth the wanderlust, where I belonged, where I could call myself A. K. Toney. This was the making of my moniker. The World Stage was my new home, or rather, school. The writers that would come in and out the place: Amiri Baraka, Sonia Sanchez, Ruth Foreman, Jervey Tervalon, Saul Williams, and countless others. These artists came to be a part of this community by acknowledging and establishing the next generation of writers. The Jazz that was produced here by musicians like Freddy Hubbard, Dr. Art Davis, Horace Tapscott, Robbie Coltrane and Alice Coltrane, Sunship Theus; they graced the small performance stage, validating it as the standard place for this music.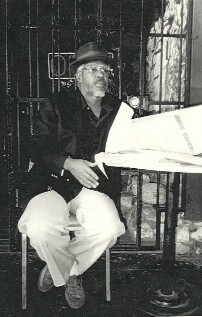 Poetry in the World Stage Performance Gallery would sing sweetness to silent the most belligerent and cursing vagrant. It was a healing for the community. The very place sung of sacred sanctuary.
Richard Fulton gave me my first job at Fifth Street Dick's Coffee Company. As a poet trying to make ends meet, I became the doorman to the upstairs all night jazz sessions. It was my responsibility to Richard, this homeless man's house. This was my perfect little playground: coffee, poetry, music, ambiance, and people. Some place where everybody knows your name. This is what Leimert Park Village means to me. Fifth Street Dick's Coffee Company branded a great cup of joe with late night service until 4 a.m., with an open mic for jazz and weekly poetry readings.
The improv of live music with coffee and conversation was the sensation everyone was missing. There was always chess played outside with an ambiance of music and poetry floating through the atmosphere. This is where the original phrasing "Third Places, Other Voices" took its meaning. Fifth Street Dick's provided an outlet for the community that helped those who were trying to stay sober. In the same sense Leimert Park Village became known as the artist's playground and a place of healing. These days Fifth Street Dick's is only a memory.
One should note that the heartbeats of visionaries which kept this African-American Arts enclave pumping were Ben Caldwell, Billy Higgins, Kamau Daa'ood, and Richard Fulton. These were business owners that invested time, culture, and money. The fact remains Caldwell is presently the only landowner still in business.
Ben Caldwell has a different view of what is happening in this redevelopment of culture and art within the community. He is the one constant in the changing variables of evolution, from the knowledge of the Chumash Tribe to the ever present. Caldwell exhibits art from a multimedia form, but then he also documents the history of Leimert Park Village. He has single-handedly, with support from a community and students outside the village, successfully and continuously run the Leimert Park Art Walk on a monthly basis. He has been working on the Leimert Park Phone Company project with other artists from the village and students from USC in order to document the story of the village through interactive phone booths.
Caldwell reminds me of a quote from Melissa Nelson, "I keep asking, how do I simultaneously honor the past and transcend the past in order to live in the present?"
He seems to welcome the change if it means becoming better. There are more developments that are to come in due time, as plans for a light rail being to stretch down south from Crenshaw Boulevard to Del Amo. Caldwell has even invited me to join in this crusade of his by becoming part of the Art Walk and witnessing the changes.
Many years ago, world renowned artist Mark Bradford purchased a popular dive bar called Cheerios and turned it into his studio. There are also talks of Bradford extending his studio to expand with another space and venue that has been purchased in Leimert Park Village. In 1993 Bradford stated, "Leimert Park hasn't just been refurbished, this neighborhood maintains on its own. It's a cultural hearth, a place we have always sustained."
I have written and witnessed many poems falling from my fingertips, only to become transformed as memory of oral tradition due to people passing and ascending. My poems are my only access, for the lessons shared are a communication with doors that I have to open. In my mind those doors must be literal, they must be real, and I must own them in the physical sense.
I need to be able to express myself and belong. The conflicts that I have witnessed between business owners and landowners, renters, and the politicians don't concern me. What makes anything worth having and owning has a lot to do with preserving art and culture within a natural environment. No matter what happens, I will always be A. K. Toney from Leimert Park Village. That is my sense of place.