The black cultural scene in Leimert Park is at a crossroads -- again. But this time the changes may be big.
This past May was the moment many people had been waiting for.
After a two-year-long fight by activists to bring a Metro rail stop to Leimert Park Village, the unthinkable happened: the activists won. It was the kind of clear political victory rarely experienced in Leimert, a place long viewed as the cultural hub of black L.A. that was yet struggling to survive. The win was sweeter for being so David and Goliath: the powerful transportation agency initially resisted the idea, saying that a stop at Crenshaw and King Boulevard on its upcoming Crenshaw rail line would be sufficient. It argued that the sprawling Crenshaw Baldwin Hills mall at the corner of Crenshaw and King was a more practical stop and, anyway, tiny Leimert Park Village was walking distance from there.
But the activists and the village denizens, and many people in the black community itself, disagreed. Leimert Park Village is small but dense with symbolism, its artistic, literary and cultural scene along Degnan Boulevard a potent microcosm of the black presence across Los Angeles. Yet for almost all of its life it had lacked visibility, and its economy had always suffered; merchants and artisans were scraping by. A Metro rail stop would literally put Leimert on the map and finally give it the kind of civic affirmation that had eluded it for more than twenty years. No wonder that the celebration in Leimert Park after the rail stop victory was so buoyant, bringing together activists, village regulars and politicians like county supervisor Mark Ridley-Thomas, who had carried the cause at the Metro. Just the sight of all these folks together was reason for serious optimism. It was indeed a moment to remember.
But the jubilation fizzled almost immediately when, weeks after the rally, several key storefronts along Degnan were bought. The new owners are a partnership with no public face; its plans for Degnan have yet to be revealed, though affected business owners who were behind on the rent (a typical circumstance for many) have gotten pay-or-quit notices. The merchants in the purchased property -- which include village stalwarts such as Sika, Zambezi Bazaar, and the World Stage performance space -- are lobbying city hall for information and some kind of help in staving off closure, perhaps historical landmark status. But the future that had looked so promising so recently is clouded with an uncertainty that has dogged Leimert for as long as it's been around. In that sense, there has been no change at all.
What's happened in Leimert Park? Economically, the answer is pretty simple: small business tenants get a new owner who wants higher rents for property that is suddenly more attractive -- in this case because of the rail stop -- so the businesses leave, because they can no longer afford to stay. The old gives way to the new and, theoretically, improved: it's happened all over Southern California, from Pasadena to Venice to Larchmont. But Leimert has a unique history that gives it meaning well beyond economics. For starters, the struggle of Leimert Park Village to survive into the next generation mirrors the struggle of L.A.'s black population to do the same. Over the last twenty years, the demographics of South Central and surrounding areas have shifted dramatically from black to Latino. The percentage of the black population in the city, never huge, has dwindled to scarcely ten percent. Central Avenue, world famous for its jazz scene in the '30s and '40s, has become a largely Latino corridor, as have other formerly black enclaves. In the bigger picture, black students are underperforming in public schools, and too many blacks of working age are unemployed or chronically underemployed. Too many more are in prison, or otherwise enmeshed in the criminal justice system. All of this has been abetted the last five years by the Great Recession, which is still playing out.
But Leimert Park was always the antidote to all the bad news, the spark of renewal and self-creation on a perennially troubled landscape. I know this firsthand. Back in 1992, in the aftermath of the civil unrest, I joined the L.A. Times as a reporter covering southwest L.A. and the Crenshaw district. Crenshaw had been devastated by fires, its streets littered with ash and pocked with empty lots. But Leimert Park Village had been untouched. Maybe because it was known for its black-owned businesses, but also because the merchants pulled together: Richard Fulton, proprietor of Fifth Street Dick's Jazz Coffeehouse that had opened up a couple of weeks before the unrest, was among those who turned back the flames with garden hoses. While I was familiar with the Leimert Park scene before the unrest, afterward it loomed even larger as a place of black possibility, a model of community development, not just redevelopment, that stressed building arts and culture over bricks and mortar.
Though April '92 is considered by many to be a low point for black L.A., the early '90s was actually the zenith of Leimert. Virtually every art form was represented on Degnan, from visual art to dance to music, literature, spoken word, and theater. It even had a museum, Museum in Black, that sold African goods from all over the continent and displayed historical artifacts, like slave shackles, in glass cases. Artists such as Kisasi Ramsses and Darrell Evers, son of the slain civil rights leader Medgar Evers, worked out of studios. The World Stage was hosting world-class jazz performances, some of them featuring renowned jazz drummer and Stage co-founder Billy Higgins. Actress Marla Gibbs had bought the grand old Leimert Park movie theater and rechristened it the Vision Theater, and next to that ran an acting school and small-theater colony known as Crossroads.
Degnan was rich not just in arts, but in stories: Richard Fulton's story about how he rose from being a Skid Row drunk to owner of a jazz coffeehouse -- a long-held dream of his, even when he was seriously down and out -- was the media's favorite. The village had evolved into an important gathering place for blacks: Leimert Park Plaza, the tiny park that anchors Degnan, was the site of just about every black-themed festival in the city -- Kwaanza, Malcolm X, Martin Luther King day -- and the site of many a news conference about black issues. All of this helped solidify Leimert's reputation as a crucial black space, a field of dreams that contrasted sharply with the chaos of nearby South Central. Leimert Park Village was hardly perfect -- it was not immune to that chaos -- but the point was that it was defined by its aspirations, not its limitations. That made it unique indeed.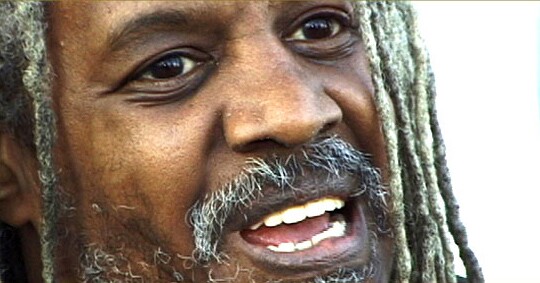 Yet the street-level, DIY spirit that made Leimert Park unique also seemed to make it unattractive to business people, who were encouraged to invest in South Central and Crenshaw after the unrest obviated the need for a more robust economy in black neighborhoods. Former basketball star Magic Johnson set his sights on redeveloping the Santa Barbara Plaza, the sprawling, open-air, 1950s-style shopping center on King Boulevard, across the street from the Crenshaw mall that was (and still is) badly in need of rehabbing. Not that village merchants wanted that kind of attention. While they applauded the efforts of a local black celebrity to help out the hood, they saw their grassroots endeavor as the antithesis of mall culture and the growing homogenization of the retail and entertainment landscape, represented by places like Starbucks (one of a few companies with whom Magic partnered). In this view, Degnan Boulevard was nothing less than a political statement, an argument for black self-determination that chains like Starbucks neutralized by design.
But in his quest to upgrade Santa Barbara Plaza with outlets like Nordstrom's Rack (it ultimately did not succeed), Magic Johnson was raising an important question that bore on Leimert Park Village: if he built it, would the black middle class come? The biggest paradox of the Crenshaw district is that its neighborhoods -- Baldwin Hills, View Park, Leimert Park -- are home to the biggest black middle class west of the Mississippi, but its commercial scene is relatively fallow. In other words, people live here, but work and shop somewhere else. The redeveloped Crenshaw mall that opened in 1988 had not really broken that pattern; Magic wanted to see if he could. The village had suffered from that pattern. A black space catering to black arts did not automatically pull in the huge middle class that surrounded it, or not consistently enough to prosper. Of course, the middle class is of a different consumerist ilk than the outliers that tend to define Leimert Park Village -- less adventurous, more welcoming of a Starbucks than anyone along Degnan would likely be. But the disconnect has been frustrating nonetheless.
It still is. For all its wariness of Magic Johnson in the '90s, Degnan merchants have never stopped talking about enlisting a high-profile black entertainer or some other figure to champion Leimert, to buy the property so that no one will have to worry about being forced out. More importantly, they won't have to worry about how they will continue a legacy of independence that pretty much everyone -- politicians, artists, the middle class -- agrees is worth continuing.