Mobile Mapping Technology Helps Build Stronger and Healthier Communities in Los Angeles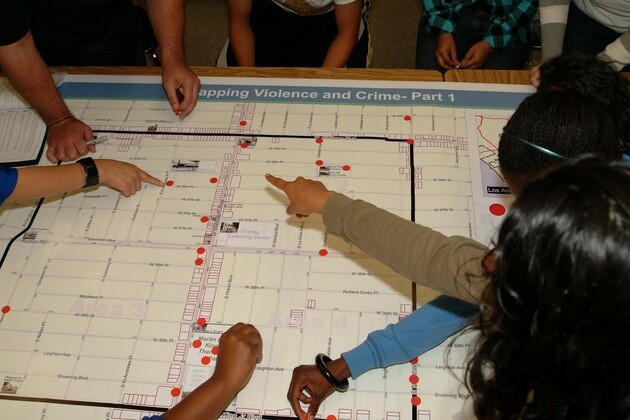 This is part of a series exploring the opportunities and challenges of using mobile technologies to engage and organize communities, produced in partnership with the California Endowment.
With the proliferation of mobile phones, digital cartography has taken off as a community-building tool. Using geotags for posted photographs and status updates, people can relay valuable information about the communities they live in. In Los Angeles, local area organizations are using mobile mapping technologies to assist residents in storytelling. The same technology is also being utilized in connecting people to various resources throughout the region.
Ride South L.A. is one project that combines bicycling with social justice, in creating a map of the South Los Angeles region for pedestrians and cyclists who live in the neighborhood, and for visitors who are unfamiliar with the area. Ride South L.A. grew out of a collaboration with T.R.U.S.T. South L.A., a local advocacy organization and a research group from the USC Annenberg School of Communication.
South Los Angeles is a vast urban area that includes 25 neighborhoods within the City of Los Angeles and three unincorporated neighborhoods. The 51 square-mile region is vibrant, but is also noted for being the location of the Watts Riots in 1965, and for being the epicenter of the Los Angeles riots in 1992.
Utilizing the Partour mobile platform, which allowed bicyclists who rode with community organizers around South L.A. to upload photos to the internet via text messaging, bicycling maps were created, which not only showed safe pathways for biking but also documented places where healthy food is available. For years, South L.A. was known for its high concentration of fast food restaurants and liquor stores.
While digital maps were generated online by mapping the cyclists' photos with Google maps, printed maps were ultimately generated for distribution in the South L.A. community.
"We found that the map is more useful when it's printed than just made available on a website," said François Bar, an associate professor of communications at USC's Annenberg School for Communication and Journalism, who was involved in the Ride South L.A. project as part of his work with his research group. "Any time you give a piece of paper to someone, you are building a connection, whereas you might not do that by simply telling someone about a website."
Approximately 5,000 paper maps that were generated from the Ride South L.A. project have been distributed in the South Los Angeles region through community fairs and bicycling groups.
Tafarai Bayne of T.R.U.S.T. South L.A., who worked with the research team from USC, added that participants in the project wanted to talk about and promote the South L.A. community in a positive way. Participants on bicycles were able to highlight some of the landmarks that might be overlooked while traveling in a car.
"Being in a car is a disconnecting experience. But when you find a path to walk or bike on, people get to know communities. Part of the challenge is that most people go through South L.A. very quickly -- a lot of our streets are like mini-highways," Bayne said.
Data from the U.S. Census American Community Survey on commuting via bicycle in the City of Los Angeles shows that from 2000 to 2010, cycling to work increased by 56%. With rising gas prices and an awareness of how fossil fuel consumption contributes to climate change, more Angelenos are cycling and utilizing public transit.
Beyond making local streets more bicycle and pedestrian friendly, others are using mapping technology to address issues of social inequality in Los Angeles. The Advancement Project, a public policy organization devoted to civil rights, has developed the Healthy City program and its online platform at Healthycity.org.
Healthycity.org allows users to search for services and resources in their communities, and manipulate data around issues such as healthy and safety, housing, economics, and even demographics. The website allows users to create their own account to produce customized maps, start a mapping session, and to upload their own data. Users can add photos, embed video, and include text, and draw shapes on the electronic maps. Data that is added by users is not verified, but the user can opt to "administer" the map that they create to share with people that they seek to engage.
Lori Holmes, the manager of online and digital initiatives at the Advancement Project, explained, "One of the ways we wanted to highlight data and information about what is in communities was to have tools for people to add their own data to the map. Folks can go out and take a picture and upload it to a map, but we have encountered some barriers in doing that such as WiFi not being available or reliable."
While mobile mapping technology is available to many people and there are often computers at community centers, Holmes said that the Advancement Project would bring out large paper maps when meeting with people to physically mark where certain resources or hazards are located. She said that it's easier to have a conversation around a large piece of paper that people can touch than around a computer screen.
According to the Advancement Project, HealthyCity.org is accessed by over 50,000 community advocates, policymakers and funders across California each year. To see a short demonstration of the HealthyCity.org site works, you can view the clip below:

The use of mobile mapping technologies in the Los Angeles area continues to grow as people develop apps that utilize maps to address local problems. In May, Mayor Eric Garcetti hosted the HACK FOR L.A. event that brought together government agencies, businesses, nonprofits, software developers, web designers, and students to work on application development.
MuraLAfi is one project that won a second place Esri prize for the best use of Esri Mapping Technology at HACK FOR L.A. Esri is a company that provides geographic information systems mapping software. MuraLAfi is a social media app that aims to connect artists with business owners who are looking to decorate their businesses with art. Business owners can search through artists who are using the app and browse photos of their art; alternatively, artists can search for space or businesses who seek to commission mural work.
Dave Gerner, the creator of the demo version of MuraLAfi, said, "The main concept is to "mural-ify" Los Angeles to increase the amount of street art and murals and to connect those artists with business owners who might want to display that art or market their business through murals."
Gerner hopes to capitalize on recent efforts to beautify certain areas of Los Angeles with his app, and to help create a source of income for artists who want to have their work displayed in local businesses. During the HACK FOR L.A. event, Gerner and his app developing partner, Billy Kern, had about 24 hours to code the demo. Currently, they are working to get MuraLAfi up to production level so that the app can officially launch.
Another app to come out of the HACK FOR L.A. event was Stop Water Waste Together, designed by Michael DeHart. Inspired by the MyLA311 app that allows citizens to report issues like graffiti and pothole repair into the City of Los Angeles administration, DeHart created an app that is currently in development to report water waste in the city. DeHart is hopeful that the city would add water waste as a reportable issue to its existing app, instead of having to fully develop a separate platform to accommodate waste water issues.
The use of mobile mapping technologies will likely continue to grow with the advances in science, technology, and engineering. While this technology has been used for some time for public safety and for land resource management, the proliferation of smart phones and tablets have increased the capabilities for personal use and for crowd sourced data collection and reporting from individuals. The Los Angeles metropolitan area provides an ample playground to connect nonprofits, advocacy organizations, government agencies and businesses to build resources around geographic information systems.