Since 1952, the family owned Fong's gift shop had occupied a modest store front in Chinatown's Chung King Road. The shop was an icon in the neighborhood, selling everything from Chinese antiques, beautifully crafted jewelry, to detailed and rare miniatures. Its red neon sign, which was mounted perpendicularly above the main entrance, is a synonymous image with Chinatown.
Fong's even served as a backdrop for Lisa See's novel, "On Gold Mountain: The One-Hundred-Year Odyssey of My Chinese-American Family." See's great grandfather Fong See, was the uncle of Gim Fong, who opened Fong's on Chung King Road after the original store in Los Angele's old Chinatown burned down. In fact, Fong See actually helped to fund the first store prior to its tragic demise. Subsequently, Lisa See spent a lot of time growing up in the later reincarnation of Fong's on Chung King Road.
But like many neighborhoods in Los Angeles, Chinatown is changing.
Chung King Road recently has seen an explosion of high-end art galleries, and because of the revival of sophisticated art, stores like Fong's, which are central to Chinatown's history, are starting to be edged out.
"Basically, the rent had gone up at the other place because a lot of galleries are coming in and they are much more willing to pay a higher price," says Mason Fong, the current owner of Fong's.
About three years ago the building that once housed Fong's was sold. Consequently, the new owner hiked up the rent substantially. It was time for Fong's to find a new home.
Steve Wong, the interim executive director of the Chinese American Museum, and his wife, were previous owners of the building. They had dreams of opening an art space, which would bridge the gap between the art world and the Chinatown community, but they also recognized the importance of Fong's and its historical value.
"As a couple who respected the history, respected the community, we felt that we could also be community advocates," Wong says. "We made a promise to Mason's uncle who owned the store at the time, Gim Fong, we promised him we would never evict him. When he died, his brother, Charles, who is Mason's father, took over and we extended that promise to him. And then when Charles passed away, we of course extended that promise to Mason and Charlie."
After a stressful and frantic search for a new space, Mason and his step-daughter, Charlie Owen, found a spot on Hill Street, which is one of the main roads running through Chinatown.
"At first it was really stressful and scary because we didn't know where we are going to be," Charlie says. "When we did finally get this place it was relief, because then we had a place to be and get excited again about the new possibilities for the shop. It could still be part of the family history, but I think our own more."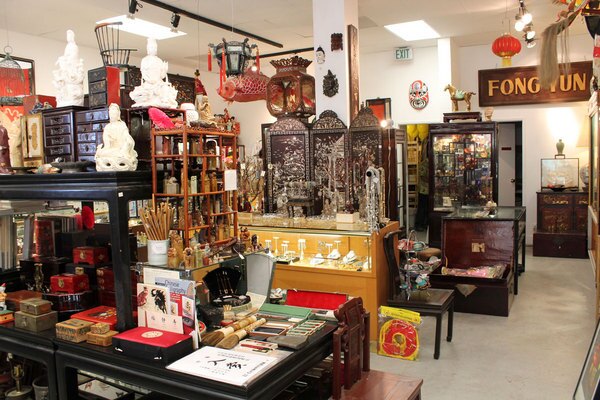 The new Fong's, which does not have a sign yet, sits inconspicuously amongst the other stores in a courtyard next to the Best Western Dragon Gate Inn. Red columns encompass the courtyard and tables and chairs are scattered throughout the patio. Construction workers are also spread out through the open space, and are working on renovating it into a modern area that still pays homage to Chinatown's rich history.
Once inside, floor to ceiling windows in the store allow light to come beaming through and highlight all the little trinkets for sale.
"We are really happy with this space, partly because it's such a pleasant space," Mason says. "The courtyard is very nice... I really didn't expect this."
The owner of the courtyard and the adjacent Best Western Dragon Gate Inn, Peter Kwong, whose family has also owned the hotel for generations, was excited that Fong's, a Chinatown icon, decided to move in.
"[Kwong is] more modern thinking, in that he wants to revitalize and be part of Chinatown," Charlie says. "So, as you can see he is doing this painting and remodeling of the courtyard. They want to incorporate our sign. He's very gung-ho about us being here, which makes it even better than just moving into a random place. To have the support from him has been really great."
Fong's almost did not see its new location. When the rent in their old store first started to go up, Mason considered closing the business altogether.
"I was less connected to the business," Mason says. "I wanted to do artwork."
Mason, who moved to Austin, Texas several years ago, never thought he would take over the family business. He is an artist and rents a studio space in Austin. Mason was also once a graphic designer for McGraw Hill in San Francisco, but moved back to Los Angeles to take care of his ailing father in 2000. When Mason's father passed away he found himself running Fong's.
But it was Charlie, Mason says, who changed his mind about closing Fong's. "It was so important to Charlie and she just didn't want to let it go," Mason says.
During the week Charlie has an office job, but on the weekends and some evenings she is at Fong's. For Charlie, doing the invoices, ordering new merchandise, and managing Fong's web presences is a way for her to be closer to a family that essentially adopted her when her biological mother passed away.
"I worked so hard with everything, it was just hard to let go," Charlie says about the possibility of losing Fong's.
Fong's future for the next several years is certain, but beyond that it is uncertain whether the store can stay open. Both Mason and Charlie do not have any kids, and no one in the extended family has shown interest in running the shop. Mason hopes to at some point retire and focus on his artwork in Austin, and leave the store to Charlie.
"I'll keep going as long as I can, that's my thought on it," Charlie says about her future at Fong's.
For Mason the potential that Fong's might close its doors one day is bitter-sweet.
"I don't think about it continuing on," Mason says. "I just know how life has changed for all of us here. If we were still back in China, maybe. Well, even back in China the kids just do different things. If my uncle did not take over the shop, and if he were like the other uncles who decided to be an engineer or whatever, then the shop would have been gone then, but he had decided to continue on. It's almost, I guess, inevitable."
Photos: Danielle Tarasiuk