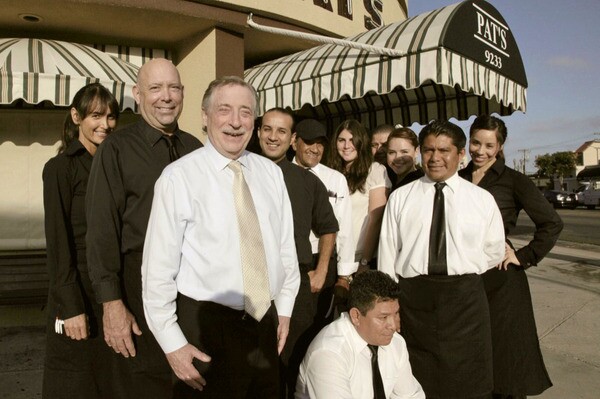 How do you know you're in a Jewish neighborhood? It sounds like the set-up to an old Yiddish joke. Answering in earnest might begin with the same tactics used determining a Chinese or Russian area: look for foreign letters on the front of businesses.
Next you search for food clues. Any legitimate Jewish neighborhood will be recognizable by the variety of kosher restaurants. "And black hats," says Errol Fine, who with his wife has owned and managed Pat's fine dining for 23 years.
Their first location was further west near Pico and Overland, but in the late '80s they traversed closer to the emerging yamulka district. Through the windows of their South Robertson restaurant they have watched a couple of Jewish synagogues, schools, and eateries become a few per block. More are coming every day. Errol tells me the long enduring furniture showroom up the road is about to become another yeshiva school. Manager David Lee estimates 30 kosher restaurants along Pico between Beverwil and La Cienega.
Despite the oversaturation, business is good. Inside, everyone is prepping for dinner. Prep is a lengthy process when the food is kosher. On hand is a mashgiach, a kosher supervisor.
Local boy Joshua Gabai is 23 years old. When he was in fourth grade he asked his parents to switch him from public to religious school. With his beard and gentle manner, Joshua is evidence that the change in the neighborhood is more than a real estate trend. The restaurants are not Jewish-style delis; they are kosher from soup to nuts, and Joshua is there to verify it.
"Mostly they want to ask questions about our process, make sure things are done properly. Occasionally..."
Occasionally a customer will insist on accompanying Joshua into the kitchen and watching as he, an orthodox Jew certified by a kosher agency and hired by the owner, places the steak on the grill. The customer then returns to the table and the cook continues with his utensil.
That's part of the job, and it seems almost a rite of passage among the Latino staff I spoke to that when you are first hired you will either offend, or be offended by, the religious behaviors of the customers.
When Max Mojano started making drinks at Pat's he'd come from a cocktail bar in Hollywood. He found out quickly it's not kosher to respond, "you're welcome, baby" when women thank him for the wine.
I ask what else is different about working in a kosher environment: The mashgiach inspects the alcohol every day. Every day?
"Joshua, checks every bottle, every day. It's like there's a guy from the health department working here." And then he describes the magnifying glass the young Jew uses for the lettuce. Carlos Alvarado, the cook who came out from the kitchen to confirm stepping aside for meat to be placed on the grill, laughs in agreement about the lettuce.
Later when I speak to Joshua, he actually sighs before telling me, unprompted: "the lettuce is a big part of my job."
Vouching for the adherence to Jewish Law, means they inspect and clean the produce daily. Biblical commandment ensures the food is fresh and choice. If the freshness doesn't exactly hurt their reputation as a fine dining establishment, bless the Creator. That reputation, according to both the mashgiach and the manager, is world famous within religious Jewish circles.
Errol is humble. Pico Robertson, or South Robertson, isn't like other parts of Los Angeles redefining themselves as a distinct community. "It's not [neighboring]Culver City," he says, "it isn't attracting hip young people. Nobody's driving across L.A. for a falafel."
Except Jews, of course. So while there are still Israeli pockets of the San Fernando Valley and a Hassidic stretch of La Brea Boulevard, South Robertson has become the place to be for upwardly mobile Jews in search of a home within walking distanceof worship, schooling, and kosher nourishment.
Myself? I noticed while growing up that our neighborhood wasn't much for Christmas decorations, but it wasn't like it is now. There was Temple Beth Jacob, Hillel Academy, Milk and Honey, then Young Israel Synagogue, YULA, and the Pico Kosher Deli. Then all of a sudden religious people came and opened schools, or they opened schools and the religious people came, or more people like Joshua became religious; but somehow it happened.
For Joshua it is nothing less than Orthodox Jewish people learning how to work together, making small significant changes.
Max the bartender sees it too. "There is community in this neighborhood," he says, "they look out for each other." Max has a Hebrew nickname, Moishe, and a kosher food delivery business.
David Lee speaks of watching children come into the restaurant with their parents, grow up and then bring their own children to eat.
After two decades of broadening the kosher food horizon beyond pastrami sandwiches, Pat and Errol are thrilled about the changes that have occurred in the neighborhood.
"I'm sure there are a few older gentiles in Beverlywood looking around thinking when? How? But of course we love it."
Miguel Cervantes has been a waiter in Los Angeles for nearly forty years, the last twenty in kosher fine dining. He is a man of few, but meaningful, words. He tells me the kosher rules are too complicated for strawberries; so strawberries are off the menu. He tells me he loves this job; he gets Fridays and Saturdays off to be with his family. And then he ends the interview by saying, "I have to work."
Photos by Ben Bertucci