Despite Significant Harm to Children's Brains, EPA Won't Ban This Potent Insecticide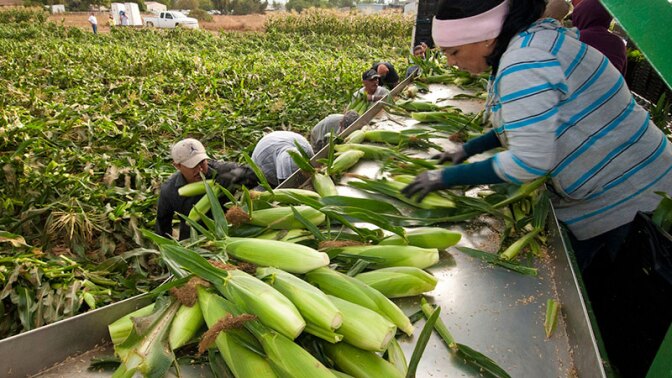 If you're worried about the weed-killer glyphosate, a.k.a. Roundup™, you're not alone. The herbicide is getting increasing critical exposure in the news — and on social media — as we learn more about its potential effects on the environment and human health. Roundup use is growing exponentially, so that concern is sensible. But there are other commonly used pesticides that don't get nearly as much public attention, despite the fact that they're significantly more dangerous to people and the planet. In this short series, we'll discuss five common pesticides whose ill effects on human health and the environment are demonstrably worse than Roundup's.
It's a lot harder to find the broad-spectrum insecticide chlorpyrifos on U.S. hardware store shelves than it used to be. In the 1990s it was everywhere, from roach killers to sprays for home fruit trees. In 2000, the EPA reached an agreement with Dow Chemical and five other manufacturers of the potent insecticide to remove chlorpyrifos from consumer insecticides sold for household use. That agreement took full effect in 2001. Now, you find chlorpyrifos on retail shelves only in tiny, little-trafficked stores where inventory hasn't run out in the last 15 years.
But chlorpyrifos hasn't gone away. It's still the most commonly used insecticide in agriculture, despite mounting concern over its harm to human health and the planet. And the Trump administration is working to make sure that won't change anytime soon.
The 2000 agreement to stop selling chlorpyrifos came after numerous studies showed that the insecticide causes serious illness in children, pregnant women, and agricultural workers. There were plenty of exposure cases to study. Chlorpyrifos, sold under several trade names including Dursban, had been an ingredient in common home and garden bug sprays since 1965.
Despite restrictions in the retail market, chlorpyrifos remains in heavy use in agricultural and commercial settings, with about six million pounds used on farms in 2014 alone. Health and environmental concerns persist. In 2015, EPA scientists persuaded their administrators to propose banning agricultural use of the insecticide, due to its persistence on food and in ground and surface waters. Environmentalists and public health advocates rejoiced — until this spring, when EPA Administrator Scott Pruitt kicked the decision on the chemical's legal fate down the road to 2022.
"EPA is refusing to take this chemical off the market — but it is not rescinding its own scientists' finding that this pesticide is toxic to children," said Miriam Rotkin-Ellman, a senior scientist at the Natural Resources Defense Council (NRDC), which is challenging Pruitt's order with co-plaintiff Pesticide Action Network (PAN). "Parents shouldn't have to worry that a dangerous chemical might be lurking in the fruits and veggies they feed their kids. The health of our children must come before chemical corporations."
NRDC and PAN are seeking a court order forcing the EPA to follow its own scientists' recommendations, which came as those scientists reviewed a decade-old petition by the two groups to ban all chlorpyrifos use in the United States.
Whether in residences or on the farm, exposure to chlorpyrifos can cause serious neurological problems. That's not surprising: chlorpyrifos works to kill insects by interfering with the function of the neurotransmitter acetylcholine, which is crucial to humans' nervous system function as well.
In people, chlorpyrifos exposure can cause nausea, dizziness, memory loss, and in rare cases a severe disorder called delayed neuropathy, which can lead to permanent paralysis. Fetuses exposed to chlorpyrifos in the womb have exhibited reduced IQ and impaired cognitive function, and those symptoms also show up in very young children exposed to the chemical.
To top it off, chlorpyrifos is also an endocrine disrupter, and has been linked to reduced sperm count in some animals.
Hence the 2000 agreement to pull chlorpyrifos from retail shelves, often referred to somewhat inaccurately as a ban. But as part of that agreement, the EPA agreed to hold off on restricting agricultural use of the potent insecticide. Aside from EPA guidelines restricting use on a few crops, and banning any use on tomatoes, use of chlorpyrifos continued essentially unabated on farms. Corn is a leading recipient of chlorpyrifos spraying, as are fruits and vegetables: about half the apples and broccoli grown in the U.S. have been sprayed with chlorpyrifos. Use on soybeans, which started in 2005, is increasing on average each year.
The insecticide also remains in use on golf courses, playing fields, and other commercial landscapes, as well as for control of mosquitoes and wood-boring pests.
As biologist Emily Willingham points out in a column in Forbes, ending retail sales of chlorpyrifos in 2000 was handy for scientists looking to study the effects of the insecticide on fetal development. After 2000, developing fetuses were less likely to be exposed to chlorpyrifos than those born before the "ban," when interior air samples in residences in some cities, like New York, almost always tested positive for the chemical.
Children who were in utero before chlorpyrifos was pulled off the retail market had significantly greater incidences of reduced cognitive abilities and motor skills, and other forms of delayed development. The effects were more pronounced in boys. Chlorpyrifos has also been linked to reduced birth weight, increased incidence of childhood tremors, and other neurological and developmental dysfunction.
Terminology: herbicides kill plants, insecticides kill insects, fungicides kill fungi. Fumigants kill almost everything. And "pesticide" is a blanket term that includes all of the above.
And that risk didn't end with the 2000 "ban." For one thing, chlorpyrifos is very persistent in the environment, and it can travel long distances to homes and residential gardens far from where it is applied, on farms in the United States or from somewhere halfway around the world. Chlorpyrifos was detected in Arctic Ocean ice as early as 1972, attesting to the pesticide's mobility. For another, millions of pounds of the stuff are used each year in the United States — just not in homes, at least not legally.
In 2016, acting on a court order to respond to NRDC and PAN's 2007 petition, the EPA published a revised assessment of chlorpyrifos' human health effects that said, in part:

Based on current labeled uses, the revised analysis indicates that expected residues of chlorpyrifos on food crops exceed the safety standard under the Federal Food, Drug, and Cosmetic Act (FFDCA). In addition, the majority of estimated drinking water exposure from currently registered uses, including water exposure from non-food uses, continues to exceed safe levels, even taking into account more refined drinking water exposure. This assessment also shows risks to workers who mix, load and apply chlorpyrifos pesticide products.
The agency also found that chlorpyrifos use might put 1,778 Endangered and Threatened species at risk. The majority of potentially affected species were plants (959 species), invertebrates (366), and fish (188), but dozens of bird, mammal, reptile, and amphibian species also made the list.
Between the significant environmental effects and the startling human health damage from chlorpyrifos use, it's easy to understand the EPA move to ban all uses of the pesticide. It's harder to fathom just what motive Pruitt might have had for spiking that ban, other than protecting the interests of chemical companies.
"The EPA said repeatedly that this pesticide is not safe," said Erik Nicholson, National Vice President of United Farm Workers, of Pruitt's move. "It is long past time for EPA to permanently ban all uses of chlorpyrifos, stop caving-in to corporate interests, and focus on the wellbeing of workers and their children who live in areas surrounded by pesticides."
The other pesticides we're covering in this series are the weedkillers atrazine and 2,4-D, and the soil fumigants 1,3 dichloropropene and metam sodium.