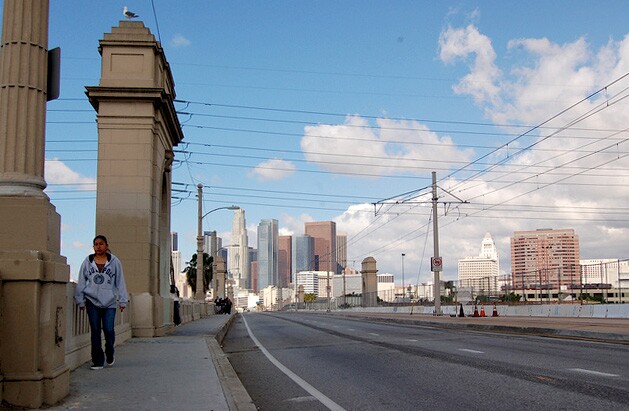 More than just a transition from east to west, the Los Angeles River bridges are also conduits to the city's history. But it's difficult to appreciate their intricate detail and beauty while zipping by a petrol-powered machine. Dan Koeppel, organizer for the annual two-day Big Parade L.A. walk through Los Angeles, has an answer for that. Instead of slowing down your car to admire the detail, why not walk over it and enjoy the view?
"[Walking] the bridges is a great way to see the river and each of the bridges has a great story," says Koeppel, who was inspired to start this post-Big Parade L.A. walk after going on a bicycle ride over the bridges, led by Will Campbell, about eight years ago.
Dubbed the "Ten Bridges Epic" walk, Koeppel will lead attendees through ten bridges that cross the Los Angeles River this Saturday, July 20. The trip starts at 8:30 a.m. at the Chinatown stop of the Metro Gold Line station, then heads south for about 14 miles, crossing east and west over the intervening bridges between Broadway and Olympic Boulevard. At the end of the walk, the group heads back to the starting point on the Metro.
Along the way Koeppel will tackle a history of the Los Angeles River and some challenges the city faces while managing the traffic. Walkers will also get a chance to go through some semi-secrete passages along the river, plus get up close and personal to the historic waterway. If time permits, the group will end their walk at the Alameda Swap Meet near Vernon.
Like the Big Parade, this walk allows participants to join in wherever it's convenient. Koeppel will be tweeting his location every 15 minutes or so. Walkers can opt to do all of the 14 miles or only a portion of it. Koeppel provides exit routes, which attendees can easily follow. Unlike the Big Parade, the Ten Bridges walk is mostly flat.
Lunches should also be packed ahead of time. "We don't stop to eat at restaurants," relates Koeppel, "Ordering a sandwich for eighty people is usually too much for a restaurant."
If there's one thing walkers should be prepared for in July, it's the heat. Koeppel cautions attendees to bring hats, wear sunscreen and to drink lots of water.
Find more details on the "Ten Bridges Epic" walk on Facebook. Koeppel will post more details as the week progresses.