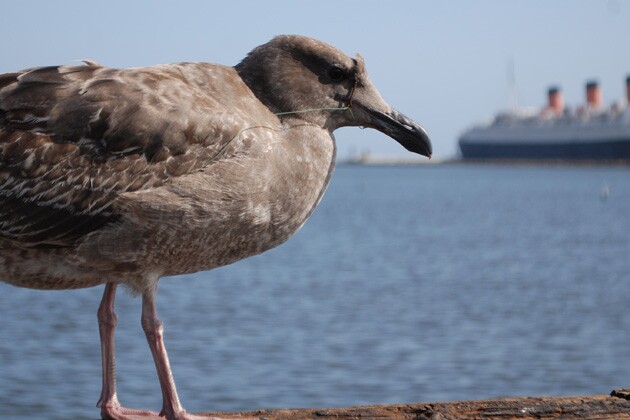 Being a steward of nature doesn't always mean rallies and big gestures. Sometimes, it can be as simple as disposing of your waste with thought.
Ever since Senate Bill 1201 gave the public more access to the Los Angeles River three years ago, the waterway has become the city's newest, burgeoning local attraction. More and more people are discovering this once neglected waterway, including the avid fishermen that live in and around Los Angeles. While good for the river, the increased recreational traffic has also meant additional trash that has proven harmful to wildlife -- especially to Mr. Fred, a Great Blue Heron hobbled by a fishing line tangled around his ankles.
Though rescued by Elysian Valley residents and driven to International Bird Rescue in San Pedro, Mr. Fred didn't survive this seemingly meager injury. "Mr. Fred's foot was infected and spread to its bones," reported William Preston Bowling, special projects manager with Friends of the Los Angeles River (FoLAR).
Disturbed by such tragic consequences, Bowling set about trying to find a solution to prevent any more wildlife suffering from misplaced or thoughtlessly disposed fishing lines. The problem begins when birds smell the remnants of fish on the discarded line and hunt for them in the regular trash bins where fishermen dispose of their lines. Because the trash is often easily accessible to birds, they can get tangled up and injured in them. The solution to this was simply to make the disposal container less accessible to birds. By deploying bins in the form of simple tubes, birds cannot get their root through the trash and accidentally harm themselves. The solution is already being used in ocean piers and streams in the High Sierras, where fly fishing is popular.
Working with councilmember Mitch O'Farrell and the Atwater Village Neighborhood Council, FoLAR has launched a fishing line recycling and education program. They've installed three pilot recycling stations in popular, woodsy fishing areas along the Los Angeles River -- Dover Street and Acresite Street -- and the non-profit's summer oasis the Frog Spot. They will be up until the end of the recreational zone season in October.
Additional stations are planned for the Bowtie Parcel, and the non-profit is also working with the Mountains Recreational and Conservation Authority to install another one at Marsh Park.
"I'm so pleased to work with FoLAR and take the initiative to address this vital environmental issue and protect our beautiful birds. We encourage the community to come out and fish and enjoy the river and all the outdoor experiences it has to offer," said Sean Woods, Los Angeles Sector Superintendent, California Department of Parks and Recreation, in a statement. "By installing these fishing line recycling tubes we can do that and keep our majestic birds safe. The recycling tubes are also a symbolic recognition that the Los Angeles River is alive and well and provides an important habitat for a wide variety of birds and fish in the heart of our city."
The stations are elegant tubes that can hold fishermen's lines once they're through with them, rather than littering the river. "After putting on the first ever fishing derby on the Los Angeles River, we wanted to make sure that the attention was focused on being good stewards of river fishing," said Bowling.
Every week staff and volunteers empty these recycling stations and send them to Berkley Conservation Institute in Iowa, a non profit that recycles the fishing line into fish habitats made of monofilament fishing lines an dline spools, along with other post-consumer materials like milk cartons and soft drink bottles. These habitat structures attract fish and encourage plant growth almost immediately, providing the natural cover essential to the growth of a healthy fish population and ecosystem.
Aside from this FoLAR has also launched an educational component to the program, distributing 5,000 English and Spanish language cards that alert anglers about the dangers to wildlife, in the hopes that increased awareness would result in less preventable injuries to the beautiful birds of Los Angeles.
"Fishing the Los Angeles River is important for our community. It's about enjoying a shared experience for anglers and families," said Bowling in a statement, "but we also must be good stewards and make sure it's safe for everyone, including our wildlife."