Last fall I took a vacation across the Pacific. Despite being away from Los Angeles, I found myself thinking about the many ways a river can become part of a city's life. Though I didn't look for it, in Japan, I found examples of the many ways a waterway could become part of a city.
Japan is a country of mountains and rivers. Mountains make up a staggering 73 percent of the country, giving rise to about 14,000 rivers large enough to be overseen by the nation's Ministry of Land, Infrastructure, Transport, and Tourism.
A simple walk through some of Japan's cities confirms this. In my one-week stay in Japan, there was never a day I didn't pass by a canal, stream or full-fledged river. Before the advent of cars and railways, the Japanese saw waterways as viable means of transportation. In the late 700s, men would float great logs down Hozu-gawa to build the now-famed sites like Tenryu-ji Temple (a registered World Heritage site), Rinsen-ji Temple, and Osaka Castle. Over centuries, rivers have molded themselves into the bustling life of Japanese cities, and each has developed in their own singular fashion. Here are a few versions I witnessed:
Arashimaya
Arashiyama used to be a getaway for Emperors of the Heian Period (794-1192). Upon getting out of the train station, one can easily see why. A mountain range filled with changing colors of maple leaves sits at the background, while the Hozu-gawa turns into Katsura river and flows east to west endlessly.
Walk over Togetsukyo Bridge and onto a busy pedestrian-filled path lined with traditional shops. Its attractive storefronts call out a veritable "come hither" with its cute items, sweets and artist handicrafts. Everywhere, there seems to be a new store to peruse or even a tiny little detail (such as these stone figures) to wonder at.
For a price, one can rent a pleasure boat where you can enjoy all the beautiful foliage during spring and fall. It was by far the most nature-y river walks I came across. As one rides on the river, scenic landscapes abound and one can almost forget that a few steps away is a railway station ready to whisk you away.
Kamo River
Flowing north and south through Kyoto, the Kamogawa (or Kamo river) sits right by Gion, Kyoto's geisha district. Long paths make it ideal for joggers, but generous banks also make it a great place to enjoy a cool riverside breeze. Along the river, I saw glimpses of old and new. More modern buildings tightly interspersed with traditional architecture.
I stopped by close to winter, so the colder air might have discouraged some locals, but according to my brother-in-law, the riverside is often filled with performers and people looking to find some life. It sounded like a tamer version of Venice Beach to me -- performative, yet also scenic.
A series of turtle-shaped stepping stones allows pedestrians to cross from one side to another. In the summer, when the weather turns sticky, riverside establishments put up wooden platforms, called yuka, by the river, allowing customers to dine al fresco. It was a balance of the natural riverscape with the built urban environment.
Dotonbori
On the other end of the natural and man-made spectrum is Dotonbori in Osaka. A cross between Venice, Italy, and New York City's Time Square, the area is famous for its food culture. Neon-lit and crammed with shops and restaurants, the place is swarming with human activity.
The street was chockfull of shoppers perusing the many stalls on Shinsaibashi, a covered arcade, tourists (like me) with their cameras ready to capture the iconic neon Glico man in a triumphant run.
Strictly speaking, Dotonbori isn't a river, it's a man-made canal that goes back to the 17th century when Doton Nariyasu started building the canal, but was killed during the Summer Siege of Osaka Castle before he could finish the job.
Interestingly, like Los Angeles in recent memory, Osaka saw this waterway as a liability instead of an asset. Buildings were built with their backs toward the water, or worse, filled in to make room for roadways. It was only in 2001 when that prevailing opinion changed with the launch of new urban revitalization projects.
Once dank and dingy, the canal now has a boardwalk with street vendors hawking food, or performers attempting breakdancing moves with the glowing lights of Osaka as their backdrop. While walking through, I was lucky enough to catch a water parade to celebrate the holidays. Buildings, neon lights, life encroached on the canal. The atmosphere was filled to the brim with vitality.
A week walking through some of Japan's waterways has made me realize the future of Los Angeles River can take many different paths. If Japan is anything to go by, one can lean on tradition or build a glamorous novelty to create a sense of place; it all depends on what there is to work with. I think we can all agree that the Los Angeles River revitalization can re-invigorate the city, but in what ways it actually will remains to be seen.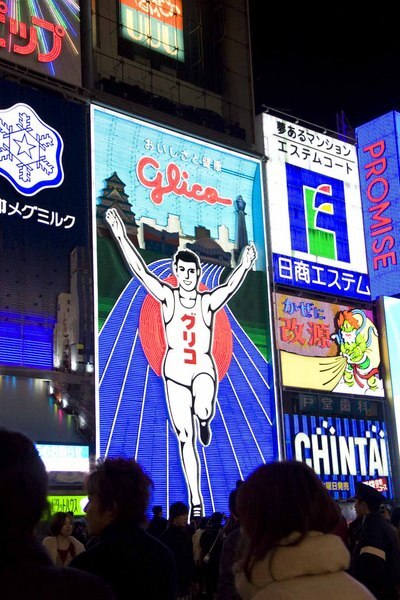 Photos: Carren Jao