As conversation on the revitalization the L.A. River continues, one of the best ways to experience the river as a recreational area is to utilize its bike paths. The entire length of the river remains unconnected by a continuous path, but the various stretches of paved riverside bikeways allow you to safely traverse what could have been L.A.'s "Emerald Necklace," as imagined by the Olmsted Brothers more than 70 years ago.
The longest continuous bike path along the L.A. River begins in Vernon, and ends at the mouth of the river in Long Beach. Hopefully someday the city will close the 8-mile gap between Glendale Narrows, whose path was recently declared a National Recreational Area, and the "Exclusively Industrial" city of Vernon, making it easier to bike all the way from the Valley to the sea.
For now, traveling from downtown to Long Beach requires a zig-zag route through the various river-adjacent neighborhoods before reaching the bike path -- which isn't a bad thing at all as it allows for an intimate look at places you may otherwise not experience.
My own journey began at Union Station, as all journeys should. Then winding through the rapidly developing enclave of the Arts District, you can feel the fresh aromas emanating from a newly opened fancy coffee shop.
A few blocks away, the cancer-stricken Sixth Street bridge offers a picturesque way to cross the river and the railroad tracks.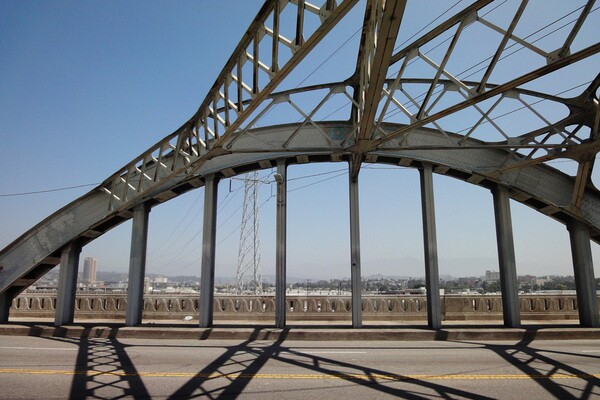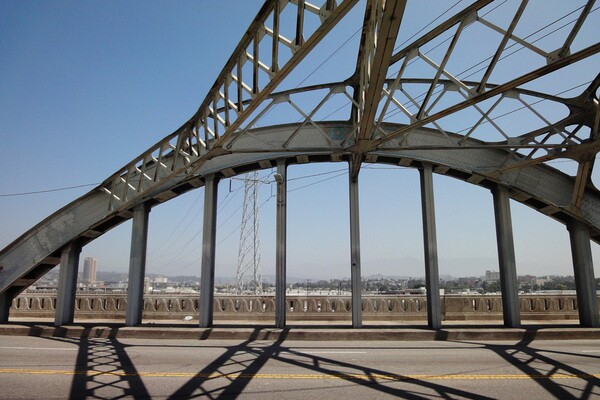 In Boyle Heights, the empty shell of a once-grand art deco Sears building looms over the streets. As you keep pedaling, you wind through the narrow roads between massive warehouses in Vernon, and you must carefully navigate your wheels over a web of old railroad tracks until you reach the entrance of the L.A. River bike trail. The water here flows at a fairly quick trickle -- a race between the river and a bike would result in fairly close competition.