Nineteenth century America had the Hudson River Valley School; perhaps L.A. has the Los Angeles River School.
While cyclists, pedestrians and pet owners are common sights along the Los Angeles River, especially on weekends, a cluster of shabbily-clad seniors might come as a surprise. "We look really funny," says salt-and-pepper haired Nadine Orabona. "We're all in old clothes and before we bring out our easels and paintbrushes, we really look like homeless people wandering around."
Orabona is the organizer behind Paint Buddies, a senior group of painters who have made it their task to scour the Glendale Narrows section of the Los Angeles River to document the changing face of the Los Angeles River. In the last six months, Orabona and a loose agglomeration of other seniors from the Griffith Park Adult Community Center have been setting up shop along different spots on the river and its associated parks. Its regular attendees include Orabona, Lolita Chin, Margaret Clarke, Robert Coughlin, Kathy Metz, and Sally Norton. They hope to capture the natural beauty of the area and consequently provide a visual record of what has come before the impending rush of development arrives.
"The Paint Buddies started as a group mainly just to paint together for comfort and safety," explains Orabona. She wryly explains that it would be much easier for a group of strangely clothed seniors to venture out on the river together than it would be separately.
In the past six months, the group has ventured to the Sunnynook River Park; Los Angeles River Bikeway in Griffith Park; and the L.A. River at Los Feliz (near Los Feliz Café), Dover, and Legion. They've even explored the parks associated with the river, such as the Los Angeles River Center and the new expanded Marsh Park.
Many of the seniors have grown up around the river and thus weren't surprised about what they had found, but they did find it unusually enjoyable. "It's nice to have water nearby," says Orabona. "We don't really have a lot of wild things here in L.A. and painting the river provides such a changing landscape. We go back time and time again and find different things."
The Paint Buddies unveiled the result of their months of labor in an exhibition last week. Hung salon style inside the Griffith Park Adult Center, their paintings capture the mercurial mood of the Los Angeles River, from its sunset colors to its vibrancy after a rainfall.
Robert Coughlin, a two-decade resident of Los Angeles, expressed the river's transience in an almost abstract watercolor. Coughlin remembers the river of 20 years ago as a place filled with "trash, a dumping ground for Los Angeles." It is a far cry from the verdant painting today. He says his love of watercolor comes from its immediacy and spontaneity. "In watercolor, there are so many happy accidents."
Lolita Chin, a lively woman in pink, had always wanted to be an artist, yet only reconnected with that dream recently after the passing of her husband. Chin's mediums switch from watercolor to oil when the mood strikes. "With oil, you have to be patient and wait, but with watercolor everything is fast."
The Paint Buddies plan to keep up their exploration on the river every first Sunday of the month, beginning December 7 at Dover Street. Orabona says other painters are always welcome. She remarks, "We're recording history here."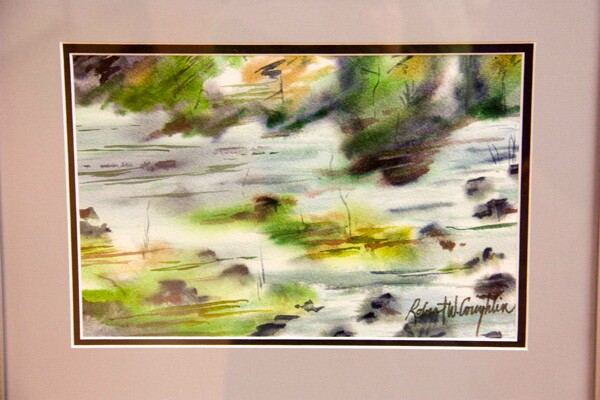 For more information on future painting sessions on the Los Angeles River, sign up for their e-group.
Photos: Carren Jao