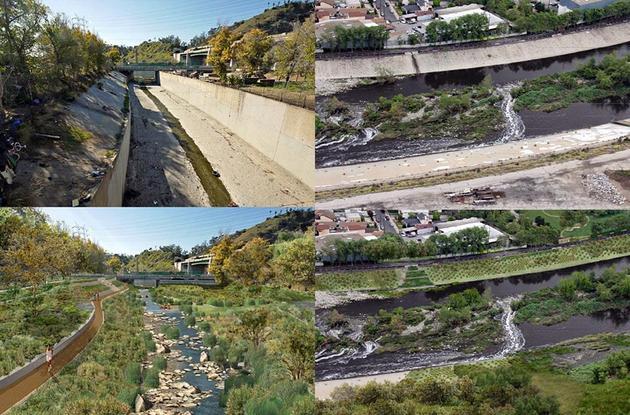 The possibility of remaking the Los Angeles River in a big way is unquestionably a milestone for Los Angeles. In the next few weeks we'll be asking those who've been keeping an eye on the project over the years, those who live around the Los Angeles River, and concerned citizens what their thoughts are on the proposals at hand in regards to the Los Angeles River Ecosystem Feasibility Study, also known as the ARBOR (Alternative with Restoration Benefits and Opportunities for Revitalization) Study.
The four alternatives that are currently being considered are:
Alternative 10, or ART (ARBOR Riparian Transitions), is the minimally acceptable alternative that costs $346 million. It would result in a 93 percent increase in habitat. Work includes: minimal restoration at Taylor Yard, but not at the other confluences, widening of Taylor Yard by 80 feet with a small terraced area by the Bowtie parcel, restoration at Piggyback Yard.
Alternative 13, or ACE (ARBOR Corridor Extension) is a $453-million project that include all the features of Alternative 10, and will increase habitat by 104 percent. Work includes adding a side channel behind Ferraro Fields, widening of over 300 feet in Taylor Yard, and tributary restoration on the east side of the Arroyo Seco watershed. The Army Corps currently supports this alternative.
Alternative 16, or AND (ARBOR Narrows to Downtown), is a $757-million project that includes the features of both Alternative 10 and 13 with extensive work on the Piggyback Yard. It would increase habitat by 114 percent.
Alternative 20, or RIVER (Riparian Integration via Varied Ecological Introduction), includes all the elements of previous alternatives with the restoration of the Verdugo Wash and the wetlands of the Los Angeles State Historic Park. Habitat would increase by 119 percent at the cost of $1.04 billion.
This week, we hear from Councilman Tom LaBonge, who has kept the river in mind as Vice Chair of the Ad Hoc River Committee (now the Arts, Parks, Health, Aging and River Committee); Kirsten James, Science and Policy Director of Heal the Bay; and Jenny Price, an artist/activist whose Los Angeles River tours opened Angelenos eyes to the river in their backyard.
Here's what they had to say:
Tom La Bonge, Councilman for Fourth District
I'm supporting Alternative 20 [the most comprehensive available option]. It provides Los Angeles with the best possible chance to remake our Los Angeles River and bring out the true potential of what it can be.
What would you say of the Army Corps' support of Alternative 13?
We only have one chance to do this right. There are no do-overs in once-in-a-lifetime projects. Let's not leave this to the next generation to do.
Kirsten James, Science and Policy Director, Water Quality at Heal the Bay
The Army Corps study of the Los Angeles River brings long overdue attention to one of Los Angeles's precious resources. Heal the Bay has long worked with communities and public agencies involved in the Los Angeles River to further their connection and understanding of its importance. We also work with government agencies to develop policies and regulations that protect water quality in the River, such as the successful Los Angeles River Trash pollution limits. Therefore this study will complement these efforts already underway.
Heal the Bay has not taken a formal position on any alternative, and staff are in the process of reviewing the EIR. However, we recognize that the alternative with the greatest habitat value that provides a nexus to the Los Angeles River is Alternative 20.
Is there an issue you think the Army Corps should have focused more on in the study?
We find that the Army Corps study misses opportunities to address other environmental stressors, such as the effect of climate change or improving water quality.
In November 2012, the Los Angeles Regional Water Quality Control Board renewed the Los Angeles County Municipal Stormwater Permit, a process in which Heal the Bay was very involved. That new permit system now has to be implemented and it requires cities to develop watershed management plans that will include specific projects to help improve water quality in our local rivers and streams. That's something we'd like to see more of in the ARBOR study. Our understanding is that the alternatives focused more on habitat restoration, but some of the projects outlined in the alternatives could incorporate ancillary water benefits.
Did the study bring up other dilemmas on the part of Heal the Bay?
This study brings to mind another important natural resource issue for the Army Corps that has been left unaddressed to date. Earlier this year the Army Corps was called-out for bulldozing important habitat in the Sepulveda Basin. The Corps has not publicly acknowledged their misstep in bulldozing existing habitat and impacting a Los Angeles River tributary. It is difficult for environmental groups to reconcile these two actions that are opposite ends of the spectrum as far as habitat management.
Jenny Price, Environmental Writer and Activist
I support Alternative 20 -- but really, I support Alternative 37, or maybe 153 [earlier, more comprehensive alternatives that weren't included in the final report], which is what we really should be doing at this point.
Here's the thing. It's going to happen -- Alternative 20 and beyond.
The revitalization of the entire L.A. River system -- the River and its tributaries and the lands around them -- are already bringing tremendous benefits to this megalopolis. Social, economic, ecological, and more. It's essential to cleaning up the water and air, ensuring water supplies at a time when our imported supplies are dwindling, providing parks and green space and connectivity in a city that's desperately starved for all of these. And quite important, it'll do all that in many of the least green and most polluted neighborhoods of L.A.
In other words, if Alternative 13 wins out, it'll demonstrate the need for and will drive the demand for Alternative 20, and then Alternative 32, and then Alternative 153. That's what's happened steadily for the past three decades -- smaller projects have led to bigger projects, and then to bigger projects -- and you know what? We're getting impatient. Let's do it now. Let's quit mucking around. It's going to happen -- so why should we postpone this essential and necessarily hugely ambitious civic project for another 30-40 years?
Most of the essential players have been convinced for a decade. All the other public agencies. All the social and environmental nonprofits. The riverside communities -- and many beyond. Even some Corps leaders in L.A. get it.
Not the Corps outside L.A., though. Their argument that this is the most cost-beneficial alternative just demonstrates a willful blindness and deafness to the colossal and multi-faceted benefits of this project -- and to its significance, not just in L.A. but to the eastern and western Sierra watersheds, the Colorado River watersheds, communities all over the West, and cities worldwide that will see that the impossible is actually possible when it comes to urban transformation.
Alternative 13 doesn't understand that it's going to happen -- and that the Corps will eventually be doing and arguing for a lot of it. Why not do it NOW?