"Years ago, in his home beside tarry pits, a boy dreamed of things he would like to do. Science, music and art were in his mind."- from the short film "To Galapagos on Velero III"
On April 2, 1931, the largest yacht ever built on the Pacific Coast was ready for its close- up. The Velero III, a 1,000-ton vessel with a backbone of steel, was no normal pleasure cruiser. It was a floating lab for scientists, funded by millionaire Angeleno George Allan Hancock, who acted as its captain and master.
"Thousands of spectators lining both banks on the inner channel at Long Beach witnessed the successful launching yesterday morning of Capt. G. Allan Hancock's 195-foot diesel cruiser Velero III," the Los Angeles Times gushed the next day. "She entered her element at the yards of the Craig Shipbuilding Company with a rush of white water just after Miss Patricia Anne Zeiser, three-year-old-granddaughter of the owner, broke the usual bottle on the knife-like bow."
For George Allan Hancock (called Allan by friends and family), the Velero III was the latest accomplishment in a long life of eclectic successes. He was born to Henry Hancock and Ida Haraszthy Hancock in San Francisco in 1875. His twin, Henry, died as an infant.
The family lived primarily in a small home on the massive Rancho La Brea, which his father had purchased in 1860. After Henry Hancock's death in 1883, the brilliant, cultured Ida, a Hungarian aristocrat by birth, deftly took over the ranch, famous for its bubbling tar pits filled with prehistoric skeletons. According to Meredith De Witt, author of "G. Allan Hancock: A Pictorial Account of One Man's Score in Fourscore Years":
When the rains came and roads became impassable, there were other things to do, such as building a crude flatboat with which to explore the tar pits when they filled with water. This experience generated a love for boats, which led to part ownership of a ketch named "Cricket," in which he explored the waters of Southern California.
In 1900, the Hancock family fortunes were forever changed when Ida secured a contract with the Salt Lake Company to manage the enormous amount of oil being found on the Rancho La Brea.
The family soon became rich beyond their wildest dreams, and Allan helped run the operation, taking over entirely after his beloved mother's death in 1913. As Sid Gally notes in the Pasadena Star-News, over the decades, the twice-married father of two would wear many hats— playing cello for the L.A. Symphony, serving on the USC Board of Trustees, drilling oil wells, developing the neighborhood of Hancock Park, farming, founding what became the United California Bank and the Automobile Club of California and donating the La Brea Tar Pits to the city of Los Angeles in 1916. An accomplished pilot, he also founded the Hancock Foundation College of Aeronautics in 1928.
It seems Hancock's perpetual action was driven by curiosity and also by fear. According to those who knew him, "Hancock had a lifelong fear of being kidnapped and deliberately made his mansion on Wilshire Boulevard look unkempt by never cutting the grass, keeping the blinds drawn and never using the front entrance. Even the name on the mailbox was that of Albert Albertson, his butler."
Nowhere did Hancock feel freer than on the open sea. According to De Witt, as a young man, Hancock took to the open water and earned a "master's license to command any vessel of any tonnage on any ocean." After outgrowing his schooner "Cricket," he designed the Velero I. After World War I, he supervised the construction of the 125-foot Velero II, the first diesel-electric cruiser built on the West Coast.
From the start, Hancock considered his boats tools for research, not for mindless pleasure. "Very early in his career as a mariner, the skipper learned that the only way people can stay happy at sea is to keep them busy," De Witt says. "His were all working boats. Every cruise had a purpose, and everyone aboard was encouraged, if not assigned, to participate in its objectives."
To further these aims, in 1929, he commissioned plans for the Velero III, which he envisioned as a state-of-the-art floating research center. On November 6, 1929, the Los Angeles Times reported:
A four-foot scale model of the $750,000 steel cruiser which Captain G. Allan Hancock, local capitalist and sportsman, will build this winter from designs by G. Bruce Newby, was completed at the port yesterday, revealing for the first time the revolutionary design for the new craft whose exterior profile follows closely the sweeping lines of the Navy's new light cruisers.
The progress of the ship's construction was of great interest at Los Angeles Harbor and was the subject of articles and newsreels. Cutting edge in every way, its attributes were reported in detail by the Los Angeles Times:
The largest craft of her type yet built in a pacific shipyard, the Velero III is 195 feet overall with a beam of thirty feet and draft of eleven feet, nine inches. She will be driven by two 850 horsepower Winton diesel engines, designed to give her cruising speed of fourteen knots and a top speed of sixteen knots…Many of the latest developments in naval architecture are embodied in her design, including the bulbous bow, an Oertz streamline rudder, gyroscopic compass, automatic steersman, fathometer and other navigational aids.
After her ceremonial launch on April 2, Hancock, acting as captain, eagerly took her into the Pacific Ocean in early July. "Allan Hancock, Los Angeles sportsman and capitalist, yesterday took out to sea for her first trial runs his… beautiful new cruiser, which represents an investment variously estimated in port circles at from $750,000 to in excess of $1 million," The Los Angeles Times reported.
Thus began the reign of what De Witt calls the "most adventurous of all his ships." With Hancock as Captain, the Velero III would go on yearly months-long scientific expeditions throughout the Pacific Ocean, welcoming onboard scientists, geologists, paleontologists and marine biologists from institutions ranging from over a dozen universities, the Smithsonian, the Steinhart Aquarium, the San Diego Zoo and the Bureau of Fisheries.
See scientists at work and play from the adventures of Velero III.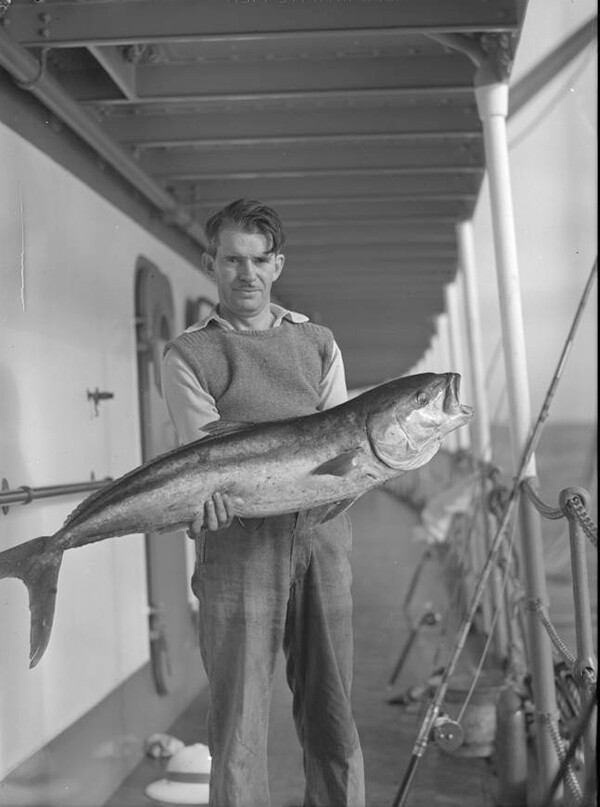 One constant crew member was John Garth, an etymologist representing the California Academy of Sciences, who would be responsible for many of the photos and films of the expeditions, now housed in the University of Southern California Special Collections.
"In eight years she [Velero III] paid six visits to Galapagos, affording scientists an unequaled opportunity to study life in that mysterious, detached land which supports many indigenous species found nowhere else," De Witt writes in "G. Allan Hancock: A Pictorial Account of One Man's Score in Fourscore Years." "These voyages also made repeated stops along the coasts of Mexico, Central and South America to provide for shore collecting, inland exploration and extensive gathering of marine specimens in lagoons, bays and ocean waters. Another cruise in the spring of 1939 was through the Panama Canal to the Caribbean islands of Trinidad, Tobago and others where specimens were correlated with those found in Pacific locations."
These voyages mainly focused on collecting rare marine life and tropical animals for collections across America. On a 1932 tour to the Galapagos and Mexican coast, the Velero III captured 125 live birds, 35 birds' skins, 24 live fish, 300 dead fish and 40 living reptiles, a fur seal and white seal among other creatures. According to the Los Angeles Times, a 1933 expedition was particularly eventful, discovering a colony of sea lions:
Five splendid specimens have been captured and are being skinned preemptory to being sent to the hall of marine mammals at the Field Museum of Natural History at Chicago as a permanent exhibit. Capt. G. Allan Hancock, L.A. capitalist and explorer, host of the party, together with the other scientists, was on the narrow sandy beach, habitat of the sea elephants last Friday when a severe earthquake rocked the volcanic islet.
The focus on collecting specimens meant that the ship was often overrun with creatures of all kinds. During an interview with the Los Angeles Times aboard the Velero III in 1934, Hancock stated, "We had a good voyage," while disengaging himself from a monkey intent on hugging him.
"In the Velero's laboratory were more than 700 vials containing the hydroids, or microscopic life…" The Times reporter wrote. "Along the decks, were cages. In these were a collection of animal, reptile and bird life including huge land and marine iguanas which in reality are overgrown lizards, five ring-tailed monkeys, three-feet-long marine snakes of poisonous variety, two huge bushmasters, deadly poisonous and four feet in length, a condor with a ten-foot wingspread, thirty- two turtles and countless other forms of wild life."
But life aboard Velero III was not all work and no play. Cheeko, the monkey, the resident pet, was always in the mood to play, and the ship was stocked to the gills with booze. Hancock often plays cello with a trio, which included other scientists, and family members occasionally joined for summer jaunts.
Not surprisingly, the feats of the Velero III were breathlessly reported on, and Captain Hancock was recognized as a rare egg, much like his charitable mother — a rich capitalist funding scientific research for the public good.
"California's most versatile man would rather devote three months and a small fortune in far-off islands of the Pacific …in the interests of science than drop five pennies or spend as many minutes in the lap of luxury," one fawning 1934 profile in the Los Angeles Times intoned. "He is G. Allan Hancock, industrialist, patron of science, master mariner and aviator, who also plays the cello. The silk and brocade of drawing rooms, the gilded pomp and ceremony of elite imbroglios and the overstuffed elegance of the playboy's clubrooms are scorned by this native son and Angeleno for the perils of uncharted waters, the hiss of cornered reptiles and the lashing of sea monsters struggling in nests."
Educational films of the ship's voyages were often shown in theaters in Los Angeles and around the country. At showings in L.A., scientists like Garth would give talks on discoveries, while Hancock himself would play cello with a band as an opening act. One film, titled "To Galapagos on Velero III," explained of its Captain:
The motor cruiser Velero III, he has devoted to the use of scientists, making it possible for them to study and collect the flora and fauna (plant and animal life) found upon the shores of seldom-visited places. These activities have been recorded in motion pictures by W. Chas. Swett, who for years has accompanied Capt. Hancock upon these expeditions in the capacity of Chief Officer and cameraman. Selected portions of these films are being sent to educational institutions throughout the United States."
The creeping tensions in Europe and the looming World War would bring the Velero III's glory days to an end. In 1938, Hancock donated a substantial gift to establish the Allan Hancock Foundation for Scientific Research at USC. It endowed a building for scientific research in zoology and botany and supplied housing for specimen collected by the ship's team, including motion pictures and photos.
In 1939, the Velero III was donated to USC as well, to be used as a research vessel. According to De Witt, during WWII, the ship would be used by the U.S. as a patrol vessel. It was then converted into a luxury cruiser during a one-million-dollar renovation and presented to Sheik Ahmad Al- Jaber Al- Sabah, the ruler of Kuwait, and rechristened "M'y Ahmady."
Captain Hancock was not done with his sea voyages — not by a long shot. In 1948, the bigger better Velero IV was launched, and the Captain continued his scientific expeditions well into his old age. He died in 1965, buried at Calvary Cemetery — but one guesses his heart really rests with the artifacts of his oceanic wanderlust at USC.
The USC Libraries' digitization efforts for the Hancock collection have been financed (in part) with Federal funds from the National Park Service Maritime Heritage grant program, administered by the National Park Service, U.S. Department of the Interior
Top Image: Velero III at sea, 1931-1941 | Allan Hancock Foundation Collection, USC Libraries