Char Miller recently wrote of Southern California's historical struggle with smog. On some days, the air was so polluted that "parents kept their kids out of school; athletes trained indoors; citrus growers and sugar-beet producers watched in dismay as their crops withered; the elderly and young crowded into doctors' offices and hospital ERs with throbbing heads and shortness of breath."
Although a pristine view of the Hollywood sign may still elude Angelenos on most days, air pollution rarely cripples the city in present times as it did in the mid-twentieth century. Severe smog has largely abated, Miller argues, thanks to citizen activism, scientific advances, and landmark environmental legislation that allowed the EPA to regulate air pollutants.
That leaves many Southern Californians with only hazy memories of severe smog. The following images, from the photographic archives of the region's libraries, cultural institutions, and government agencies, show the extent of L.A.'s air pollution and provide a glimpse of how Southern California responded.
Coping with the Smog
When air pollution reached its worst levels in Los Angeles during the 1940s, the University of Southern California (USC) concerned itself with air pollution research. In this photo from the USC University Archives, two smog researchers use a plastic helmet and suit:
Members of the Highland Park Optimists Club evidently spent at least part of their 1954 banquet in smog-gas masks, as shown in this photograph from the University of California Los Angeles (UCLA) Library Special Collections:
Boy scout Jeffrey La France wipes tears from the eyes of Nancy Rayder during a smog alert in Reseda on October 7, 1965:
Mildred Fitzpatrick dries her eye as she views a smog-choked Los Angeles from City Hall tower in this photo from the USC Libraries' Regional History Collection:
Bill Bounds heads into his underground smog alert chamber outside his Manhattan Beach home: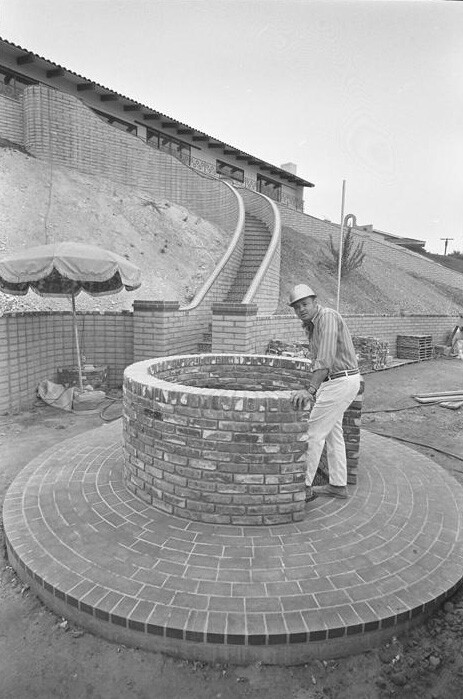 Southern California Responds
With smog alerts disrupting daily life and raising health concerns, both the public and civic and scientific officials grew concerned. In 1951, Los Angeles even crowned Helene Stanley as Miss Smog Fighter to drum up support for anti-smog measures. In this photograph, Miss Smog Fighter shows dismay as L.A. City Council member Lee W. Warburton opens the lid on a jar of smog in this 1951 photograph:
Local scientists investigated smog's causes. In the 1950s, automobile exhaust became a prime suspect. In this 1960 photograph, UCLA researchers demonstrate a new anti-smog device developed for automobiles:
Presaging Smog's Arrival
Los Angeles suffered its first severe smog attack on July 26, 1943, but previous developments and practices suggested a general lack of concern about air quality.
The 1940 arrival of L.A.'s first diesel bus, announced in this story from the Los Angeles Railway's May 1940 issue of Two Bells, was billed as an advance. Diesel exhaust has since been conclusively identified as a source of toxic air pollution, but an article recently discovered in the Metro Library Transportation Library and Archive suggests that, even as late as 1954, diesel buses' role in air pollution was not understood.
The cover of this 1925 Los Angeles Chamber of Commerce brochure, archived at the Autry National Center's Braun Research Library, proudly features a drawing of smokestacks bellowing pollutants into the atmosphere:
Even before they were crisscrossed by clogged highways, the air in Southern California's inland valleys was subject to pollution. Haze, possibly caused by the use of smudge pots to prevent frost on the Pomona Valley's citrus trees, partially obscures snow-capped Mount Baldy in this early-twentieth century postcard from the Claremont Colleges' Honnold Mudd Library Special Collections:
Smoggy Cityscapes
Horizontal clouds of pollution in the background of this 1951 photograph, from the California State University Dominguez Hills Archives, show the role of temperature inversion in creating smog:
Extreme smog still can affect Los Angeles. In this photo, the skyline of modern downtown Los Angeles is obscured in a blanket of smog:

Many of the archives who contributed the above images are members of L.A. as Subject, an association of more than 230 libraries, museums, official archives, personal collections, and other institutions. Hosted by the USC Libraries, L.A. as Subject is dedicated to preserving and telling the sometimes-hidden stories and histories of the Los Angeles region. Our posts here will provide a view into the archives of individuals and cultural institutions whose collections inform the great narrative—in all its complex facets—of Southern California.