The Metro Orange Line: it's named like a rail line and looks like one on system maps, but you won't find tracks along this 18-mile transit corridor through the San Fernando Valley. In fact, state law has forbidden aboveground rail transit along this route since 1991 -- the legacy of local homeowners who fought against surface rail in favor of a much more expensive subway. Instead, since 2005 super-long articulated buses have rolled down the Orange Line's dedicated, paved roadway, which now stretches from North Hollywood to Chatsworth.
[Update, 7/9/14: Yesterday, Governor Brown signed AB 577, which repeals the 23-year-old ban on aboveground rail transit in the San Fernando Valley. Light rail along the Orange Line corridor may now be legal under state law, but such a conversion is still not part of Metro's long range plan.]
But change may be arriving soon. On Oct. 29, the Los Angeles City Council passed a resolution introduced by council member Tom LaBonge calling on the state legislature to repeal the 1991 ban -- a first step toward upgrading the Orange Line's bus rapid transit with the sort of light rail technology used on the Metro Blue, Green, Gold, and Expo lines.
If LaBonge's plan succeeds, the Orange Line will be returning to its historical roots. As seen in historical images from the region's photographic archives, for nearly 100 years rail vehicles of one kind or another -- steam locomotives, electric trolleys, diesel trains -- rolled down the Orange Line right-of-way.
It began in 1893 as the Southern Pacific's Burbank Branch, a double-tracked rail line that meandered through wheat fields and open ranchland. In its early years, the Toluca Flyer steamed along the route, serving passengers at Owensmouth (now Canoga Park) and Lankershim (now North Hollywood) stations, among other stops. In 1911 the fabled red cars of the the Pacific Electric Railway began sharing part of the route, and in later years diesel-powered freight trains rumbled down the line. By the time a cash-strapped Southern Pacific sold its Burbank Branch to L.A. County's transportation agency in 1991, the wheat fields had given way to residential neighborhoods and transportation planners looked to the route as the best possible transit corridor for a maturing San Fernando Valley.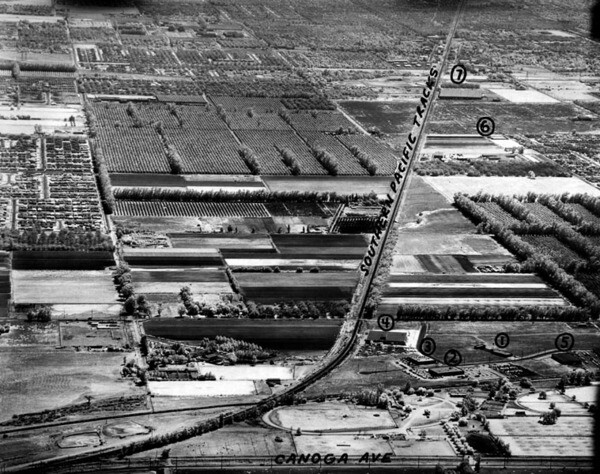 L.A. as Subject is an association of more than 230 libraries, museums, official archives, cultural institutions, and private collectors. Hosted by the USC Libraries, L.A. as Subject is dedicated to preserving and telling the sometimes-hidden stories and histories of the Los Angeles region.