As Governor Jerry Brown begins to tackle the state's budget crisis, he has suggested returning some authority - including financial responsibility - to local governments. His call has brought new attention to the complex and challenging relationships among California's counties, cities, special districts, and other governmental authorities. Our region's archives are a tremendous resource for helping us unravel and understand the history of California's patchwork of local government bodies.
The County of Los Angeles was born on February 18, 1850, as one of the state's 27 original counties. Since then, the county's borders have shifted several times. Parts of the county's original territory now belong to the neighboring counties of Ventura, Kern, San Bernardino, and Riverside. The map below, from the Special Collections of UCLA's Young Research Library, shows how California's counties fit together in 1853.
At the time, Los Angeles County included present-day Orange County. That changed in 1889, when the California legislature carved out a new entity containing the communities of Anaheim and Santa Ana (pictured in the photo below, from the Orange County Archives, in the year of the county's creation). The drawing of the Orange curtain was the last major adjustment to L.A. County's boundaries.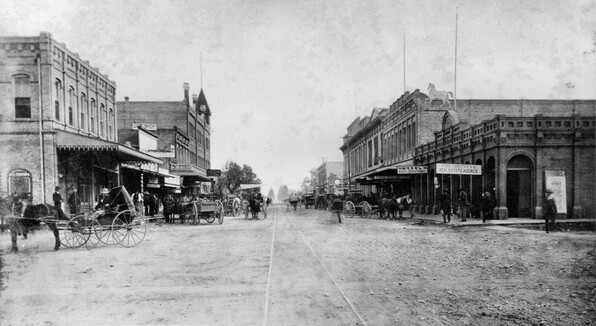 At the city level, Los Angeles was the first to incorporate, coming into being on April 4, 1850. L.A. today sprawls over nearly 500 square miles, but at conception it was limited to the four square leagues (approximately 48 square miles) that formed the original Spanish pueblo. Over the years, as population and the demands of real estate developers grew, the city annexed adjoining land many times, consolidating with previously independent cities on ten occasions. In fact, one of Los Angeles's iconic neighborhoods today began as its own city: Hollywood, pictured below, incorporated in 1903 and was annexed in 1910.
The 1935 map below, also from UCLA's Young Research Library, delineates the city's acquisitions by annexation.
This drive toward consolidation nearly resulted in a merger of L.A.'s city and county governments. In 1916, a City-County Consolidation Commission proposed one municipal government for all of Los Angeles County. It would not have been unprecedented in California; San Francisco City and County are coterminous and are governed by one Board of Supervisors.
The proposal emphasized the cost savings of eliminating redundant offices. Herbert W. Clark of the Taxpayers' Association of California was quoted in the January 20, 1918 Los Angeles Times speaking in favor of the merger: "A consolidated city and county government would eliminate 185 boards of trustees and city boards of education. In the county there are 295 separate and distinct governmental subdivisions, each having the power to raise and expend the taxpayers' money."
To mollify outlying cities such as Long Beach and Burbank, which would have been swallowed by the merger, the proposal suggested a New York City-style system of boroughs that would preserve local identity.
City-county consolidation never came to fruition, despite the support of the taxpayer groups, the city's Bureau of Budget and Efficiency, and an official commission appointed to study the a merger. Backlash from other cities inside Los Angeles County might have stalled the plan.
Long Beach threatened to rebel, agitating for a new Long Beach County that would be free of tentacles of a consolidated "octopus."
Long Beach's threat presaged the secession movement of recent decades, which sought to reverse L.A.'s history of consolidation. In 2002, the movement reached its zenith when measures F and H appeared on a citywide ballot. Measure F would have created an independent city in the San Fernando Valley. (The image above, from CSUN's Oviatt Library, shows a hand fan made by proponents of Valley cityhood.) Measure H, likewise, would have made Hollywood its own city, 92 years after its annexation by Los Angeles. Despite popular support in the Valley, Los Angeles voters citywide rejected both proposals by overwhelming numbers.

Many of the archives who contributed the above images are members of L.A. as Subject, an association of more than 230 libraries, museums, official archives, personal collections, and other institutions. Hosted by the USC Libraries, L.A. as Subject is dedicated to preserving and telling the sometimes-hidden stories and histories of the Los Angeles region. Our posts here will provide a view into the archives of individuals and cultural institutions whose collections inform the great narrative—in all its complex facets—of Southern California.