Kiera Newsome Released on Parole After 19 Years, With Help from SoCal Connected Documentary
What's it like to get out of prison in the midst of a global pandemic? Ask Kiera Newsome, who was released on parole Tuesday, after over 19 years behind bars.
Walking out of the California Institution for Women in Corona, she was met with cheers from members of her family and her longtime lawyers from Loyola Law School, who waited behind a gate outside the prison for her arrival, wearing masks to protect against the virus.
It was the conclusion of a long journey for Kiera, who has been fighting her conviction for nearly two decades.
"It's not exactly the homecoming we hoped for," said her lawyer, Christopher Hawthorne, who usually takes everyone to a restaurant for a celebratory dinner when his clients are released, "but once she's out, we can start advocating again."
I first read about Kiera's case in the Summer of 2018, when I was looking through the list of the original California 12, a dozen people who, according to the California Innocence Project, were convicted despite "overwhelming evidence of factual innocence." Kiera Newsome was one of them.
She looked so young in her picture...because she was. Until today, Kiera has been in various California prisons since she was 16 years old. She was arrested in 2001 and convicted of first-degree murder in 2003 with a sentence of 60-years-to-life.
The crime was the gang-related killing of Christian Henton, who was shot on the front lawn of his home in South Los Angeles by a woman who was later identified as having a thigh tattoo. There was no DNA evidence left at the scene of the crime – no gun, no car, no fingerprints or tire tracks. But despite having a solid alibi – Kiera was marked "present" in school that day, 10 miles away from the shooting – she quickly became a prime suspect.
Kiera's family didn't have the money for fancy lawyers or the resources to attract media attention to her case. So she took it upon herself, writing letters to the Innocence Project every day from prison until she finally got the organization to represent her. Years later, after little progress was made and Kiera was transferred to yet another prison, the case was passed to Chistopher Hawthorne, a professor at Loyola Law School in Los Angeles who leads the Juvenile Innocence and Fair Sentencing Clinic, which represents, on a pro-bono basis, 45 adults who were convicted as minors and are now seeking a reduced sentence or early parole.
In July 2018, we started filming Hawthorne and his team as they worked on a habeas petition for Kiera, collecting new evidence of her innocence that was not initially presented at trial in the hope that she could get a new hearing. The most striking evidence was a recantation from one of the eyewitnesses, who claimed the police had already circled Kiera's photo in a line-up when they asked him to identify the shooter.
"I just hope the judge will see through all the chaos," Kiera told me during her allotted phone time. "I hope to get that graduation I was working so hard for….I want my name to be clear and I want to be free from this."
Usually, Hawthorne doesn't seek media coverage of his cases. He's serious about protecting the privacy of his clients, who he says have been through so much already, being so young when they were convicted. But for Kiera's case, he figured he could use all the help he could get. At the end of the filming process, Hawthorne and his team, led by Marisa Sacks, a fellow in the legal clinic who is now a staff attorney, received a response to their petition for Kiera's habeas hearing. It was rejected.
A week before the episode was released, I got a call from Tammy Jones, a senior investigator with the Department of Corrections and Rehabilitation. "I am working on a commutation investigation for Kiera Newsome," she told me. She wanted permission to show the SoCal Connected documentary to the parole board.
Every year during his tenure, Gov. Jerry Brown released a list of clemency recipients on Christmas Eve. Mike Semanchik, of the California Innocence Project, submitted a clemency petition every year Brown was in office, but despite awareness campaigns and marches, half of the California 12 remained in prison. Kiera's case had been on Brown's desk since 2013.
This time, he noticed. On Dec. 18, we got the news. Kiera had finally been granted clemency by the governor. Her sentence was reduced from 60 years to life in prison to 20, making her immediately eligible for parole. Without the commutation, she would have had to wait another seven years behind bars.
"She would have likely died in prison," Justin Brooks who runs the California Innocence Project told the San Diego Union Tribune. "Now, she will be able to get paroled and go home."
SoCal Connected's documentary was the first time Newsome's story had gotten major press attention. Because of the shooting's connection to gang activity, the murder and conviction were largely ignored by local newspapers.
"The documentary played a huge part in this result," Hawthorne said when he got word from the governor. "It's incredible news."
As Kiera's parole got closer, Sacks had been speaking to her every day, working out the details of her release. On Tuesday she was the first to arrive at the prison, just after 7 a.m.
Kieras mom, her two sisters, brother and cousins crowded behind the fence that surrounded the prison's parking lot, cheering "Kiki!!" – Kiera's nickname when she was a kid, the last time they were all together. They brought balloons and gifts and some cash for Kiera, who would be heading straight to a transitional housing facility in Pomona called Crossroads.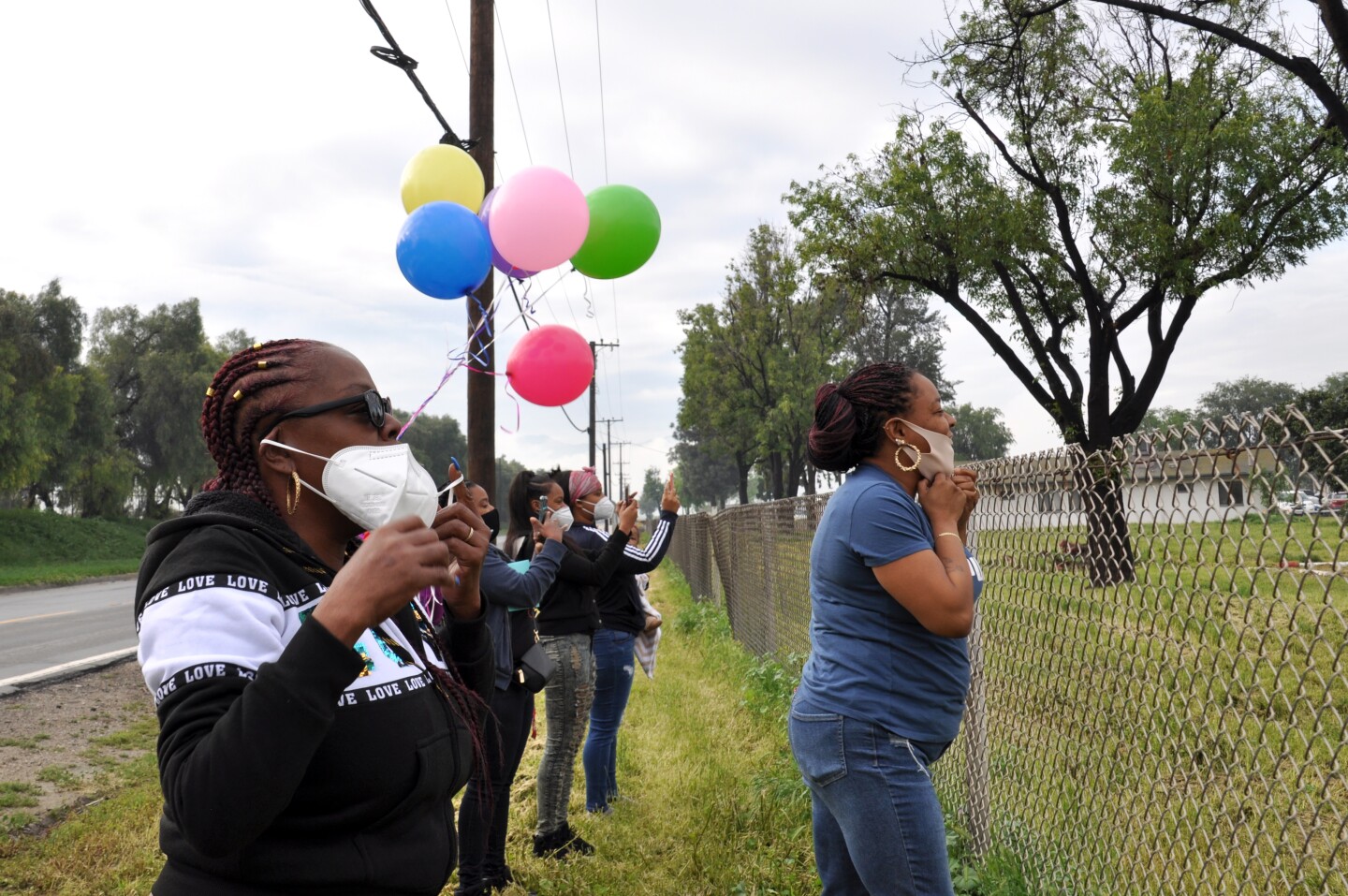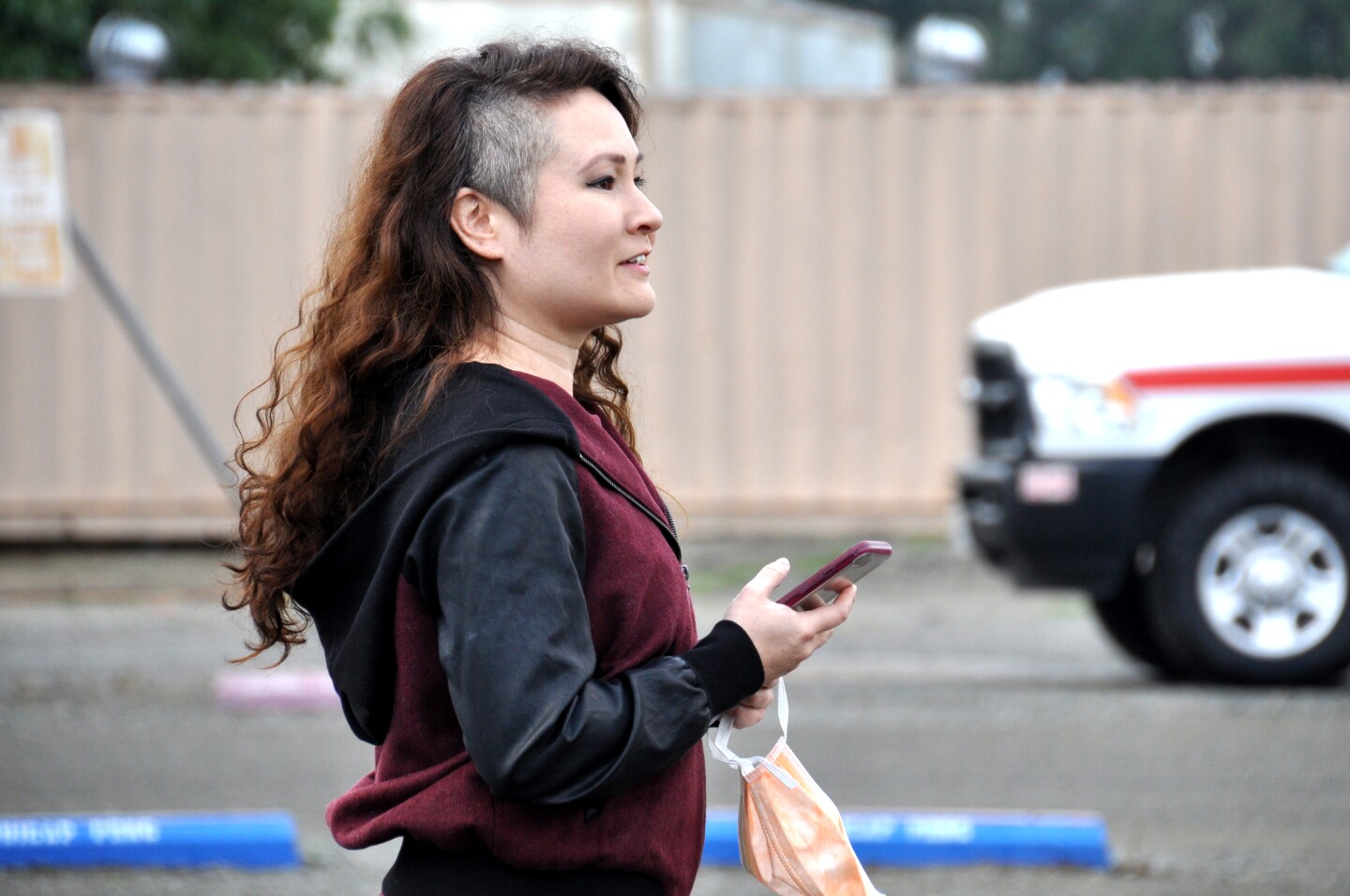 "It won't feel real until she walks through that gate," said Desiree Newsome, Kiera's mom. "I feel like I'm about to faint."
"I'm nervous too," said Rebecca Woodruff, Kiera's teacher in high school when she was arrested. Woodruff had testified on her behalf at the trial and handed all of the homework that Kiera had done the day of the murder over to investigators. But it wasn't enough to prevent the conviction. Despite that, for the pst 19 years, Woodruff has kept in touch with Kiera, sending her care packages every month filled with groceries and essentials like deodorant and shampoo. On Tuesday she drove down from San Francisco to see Kiera's get released. "I wouldn't have missed it for the world," she said.
A little after 8 a.m., Kiera's family members started screaming. "That's her in the burgundy!"
Kiera was outside the prison gates. From 200 feet away, we could barely make her out walking toward her finance, Bobby Jackson, who was the only one allowed inside the parking lot to greet her. She was told not to run, and she didn't until the last few feet when she practically threw herself into his arms. She got into Bobby's car and he drove her out of the parking lot, to the crowd waiting behind the fence.
"There goes my daughter," Desiree said, tearing up over her face mask. "Lord, Jesus Christ."
"I thought this day would never come," said Kiera's cousin, Myesha Palmer, who brought Kiera her homecoming outfit – a deep red velvet jumpsuit and high heeled black boots.
The first person Kiera hugged was Woodruff. It was a long embrace, the two screaming and cheering.
Then she hugged the members of her family. One of them gave her a face mask, an essential item for these strange times.
"I feel like Batman," Kiera said. "It's like a masquerade ball."
Everyone knew Kiera would be released on parole sometime in April, but no one could have predicted it would be during a global pandemic. Usually released inmates have 24 hours to spend with their loved ones before they report to their parole officers. But because of concerns about the virus, Kiera had only a few minutes before she had to leave.
"It'll be over quickly," she said about Crossroads. "I'm just ready for the next chapter."
Turning from her family, Kiera spotted Hawthorne and ran toward the lawyer who had fought for her for so many years, jumping up and down with excitement. "You're here!" she said.
"I'm here," he said, wearing a bandana over his mouth. "We waited a long time for this."
Kiera took a deep breath. A few other Loyola students had come to greet her with signs. Over the years, so many students worked on her case while in law school. And today it's finally paid off.
"Tell Lauren, Gabby, Nydia, Seth, Andrew, Catlin, Susan, Tiffany, Asia...the dream team," she said, listing the names of all the students who had helped draft petitions and gather new evidence. "Tell them thank you."
@LoyolaLawSchool Juvenile Innocence and Fair Sentencing clinic client Kiera Newsome is getting released from prison this morning. @LLSJustice school students, staff, Kiera's family and her teacher from high school are all here to (safely) welcome her home after almost 20 years. pic.twitter.com/NJLDOdeMXM

— Brooke Harris (@Brooke_S_Harris) April 7, 2020
"It is always astonishing to see a client get out of prison when you have dreamt about it for such a long time," Hawthorne said. "But for Kiera it was particularly special..., to see her actually walk out of there in a magenta jumpsuit and 3-inch heels was really something."
Kiera will spend six months at Crossroads followed by three to six years of parole. And the Loyola team plans to continue to work on getting an exoneration for her on the outside. "We're not done yet," Sacks said.
Without an exoneration, Kiera will always have a felony conviction on her record, which could make it difficult for her to find work or apply for housing. Every background check will bring a new challenge. While on parole, she's technically still in custody by the California Department of Corrections, which makes her subject to random searches, surveillance, and strict restrictions. And with the additional complication of Covid-19, she's not allowed to have visitors.
But for now, Kiera is counting her blessings.
I asked her how she felt, now that she's finally left her years in prison behind.
"I feel free," she said.