It's happened again. Wildflowers have carpeted a section of the Mojave Desert and there's no telling how long it will last, say park rangers. It's been three bad seasons -- one year with too much rain, the other two drought -- for the big crowd pleasing displays of wildflowers in Southern California, so when I read about the yellow coreopsis bloom at Saddleback Butte State Park, I quickly headed out to the Antelope Valley.
A Little Background
The park protects its namesake butte 15 miles east of Lancaster, surrounded by nearly 3,000 acres of Joshua tree forest and other desert plant communities. It was originally called Joshua Trees State Park when it opened in 1960, but the name was changed 12 years later to avoid confusion with the national park (where, by the way, wildflowers were showing healthily in some spots this week).
Hiking
Saddleback only has a few miles of dedicated hiking trails, but they take you right through the fields of flowers. From the visitor center, an easy three-mile loop can be made out of the Little Butte Trail, Saddleback Butte Peak Trail, and the unpaved park road.
For something more challenging (and rewarding), take the Little Butte Trail to the Saddleback Butte Peak Trail to said peak at 3,651 feet. That's a 950-foot elevation gain in 2.25 miles, much of it in the last half mile. Head back the same way for a total 4.5-mile trek, or add an additional mile by continuing the Saddleback Butte Peak Trail the park road and back to the visitor center. (Note: If you're trying to hike the over 80 peaks listed by the Sierra Club/Angeles Chapter's Lower Peaks Committee, this is one of them).
There's also a 10-mile loop equestrian trail and a short, paved wheelchair accessible nature trail, the latter which affords some nice views of flowers, but does not include travel through flower heavy areas.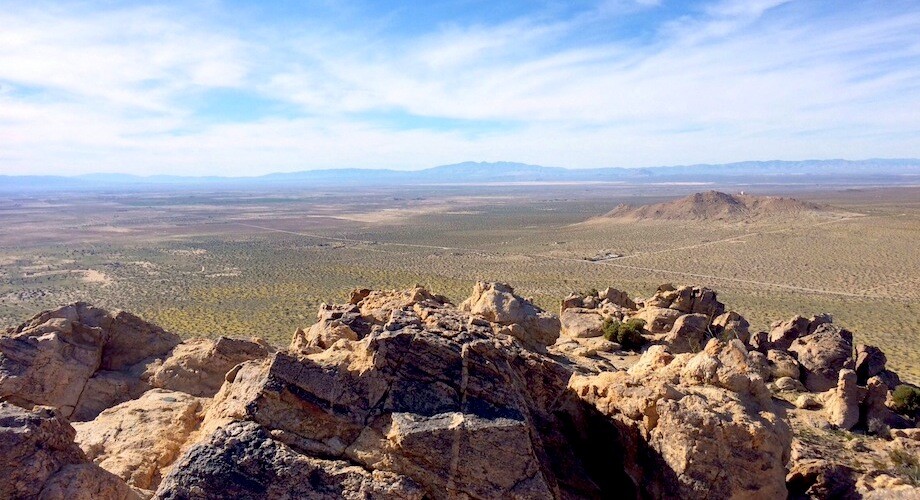 Logistics
Parking costs up to $6, and first come, first serve campsites are available at $20 each a night (cash or check only). For a map of the park and its trails, download the park brochure.
What About the Poppies?!
The real treat for many are the unbelievable orange fields of California poppies found in and around the Antelope Valley California Poppy Reserve, 35 miles to the west. Rangers predict a better year than last year, but that may not mean much. They say a "March miracle" could happen, but there's no guarantee. We'll be keeping in touch with park rangers as the season goes on.