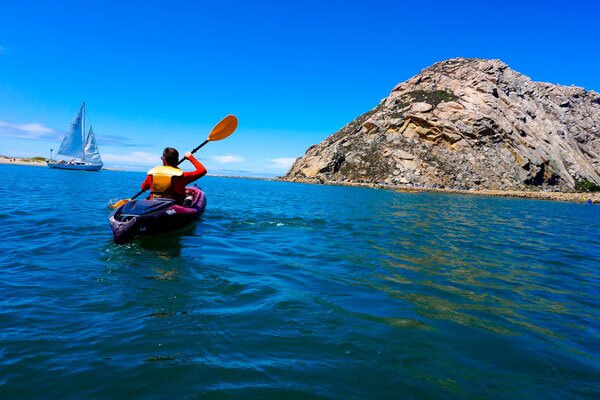 It is a lovely sight, the large rock in the distance and, in the foreground, delicate snowy egrets picking their dainty along the tidal mud bank. Something profoundly simple and deep; harmonious in its feng shui, which, you may already know, translates as "wind-water," also an appropriate label out here on a kayak on Morro Bay.
We drift along on our guided tour, in lapping silence, our kayaks pulled slightly by the outgoing tide. Beyond the fussily stepping egrets, there is a broad sweep of sand dunes and, just over their tops, a sparkling scrim of Pacific. Morro Bay is 2,300 acres of mud flats, eel-grass beds, tidal wetlands, and open water.
Our guide John Flaherty has paddled these waters countless times, but this has not left him jaded.
"It's just this incredibly beautiful protected area," says Flaherty. "You've got the Morro Rock and the sand dunes. You've got wildlife. And the bird life is everywhere. It's like kayaking inside an aviary."
Flaherty chuckles slightly, like a small boy who has gotten away with some wicked fun prank. In a sense he has. As owner of Central Coast Outdoors, he can kayak out here whenever he wants. From my kayak I can see the back of John's cap. It says, rightly and simply, "Get Outside."
"Yea," grins Flaherty. "It's a pretty amazing place."
On this June morning, we paddle easily across waters moving only with lovely sunlit ripples. It is so quiet we can hear bird chirp and song. This is not always the case on Morro Bay, where the winds can wallop (best to take a morning kayak tour, before the afternoon winds come up) and, subsequently, the water can leap and spray. The ocean's edge is a volatile place. Herein lies its beauty.
We gaze across the water in the direction of Morro Rock, maybe two miles distant. Five hundred and seventy-six feet high, the extinct volcano hummock is Morro Bay's signature icon. The Rock is squat and bulbous. It is no beauty queen. It has been around for some 21 million years. It hunkers stolidly beside the ocean, whispering a simple truth. I will be here long after you are gone.
Flaherty regards it for a long moment, and then he smiles again.
"No place like home," he says.
Flaherty, like any good guide, keeps up a running patter. As we paddle, he tells us winter is the best time to see the incredible diversity of migrating birds that call Morro Bay temporary home; a major stop on the Pacific Flyway (the Bay consistently ranks in the top five nationally in Audubon Christmas bird counts). He tells us -- snowy plovers, great blue herons, great egrets, and peregrine falcons (more on the raptors in a minute) aside -- the Bay is also home to sea otters, harbor seals, sea lions, steelhead trout and the Morro Bay kangaroo rat. We learn that, in summer, white pelicans herd and hunt baitfish, a spectacular sight when dozens of the birds simultaneously fold their wings and fall from the sky, a great white plocking down of basketball size hail.
We paddle quietly into Blue Heron Cove. We are quiet, but the residents are not. From among the eucalyptus and cypress comes a raucous din; newly hatched great blue heron and cormorant chicks making the universal infant demand.
"All the babies squawking for food," says Flaherty.
New life in the bare limbed trees.
California's Central Coast, from roughly Ventura to Big Sur (depending on your inclinations for mapping), is a simpler place, largely removed from the pretensions and rush (or gridlock) of its city neighbors to the south. You may not have the Getty, but you do have a string of laid back beach towns and, to the east, backcountry foothills and mountains, where the locals take the time to enjoy, and plunge into, nature's works of art.
These are places of beauty and introspection, and should you visit Morro Bay you would be remiss to not sit quietly for a time beside Morro Rock, simply looking and listening. The monumental monolithic-ness of Morro Rock is, well, even more monumental up close. With its' vertiginous walls, the Rock is a neck-cricking thing. Fog and cloud bits snag on its sharp ridges and gulls chase their cries and shadows along the rock faces, and because Nature is often gloriously messy, countless streaks of guano mark equally countless digestions. Behind you, fishing boats throttle out of the harbor. In front of you, surfers catch marl gray waves, blithely ignoring the rusted sign that reads, "Death from drowning happens once in a lifetime. Undertow and surf can make return to shore impossible."
To which a surfer would answer, 'Why would you want to return to shore?'
Morro Rock also offers the rare opportunity to see peregrine falcons and, equally fun, meet, and learn from, Bob Isenberg. Most days you'll find the laconic Isenberg, sitting in his chair in the south parking lot at Morro Rock, which, for the directionally impaired, is on the side of Morro Rock where the wind whops the least. Isenberg has been sitting in the lee of Morro Rock, off and on, since 1969; as you might imagine, few people on this planet know more about peregrine falcons than Isenberg. He's easy to find. In his words, "Look for the guy with the tripod". When you find him, he will let you peer through his tripod mounted spotting scope, and, if your timing is good, you will see one of the planet's most magnificent creatures.
"The fastest living thing," says Isenberg, reverentially. "They clocked one at 243 miles an hour. Electronically." He raises a cautionary finger. "But that may not be as fast as they can go."
You won't always see peregrines at Morro Rock, but my good luck, when I happen upon Isenberg, a peregrine is perched high up the stony south wall.
Isenberg points.
"Right there," he says.
I peer high up the rock face. Ah, yes. I see it. Right there, on that ledge.
"That's a bush. To the right."
I scrunch up my face. I can feel Isenberg's eyes on me. Now he is studying me too.
I don't see a damn thing. I am getting ready to lie when Isenberg says, "Never mind. You'll have better luck with the scope."
When I look through the spotting scope, which Isenberg has trained so that the falcon stands smack dab in the crosshairs, the bird looks right back at me.
I actually feel goose bumps rising. A single word comes to mind. Regal.
When I finally pull away from the scope, Isenberg reads my face and laughs softly. "They have that effect on people," he says.
Curious, I ask Isenberg a question he has been politely answering since 1969. "My favorite time to watch the falcons is January, February and March. That's the time you'll see high speed acrobatics by the tiercel (the male) during courtship and breeding. You'll also see many frequent copulations."
Like its Central Coast cousins, Morro Bay doesn't pretend to be any more than it is -- a beach town with a Big Rock and a killer view. There's no pretentiousness on the menu, just as there's no pretentiousness on the menu at Frankie and Lola's Front Street Café.
I wandered into Frankie and Lola's simply because it was on the water and Morro Rock filled the entire front window. They only serve breakfast and lunch. I barely made it in for the last few minutes of lunch, but the friendly waitress served me a mouthwatering pulled pork sandwich and a thick slice of Make Yo Momma Cry pecan pie, and when I told her it was one of the best pieces of pie I'd ever had she said simply, "Well, we just do everything homemade here."