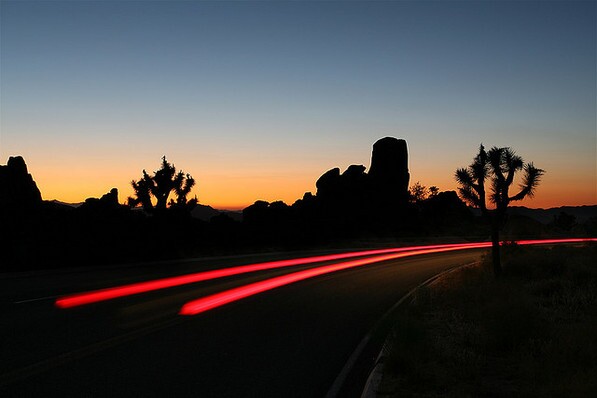 Few objects say "California Desert" quite so unambiguously as the Joshua tree. The Mojave's signature tree yucca is an apt symbol for the countryside it lives in -- harsh, bleak and seemingly unforgiving, yet oddly picturesque and evocative.
Joshua trees are in trouble: climate change threatens to wipe them out of most of their range in the next century. But there are still plenty of them out there, and in many places, you can enjoy them from the comfort of your vehicle. (Which should be as fuel-efficient as possible, of course, so that you don't add to the problems facing Joshua trees in the process of enjoying them.)
Don't get me wrong. I usually agree with the late writer Ed Abbey, who said:
You can't see anything from a car; you've got to get out of the goddamn contraption and walk, better yet crawl, on hands and knees, over the sandstone and through the thornbrush and cactus. When traces of blood begin to mark your trail, you'll see something, maybe.
I've spent hundreds of hours hiking among Joshua trees in summer blaze and gathering snow, but the fact is, sometimes a road trip is what's called for. Truth be told, Ed did a fair amount of road-tripping himself. Besides, you can always park somewhere along the way and check things out on foot.
All directions are given from the vicinity of Los Angeles. Driving times given are one-way and assume moderate traffic. Make sure you have abundant water and gasoline: refills are sparse in some parts of the desert.
1. Antelope Valley
Los Angeles' desert next door isn't all strip malls and subdivisions. There are still some great pieces of wild land in LA County's desert reaches, and some of the biggest Joshua trees ever still thrive here -- though they may not survive the onslaught for long.
Once you get out of the most developed parts of the Antelope Valley, it isn't at all hard to find gorgeous stands of Joshua trees. You might head west on Lancaster Road from the 14 a few miles past the Poppy Reserve to the Arthur Ripley Desert Woodland State Park, a little-known gem of the desert, where you can walk among the Joshuas on a half-mile trail. The Ripley Woodland is notable mainly for having been preserved: similar pieces of undeveloped land in private hands dot this part of the Valley, and a little bit of cruising the side roads will pay off. Or you might head eastward from the 14 along SR 138, which parallels the base of the San Gabriels, for a David Hockneyesque postmodern glimpse of Joshua trees along the margins of exurban developments. Tarantino fans may want to visit one particular Joshua tree out in front of the Sanctuary Adventist Church at 198th Street East and East Avenue G in northeast Lancaster's "Hi-Vista" area, as seen here:
Directions: Go north on SR-14 until you get to Palmdale, then consult a local map and explore.
Travel time: 1.5 hours
2. Walker Pass
You won't find Joshua trees in any Sierra Nevada field guide I've ever seen, but head westward into the Range of Light on State Route 178 and there they are, running all the way up to the crest at 5200 feet and a fair ways bit down the other side. The trees on the east slope here are absolutely the dominant feature of the landscape, aside from the mountains, and they look substantially different from their colleagues elsewhere in the species' range: less branching, growing in densely packed clumps. For those of you who crave nonmotorized travel, the Pacific Crest Trail runs along the summit -- you can hike for a few miles through a mixed forest of juniper, pinyon pine and Joshua tree with giant granite domes off to the west.
Directions: Take SR 14 North past Mojave to 178 West near Ridgecrest.
Travel Time: about 3 hours
3. Backroads in Joshua Tree National Park
The National Park named after the trees is celebrating its 75th birthday this year, and you may well already have rolled along that park's busy main roads. But there are a few quiet backroads you can check out in the park as well, with fewer speeding tourists and a much higher chance of seeing a little wildlife. A couple of these roads should be completely passable by standard, two wheel drive vehicles. Or bicycles, if you've brought them.
The loop from Hidden Valley Campground is a great example. From the campground entrance, head away from the main road (Park Boulevard) on Hidden Valley Road. After about a mile, turn right on the (still paved) Queen Valley Road, which will take you eastward through some of the finest Joshua tree forest on the face of the planet. Another mile after turning off Hidden Valley Road the pavement will run out, but if the previous few days haven't witnessed killer flash floods, the dirt road should be perfectly passable. Opportunities for turning to explore other roads present themselves at Bighorn Pass and Odell roads, or just stay on Queen Valley until it ends at the Pine City Trailhead, about three and a half miles after the pavement ends. Get out and hike through the gorgeous high desert scrubland, with anomalous shrub oaks and pines, or just turn right on DQ Mine Road to return to the pavement.
Directions: Interstate 10 east to SR 62, east to the town of Joshua Tree. Turn right on Park Boulevard, and look for signs for the Hidden Valley Campground about 14 miles from 62
Travel time: 2.5 hours to arrive at Hidden Valley
4. Cima Dome
The Joshua tree forest on Cima Dome in the Mojave National Preserve is the largest stand of trees on the planet. Part of the reason for this is the Dome itself. Joshua trees thrive in a relatively narrow band of elevation, and the gentle slopes of the rounded granitic dome provide mile upon mile of habitat at precisely the right elevation.
Aside from the occasional airliner heading between LA and Vegas, this is also one of the quietest places in California. A two-mile hiking trail at the summit of Cima Road lets you drink in that quiet once you get out of earshot of the road. Or hike or ride your mountain bike on any of the networks of Jeep roads that cross the Dome. This whole area was grazed rather heavily until about ten years ago; the native vegetation that has recovered includes a whole lot more than just the Joshuas. To my mind, this is one of the most beautiful places in the California Desert, and I've returned dozens of times.
Directions: I-10 east to I-15 North, then drive 155 miles to Cima Road. Turn right at the exit.
Travel time: 3.5 hours to Cima Road.
5. Nipton-Searchlight
On the north edge of the Mojave Preserve, the "town" of Nipton, California forms the gateway for this short but spectacular drive through a Southern Nevada Joshua tree forest, one that could easily be combined in a long day or leisurely weekend with the Cima Dome trip. Stock up on iced tea and candy bars and not much else at the Nipton Trading Post, then head east from the small hamlet on Route 164. Two miles uphill from Nipton you'll cross the Nevada state line, and the two-lane will begin a long leftward curve — almost imperceptible at first — around the north side of Crescent Peak, the northernmost prominence in the New York Mountains. A few Joshua trees begin to appear, then a few more, and as the road enters a small canyon and starts to wind a little more, the trees become more and more abundant.
By the time you crest the pass and start down the long slope toward Searchlight, Nevada, the surroundings are positively thick with the trees. You are passing the Wee Thump wilderness, one of the smallest wildernesses in the US — but its small size won't keep you from getting lost in it if you venture among its maze of deeply incised washes on foot. Wee Thump is home to two other species of yucca as well: the blue-tinged banana yucca and the stout, dark green Mojave yucca appear here with their Joshua tree cousin. Wee Thump has two pullouts where drivers who want to be hikers can park their vehicles, as well as a slightly rugged 4wd road around its edges for even greater access.
Before you're ready to leave the forest, you'll arrive at Searchlight, NV: a wide spot in the road with gasoline and something resembling food 18 miles from Nipton. But you can always turn around and head back into the trees.
Directions: I-10 east to I-15, then exit Nipton Road just before leaving California and head 10 miles east to Nipton.
Travel time: 4 hours to Nipton.