Socially Distanced Drive-By-Art Exhibition Tackles Racism, Provides Hope
Drive-By-Art was a sprawling outdoor exhibition organized by Warren Neidich, Renee Petropoulos, Michael Slenske and Anuradha Vikram that took place over the last weekend of May and the first weekend of June. Along with a few other outdoor exhibitions that emerged around the same time, it was the Los Angeles art community's first opportunity in more than two months to go out, see art in person and mingle. It seems like a distant and unreal memory now, but we had been on "Safer at Home" orders since the middle of March due to COVID-19, and we were starved for art and for one another's company.
I embarked on this adventure with a friend on Memorial Day. We rode in the same car but with masks on, windows down, her in the back and me driving. It felt so strange but also exciting, like the first tentative steps of a baby bird. Although we were returning to something familiar, everything about it felt foreign.
Jason Yates' sad droopy dog sculpture perched on a rooftop somewhere in East Hollywood kicked off our day auspiciously, while a highly manicured lawn covered with Dave Muller's musically nostalgic pop art rewarded our final, long drive to the upper reaches of Pasadena. In between, we caught up with a smattering of old friends, chatted about art and life and took a few fun detours from the art route. Finally, exhausted at the end of a long but enjoyable day, we got takeout from an Asian fusion restaurant and had a picnic dinner in the park. It seemed we had successfully dipped a toe back into "normal" life.
Little did we know that as we were tooling around L.A., George Floyd was taking his last breath in Minneapolis. In the week that followed, the world's response to this latest act of brutality against a Black person was nothing less than a seismic shift. As I write, protests and unrest have been erupting all over the globe — from Minneapolis to L.A. to New York to Berlin to Lebanon to New Zealand — for more than a week. They show no signs of slowing down. On the contrary, momentum continues to build; more and more voices speak out in solidarity with Black Lives Matter, and a genuine revolution seems to be unfolding before our eyes.
"I still believe in the power and relevance of good art, and its ability to move us, to give us joy, to inspire us, to bring us together, to make us think."
At times like this, much of the art world tends to go into a shame spiral. Art begins to feel frivolous and self-indulgent. Everyone stops posting their latest projects on social media. Some artists will even question their entire practice. What does art matter when there is work to be done that is so much more important, more relevant?
In spite of these impulses, and despite the great difficulty of tearing myself away from media coverage of the protests, I still loved art enough to show up for a second weekend of seeing art around town. And the art rewarded my persistence. On Saturday, I headed to Kulapat Yantrasast's stunning custom modernist home in Venice, outside of which he had set up "Kool Kat Kare Wash," a free car wash to show his love and care for the art community. I and my dusty car definitely felt cared for, not just by the diligent team of masked guys doing the washing, but by the little group of artists that were gathered there, enjoying one another's company while admiring a painting on display by Kimberly Brooks.
More remote and drive-by experiences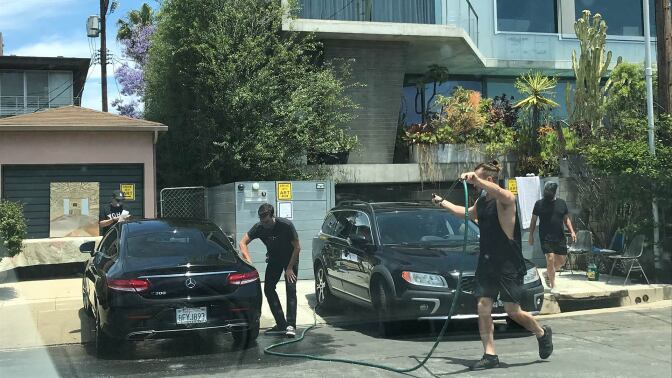 The next day, my friend and I reunited to take in a breathtaking performance by Yrneh Gabon in Jefferson Park. Surrounded by a selection of his paintings and sculptures, the Jamaican interdisciplinary artist embodied despair as well as transcendence in a work that directly addressed George Floyd's death. Putting on a dark hoodie that evoked the look of many of the recent victims of police and vigilante violence, Gabon lay on the ground and screamed "I can't breathe!" before arising, singing a song, and holding up signs that said "If we must die … hunted and penned in an inglorious spot … " About a dozen onlookers, riveted to Gabon's every movement, called out George Floyd's name several times during the performance.
Nearby, a project by Gabon's studiomate, Dan S. Wang, featured Fang Fang, a Chinese actress/singer/comedian who lived in France before moving to L.A., delivering a French Revolution speech celebrating the abolition of slavery. It was dedicated to George Floyd and his family. "Yes, I am a Chinese woman, standing on U.S. soil, speaking for a Black man. You may be laughing, you may be mocking, you may be despising, you may be ignoring. But here I am … because liberty and humanity have no boundaries."
On Crenshaw Boulevard in Leimert Park, the photo-based artist Todd Gray installed one of his stunning collage works on the front of an old office building. The piece majestically juxtaposed images of the starry cosmos, the base of an outdoor sculpture and a dark-skinned boy standing on the beach; the effect was that the boy seemed to stand atop the pedestal, gazing out to the ocean with his back to us, while the endless night sky fanned above his head. The pedestal, of course, evoked the controversial Civil War monuments of the South, adding the weight of irony to an image both hopeful and melancholic.
These last few artworks took place in historically Black neighborhoods that had been decimated in the 1992 L.A Uprising in response to the Rodney King verdict. Thanks to strategic organizing by Black Lives Matter Los Angeles, protests for George Floyd have been centered in predominantly white, high-income enclaves like Beverly Hills, Santa Monica, and the Fairfax district. The neighborhoods of South L.A. have as a result been a haven of peace, which is a strong political statement in itself. Patrisse Cullors, a co-founder of BLM, is an artist, and the organization's vision of a better future recognizes the healing properties of art: "Through artistic expression and engagement, we will empower our communities, change the landscape, and inspire new realities."
So yes, I still believe in the power and relevance of good art, and its ability to move us, to give us joy, to inspire us, to bring us together, to make us think. If there's a better world coming, it will have more art in it, not less, and apologies won't be necessary.
Top Image: Todd Gray's juxtaposition of a dark-skinned boy atop a pedestal with the cosmos over his head on Crenshaw Boulevard in Leimert Park. | Carol Cheh ​