Thor Steingraber: What the Arts Can Do to Redress the Past and Reckon with the Future
From our current vantage point — mid-pandemic — options seem limited in the search for relief or hope. Most days, relying on the pronouncements of public officials about urgent matters is all there is — news of further economic aid from the federal government or updates from state and local officials about when students can return to classrooms. For those of us who work in fields considered non-essential, it's easy to feel sidelined, even helpless. There seems little we can do to contribute in the present crisis.
As the leader of a nonprofit performing arts organization, I find myself consumed with the short-term challenges, shifting demands and narrowing set of options. I find myself frustrated by the persistent framing of the pandemic in simplistic binary terms: to reopen or remain closed, to resume online or transition to in-person, to mothball or to remain active. From home offices and Zoom screens, we struggle to stem the tide of loss and keep our organizations afloat; it is easy to lose sight of the future. What is clear is that when COVID-19 does finally retreat, we won't be picking up where we left off.
Even in the midst of the crisis, this may be the ideal moment to elevate our attention and face the future with a new resolve, not only to address the complexities and challenges presented by the pandemic, but also the ones that have been longstanding. The economics of the performing arts have been showing cracks long before COVID-19: the expense of live performance, the limitations of delivery and distribution and a dependence on small group of donors who often favor a narrow set of programs. Most critically, the generational and demographic shifts that were already bearing down on will be further accelerated by the pandemic.
More opinions from art world leaders
In entrepreneurial terms, disruption of this scale is an opportunity, a call for innovation, a mandate to abandon old assumptions and models. Many refer to the global need for a reset. In the performing arts, the silver lining of the pandemic may be the gift of time. As we move into the seventh month of quarantine, and theaters remain closed, we are provided a pause long enough to place the most difficult questions squarely on the table. Our inquiry should start with, "How will viability be reestablished and sustainability regained?" and then more so, "What opportunities are there to contribute to the rebuilding of the economy and the recovery of America's ailing soul?" This is precisely what's required for leaders in the performing arts: to seek renewal and reckon with the future, as well as to redress the past.
In that vein, here are some imperatives and opportunities that rise to the top of the list. No idea, big or small, is out of the question.
A burgeoning of arts venues county-wide in Los Angeles during the past two decades has provided dramatically increased offerings — Broadway musicals in La Mirada; world-class dance in Santa Monica and even international orchestras in Northridge. With 11+ million county residents, the increased number of stages is promising, and yet, geography and commute times remain one of the obstacles most frequently identified by patrons. The pandemic, however, may provide a new opportunity, as there is evidence that a version of work-from-home may become the norm. Even a hybrid work schedule may improve the commute culture of Los Angeles and provide arts organizations the first and best opportunity in the struggle against audience attrition.
Part of that strategy must be an ongoing commitment to reaching audiences in their homes and on their devices. Nothing can replace the human experience of a live performance. Regardless, the arts have long suffered from a delivery and distribution problem that is best characterized as out-of-sight-out-of-mind. COVID-19 has forced arts organizations to embrace the concept of broadcasting and live-streaming performances. It was no small feat to reorganize the operational aspects of our businesses, to assume new expertise and to negotiate new terms with artists and unions. After COVID-19, the arts sector cannot go backward. The work on our stages must be made available to a wider audience. Cultivating them will require providing options, and nothing is so precious that it can't find an audience on a screen. At The Soraya, each of our online performances has had viewership greater than if they had been presented as a live performance in our 1,700-seat venue. In some cases, viewership has exceeded that amount tenfold and more.
Prime time national television may not be in the cards for local arts organizations. Nonetheless, I offer the pivotal moment in 1953, when weekly broadcasts of professional baseball commenced. Despite all objections to televised baseball, the sport subsequently experienced its greatest expansion in the years afterward. That was more than three generations ago. In 2020, the arts are still confined to the equivalent of trading cards and a transistor radio.
Since 2007, the entire field of journalism has eroded. Arts coverage has suffered more than most. In Los Angeles, there is not a single full-time writer dedicated to jazz or dance. Big names attract some coverage, while local and emerging artists go neglected. Classical music and theater are holding on by a thread, but diverse and culturally-significant performances, like many we present at The Soraya, are likely to be ignored. Knowledgeable and veteran writers are a dying breed, and more than once, a rookie writer has told me that coming to Northridge to cover a performance is out of the question and that their small fee won't cover the gas needed to drive 20 miles. Without vital and expert press coverage, how will audiences develop a broader recognition and appreciation for the arts?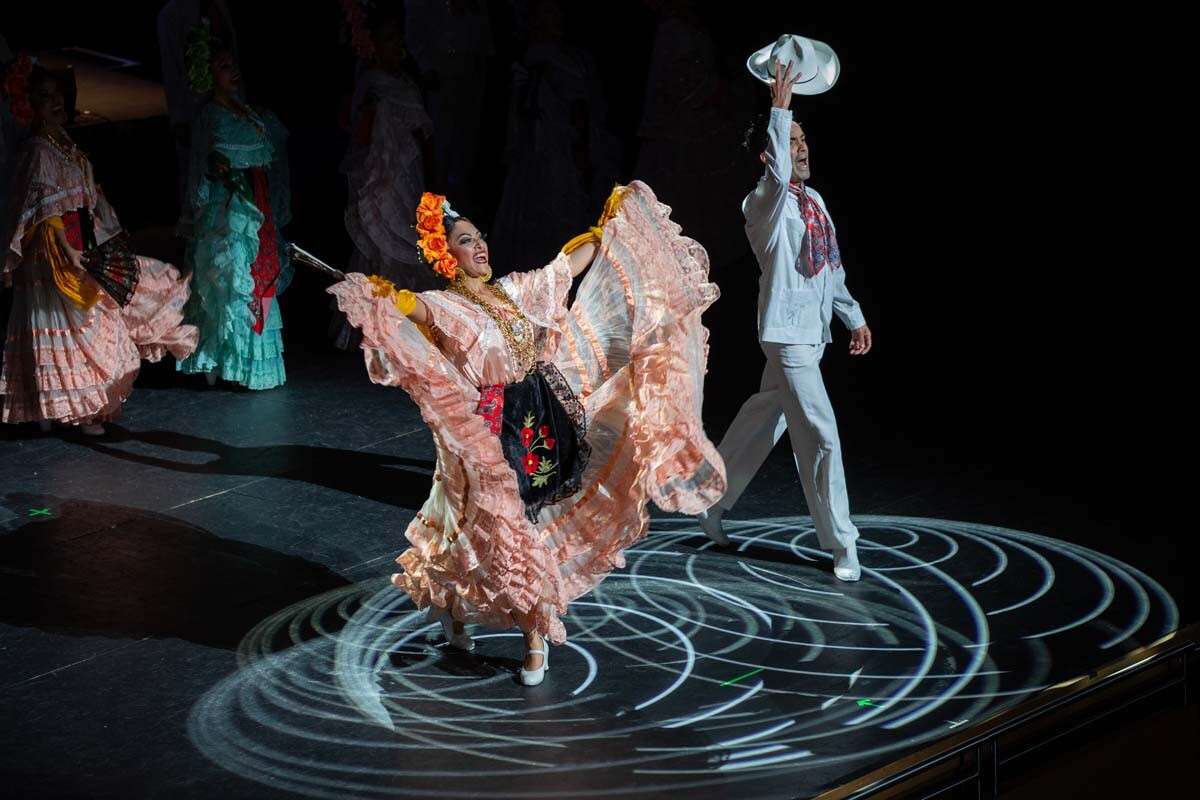 COVID-19 has further diminished arts coverage in Los Angeles. While there aren't live performances to cover, artists themselves and the field at large are still hard at work, and the fruits of their effort merit attention by the press. How will arts organizations fill this gap left by pallid press coverage? By taking matters into their own hands; by renegotiating the once precious divide between the journalist and their subject; by committing to engage writers, experts and content creators to undertake the work once reserved to a free press. Is this an imperfect solution? Perhaps, but it is the best solution there is to ensure that the arts do not become further isolated.
Another critical part of the access equation is arts education. At the Soraya, we define arts education not as training for future artists, but rather as inspiring future audiences and shaping future citizens and to encourage self-expression, creative problem-solving and compassion.
More on Martha Graham's "Immediate Tragedy" at The Soraya
In two generations, arts education has largely disappeared from K-12 schools. At the Soraya we are doing our best to fill the gap. We recently convened 60 local educators with teaching artists from across the nation on a three-day Zoom conference, something that would have never happened were it not for quarantine. In one session, jazz pianist and composer Jason Moran shared an intensely personal story from the piano in his home in Harlem about his transition as a teenager from hip-hop to jazz and how he found purpose and identity in a century-long lineage of Black artists and took on the broader social justice movement with his music. The power of one artist's personal narrative to illuminate an otherwise dark moment stands as an example for broader engagement in the education of youth, to scale up impact through online content, and to spark a new chapter in arts education that isn't limited to dwindling resources or beholden to buses.
Each of the challenges above do not exist in silos. Problems and their solutions alike coexist. But no problem in the performing arts is perhaps more complex than the one of inclusion and representation. This problem is not limited to race alone, but certainly the race problem may be the most dire.
Attending a performance is, by and large, a privileged affair often reserved for predominantly white audiences. Notwithstanding the admirable efforts made by many organizational leaders, progress is incremental. The race problem confronting arts organizations is systemic. Funders lean traditional, ticket prices tend high, business models and subscriptions are outmoded, and there's a prevalent lack of understanding what's even missing from our stages.
Part of the problem is the dominance of Western European traditions — ballet, opera and symphonic music — much sourced from bygone centuries. Sometimes the arts appear more intent upon building a bridge to our forebearers than our neighbors. An outmoded public funding system pours tens-of-millions into the civic venues that specialize in these offerings, while handing out small sums to the organizations that fill their stages with culturally diverse programming.
While no one would suggest that hiring a Black ballerina or a Latinx conductor is, in itself, sufficient to move the needle, the options for making broader change are often not immediately apparent. Every effort is required in an uphill battle with near vertical dimensions, and progress will be incremental even when efforts are monumental.
The Soraya is an organization that has prioritized representation and inclusion. Those efforts have been met with both success and failure. The Soraya's series highlighting Latin and Mexican Regional artists, "Hecho en las Américas," is one of our most popular. In three years, we saw a doubling of our Hispanic/Latinx audience to 23%. On one hand, those audiences are loyal, returning and bringing with them multiple generations of their family. On the other hand, we have not cultivated or retained a single philanthropic supporter for these performances.
At the Soraya, we say that we find ourselves fixing the plane while we fly it, a treacherous yet too-familiar feeling for anyone leading a nonprofit organization who, in the best of times, manage with limited resources and a barrage of daily demands that rob our attention and preserve the status quo. There is scant time for innovation, minimal tolerance for risk or experimentation and limited resources for large-scale innovation. Even in a field as creative as the performing arts, we find ourselves guilty of a lack of imagination.
These challenges are not outmatched by the opportunities they present. It's time to be bold, even outrageous. I join my colleagues in meeting the moment with an upright stance and a long view. The challenges that dot the horizon are not limited to the pandemic, but it may be that the global crisis and ensuing social unrest are what will inspire a vision of the future that is not limited to simply preserving our individual organizations, but rather bringing the performing arts fully into the 21st century.
Top Image: Ballet Folklórico de Los Ángeles dancers in vivid pink dresses dance Mexican ballet folklórico in Nochebuena at The Soraya accompanied by music from Mariachi Garibaldi de Jaime Cuéllar on Dec. 14, 2019. | Luis Luque