William Camargo's Lens Brings Focus to Obscured Histories in Orange County
Learn how arts and culture organizations are responding to the times on "Southland Sesssions" E1: Change(Makers) - The Future of Arts and Culture. Watch now.
E1: Change(Makers) - The Future of Arts and Culture (Media Manager)
At first glance, William Camargo's photography grabs viewers as raw aesthetics of striking texture and cunning composition. Then it grips them into an honest conversation of history told in plain sight with him standing there holding a sign of unflinching facts. In his exhibition, "Origins & Displacements, Vols. 1 & 2," Camargo's lens focuses on buried histories to create counter narratives that amplify silenced stories in Orange County.
Camargo's exhibition debuted on October 3 on storefront displays at two locations in Orange County: volume one at the Grand Central Art Center (GCAC) in Santa Ana and volume two at the MUZEO in his hometown of Anaheim. Both buildings are steeped in historical significance that lend to the message of his work, while the pieces interconnect the past to interrogate how we got here and empower imagination for liberation.
"Origins and Displacements" serves as an alternative text to the historical narratives of Anaheim and Santa Ana. Through his dive into each city's archive, Camargo uncovers histories of violence and exploitive policies against Black and Brown communities, and connects those consequences of the past to the current uprising for racial justice that was revitalized over summer with the Black Lives Matter movement (BLM).
The show was organized by the Begovich Gallery and is presented in partnership with the GCAC and the MUZEO. Jennifer Frias, director of the Begovich, reached out to Camargo about showcasing his graduate thesis of the same name."I approached William about working with the Begovich around the same time the BLM protests were in full effect," said Frias. "We had talked about it in March before his thesis was to take place at Claremont Graduate University, but got postponed because of COVID. After the BLM protests began, I went back to William because we really need this sense of education right now."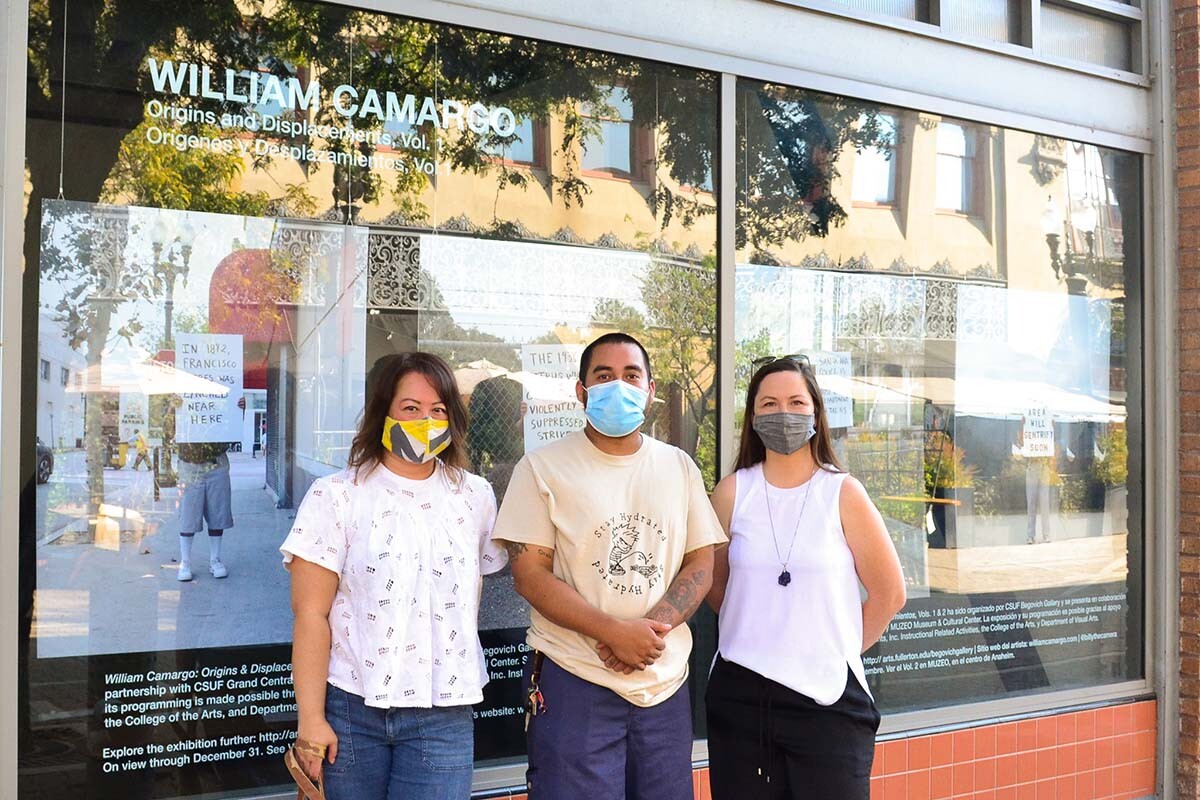 "William's work breaks down why this is happening and why we need to protest in a way that transcends," Frias explained. "I consider it a visual ethnography of what's happening in the OC and also what's happening in neighborhoods across the country. In it is this message that it's time for a huge reset."
Camargo's artistry works at decolonizing and de-canonizing photography and history through his theoretical framework of uplifting lived experiences, his mutual praxis with communities and even the language he uses when speaking about his process.
"The language of photography is very violent," said Camargo. "Instead of shooting, I say I'm going to photograph a person. So, not just calling them your subject, but calling them a f-cking person; someone who I am collaborating with to create art. This also chips away at the settler colonial way photography has been fed to us."
The pieces on display stand in defiance to the photography canon with a community perspective that unearths ugly truths.
His photo series of signage work places him at approximate locations where actual events took place that highlight the city's unsavory past, and also reinserts himself and his community into a reinterpretation of that history.
"I stand at places where these events happen, putting myself where as a Brown artist, I wouldn't be able to stand years ago." Camargo said, referring to his piece called, "Damn I Can't Go On This Side of the Park?!," where he is photographed standing at a park he used to frequent as a chid, holding a sign that reads: "THIS PARK USED TO BE SEGREGATED."
Another aspect of Camargo's work as an alternative text is the way it speaks to his community, who often feels alienated from the fine arts world. With his photography flanking the façade of the galleries, the portraits and images of Camargo's community are on full display for folks in his neighborhood to see as they drive past the MUZEO through the heart of Anaheim.
"Origins & Displacements" also speaks to folks oblivious to issues of gentrification that communities of color face in Orange County by confronting brutally honest points in history in order to understand how we got here and how we get to a more just future.
While GCAC will remain closed as an off-site extension of Cal State University, Fullerton (CSUF), the inside of the MUZEO reopens on November 21 and will feature a critical piece titled: "Damn, Four of Them Got Elected!?" In it, Camargo stands in front of City Hall, with a sign that reads, "IN 1924, FOUR KLAN MEMBERS WERE ELECTED TO THE ANAHEIM CITY COUNCIL."
See more of Camargo's work. Click right and left:
"William brought [this] challenging piece that we knew had to be in the exhibition," said interim and soon-to-be full-time director of the MUZEO, Katie Adams Farrell. She further details the expansion of Camargo's exhibition when the museum doors open to the public in November.
"When that opens up, there will be chalkboard walls with large didactics asking questions such as: How far have we come, how far do we need to go, and how do we get there?" said Adams Farrell. "Our visitors will be able to engage with the piece and contribute to the exhibition."
The final part of Camargo's show includes education and programming to continue the dialogue the exhibition elicits, featuring an accompanying essay written by Joseph Valencia, a performance piece at GCAC on November 7, a conversation between Camargo and Paul Sepuya on December 5, and virtual guest lectures for the College of the Arts at CSUF, of which Camargo, Valencia and Frias are all alumni.
The Begovich's website also lists in both Spanish and English, resources Camargo used to conduct his research and community organizations he's involved in as an activist, because the ultimate goal of "Origins & Displacements" is to spark conversations and inspire change.
"I hope it gives people an opportunity to look at stories that are not told and to investigate why these things keep happening," Camargo said. "And hopefully, that can create a dialogue that creates small changes toward liberation."
As Valencia points out in his exhibition essay, "In a city whose imaginary is so closely linked to Disneyland, a place that has reflected and reinforced traditional American values and suburban whiteness, Camargo's photographs counter and subvert this hegemonic narrative. His photographs set forth a parallel narrative that is more representative and responsive to the city's population."
Top Image: William Camargo's "Origins and Displacements, Vols. 1 & 2" at MUZEO | Michael Quintero