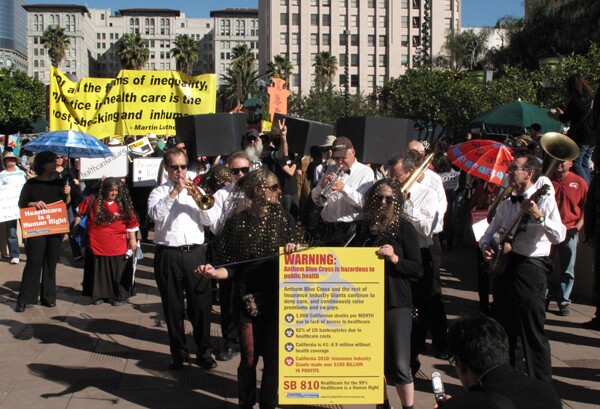 Editor's Note: Jason Rosencrantz is a downtown L.A. resident who has become an active participant in Occupy Los Angeles. Today he shares some day-to-day activities during a one-week period earlier this month. It shows that the movement continues despite evictions from pubic parks and the loss of daily media interest.
Occupy L.A., scattered by its eviction from Solidarity Park and the holiday season that followed, continues to pull together and merge with natural allies to manifest in an almost daily docket of events and actions. There are so many ways to participate that it would be impossible to do it all.
Below are my notes from five events that took place over the course of just one week.
1. Monday, January 9: Occupy Anthem Blue Cross
The Occupy L.A. Wellness Committee joined the Physicians for a National Health Program, the California Nurses Association, the California Alliance of Retired Americans and a number of other labor and progressive groups to march from Pershing Square to the downtown headquarters of Anthem Blue Cross in support of SB 810, legislation that would enact a single payer health care system for California (the bill was stalled as of January 26, according to the LA Times).
In the form of a New Orleans style funeral procession, a traditional jazz band led Pallbearers baring coffins labeled with troubling statistics related to the health care crisis. As the procession made its way to the rally at the foot of Anthem's office building on Figueroa, bank offices locked their doors and sympathizers in traffic honked their horns.
In the days before Occupy L.A. I had been to a large number of such marches and rallies, either as a journalist or participant, and noticed how the the horizontal mechanisms - leaderless and with group consensus - popularized by the Occupy movement have begun to seep into protest culture. In this case, an event that would normally end in some prearranged set of speakers was replaced with a "people's speak-out" open to anybody who had a relevant story to tell, a scene complete with "mic checks" and hand signals. (See Dr. Robert Peck and Nurse Jamie Garcia speak out at the event.)
Not everyone is a fan of such developments, of course. One burly man in a business suit was quite upset that he had to pass though the motley crew of activists - nurses, veterans, elderly retirees and others - in order to go to lunch. So he flicked everybody off and shouted, "Go back to work! You're all losers!"
2. Wednesday January 11: 10th Anniversary of Guantanamo
Today marked the 10th anniversary of the Guantanamo prison. The Interfaith Communities United for Justice and Peace organized a vigil and press conference at the downtown Federal building on Los Angeles Street. Occupy the Hood was a co-sponsor, as were a large number of civil rights and religious groups. About a dozen people donned the orange jumpsuits and black hoods of Guantanamo detainees, creating a "silent tableau" in protest of indefinite detention, torture and Islamophobia.
Local lawyers who have represented Guantanamo prisoners spoke at the event, as did the Executive Director of Program for Torture Victims, Julie Gutman, who pointed out that Los Angeles is home to more torture survivors than any other U.S. city.
Even at events such as these that are not organized by Occupy L.A., the culture and presence of the movement can be felt.
Ameena Mirza Qazi, the Deputy Executive Director of the L.A. chapter of the Council on American-Islamic Relations, asked for a mic check when she took the soapbox. The initiated among the crowd responded - "Mic Check!" - even if their numbers were too few to reach critical mass.
"I guess I missed that movement," said Qazi, responding to the anemic response. "But it lives on, right?"
To that embarrassing question, several people responded, "Yes!"
3. Thursday Jan 12: Occupy Art Walk
Occupy L.A.'s Fun Committee organizes a march to coordinate with downtown's Art Walk on the second Thursday of every month. The theme of this month's Occupy Art Walk was "Boycott Shell Oil" because of the corporation's responsibility for the recent (but little discussed) oil spill off the coast of Nigeria, as well as the company's deleterious history in the Niger Delta region.
Past occasions have been merry affairs as occupiers mic check the revellers and spread their message, but things were not so fun once LAPD officers began to make arrests. I wasn't there to witness, but two protesters were taken by the police from the crowded sidewalks and arrested. One of them, Sergio Ballesteros, was held on a bail of $50,000 for suspicion of "lynching," which is a felony punishable by two to four years in prison. California's penal code defines lynching as "The taking by means of a riot of any person from the lawful .custody of any peace officer is a lynching." MSNBC explains that "(t)he original purpose of the legal code section 405(a) was to protect defendants in police custody from vigilante mobs -- especially black defendants from racist groups."
To my knowledge this charge is one that had not been leveled against Occupy L.A protesters before, but it has been used in connection with Occupy Oakland.
The above video of the event shows Ballisteros, a former high school teacher pursuing a master's degree in Urban Teaching at UCLA, being snatched from the crowd and wrestled to the ground by two officers. One can also see Ballisteros participating in an MSNBC-hosted debate between Occupy and Tea Party activists here.
4. Friday January 13: Occupy Foreclosures
The target of today's march was the weekly foreclosure auction hosted at the downtown Sheraton Hotel. I was late so I went directly to the hotel and walked passed the scant security into the downstairs ballroom where the auctions were being held.
Did I miss the arrival of the activists? Maybe they were staging something outside the building. I stayed for a while, watching homes get auctioned off to the crowd of opportunists placing bids. After a few minutes, in came a dozen or so activists, marching about the ballroom and shouting. To his credit, I suppose, the auctioneer never missed a beat and continued to do his thing right through the interruption.
I caught the next few moments on my mobile device (see above), so the quality is pretty bad but here is what they chanted (to the tune of "Row, Row, Row the Boat"):
Shame, Shame, Shame on You
Making a Quick Buck
Perpetrating Bankers Crimes
And You Don't Give a Fuck!
Shame, Shame, Shame on You
Making a Quick Buck
Families Homes Being Taken Away
I Guess They're Outta Luck!
After most of the protesters were ushered away by security and police, one dedicated soul remained for a bit longer to heckle the auctioneer, as you can see in the second part of the clip. As I was filming, one of the bidders, again a burly man in a business suit, held up a piece of paper on which he had scribbled, "Pay your bills, losers!"
After the hecklers reconvened with the scores of marchers outside, they moved on to their second target - the offices of BNY Mellon - where they were to hold a mini assembly and press conference.
Mellon Bank, What d'ya say?
How many homes did you steal today?
Ulises Hernandez spoke on behalf of his brother, whose home is being foreclosed on by BNY Mellon, even though Bank of America holds the mortgage.
"I don't know what the connection to Bank of America is," he said. "I have a lot of questions that don't get answers. But we will fight our foreclosure in court. We will not cooperate with the system any longer! Enough is enough! Fight back!"
For more on Occupy L.A.'s efforts to directly occupy homes under threat of foreclosure, see this excellent first person account of an attempt to save the home of Bertha Herrera, a 63-year-old Van Nuys resident. (By the way, anyone facing foreclosure can contact Occupy L.A. for similar support at olasavemyhome[at]gmail[dot]com)
5. Sunday January 15: Operation Skid Row
This event, a free concert for Skid Row residents, was organized by the Los Angeles Community Action Network (LA CAN), in conjunction with Chuck D of Public Enemy. Performing on stage was a veritable who's who of various stages in the history of West Coast hip-hop - the L.A. Posse, The Egyptian Lover, Sir Jinx, YoYo, Medusa, Freestyle Fellowship and others.
Veteran homeless people smiled and danced with other hip-hop fans from all the around the city, and at the same time heard about the challenges faced by Skid Row residents. Literature was available about the Skid Row's "struggles against eviction, gentrification, homelessness and the privatization of public housing."
I hadn't walked through Skid Row since the first week of Occupy L.A.'s City Hall encampment in the beginning of October. In those first days, there was a general recognition that if Occupy L.A. wanted to claim to represent the 99%, it would need to include the participation of the homeless. So I went there to do outreach.
I left a bit discouraged then, partly because I was unaware of the healthy activist movement in Skid Row that had been focusing on issues of economic justice for years.
My own unchecked privilege led me to think that I should be recruiting Skid Row residents to join Occupy L.A., but the Operation Skid Row festival demonstrated that it is just as much the other way around - Occupy L.A should be participating in and supporting the civil rights movement already hard at work in Skid Row.
Read more Occupy L.A. posts by Jason Rosencrantz here.