Before the dust even had a chance to settle from this year's announcement that California would be closing 70 of its 278 state parks due to budget shortages, some off-road vehicle advocates were speculating that existing state parks might be best given over to ORVs, and discussing strategies to make those transfers happen.
Henry Coe State Park, a 87,000-acre wilderness east of San Jose that is the state's second-largest state park, and Kern County's Red Rock Canyon State Park were specifically mentioned as possible new off-road vehicle parks during a March meeting of the California Off-Highway Vehicle (OHV) Commission in Sacramento.
The remarks, contained in a transcript of a March meeting of the OHV Commission, were brought to public attention this week by the whistleblower group Public Employees for Environmental Responsibility (PEER). The meeting was called in response to a move by the legislature to transfer $10 million from the state's OHV Trust Fund to the general fund. The OHV Trust Fund, commonly called the "green sticker fund" after the state's non-street-legal registrations for off-road vehicles, is funded by taxes on the sale of fuel used in off-road travel and recreation. In 2010 it amounted to about $65 million.
At the meeting, a few off-roaders took the opportunity during the public comment portion of the meeting to advocate that the OHV Commission move to open Henry Coe to off-road vehicles. Kevin Murphy, an off-road advocate present at the meeting who did not identify himself further, pointed out that
Since the State has no real plan or perceived ability to return this money, I think we should be in a good position to take something in fair trade. I think specifically Henry Coe Park would be something we could take in fair trade. Now, I know this is an extremely bold statement, but we need to get bold right now. Our adversaries have been backing us into a corner over the last few years, and I think it's time we start pushing back. I think this issue and this time is as good as ever to try to make this happen.
Murphy went on to claim that the park's wilderness characteristics justified an OHV takeover:
Another reason to open Henry Coe Park to OHV is that the park is underutilized in its current configuration. The park's current website speaks to the trails that are very overgrown or nonexistent due to lack of use. The truth is the people of California prefer to visit State Parks on off-highway vehicles rather than with a 50-pound pack on their back and a ten-mile walk. Let's face it, this type of visitor is very rare.
The OHV Commission meeting isn't the point of origin of the park transfer idea. According to Commissioner Eric Lueder,
[The land swap idea] was discussed actually in the Budget Subcommittee hearing that I attended. Assembly Member Brian Jones from Southern California actually brought that question up and discussed it. So it wouldn't be unprecedented for us to make mention that certain members of the Assembly have looked at that as an option, and that we would certainly be open to further discussions if the Legislature and the Governor so chose.
Still, the suggestion struck a chord among others present at the meeting. As OHV lobbyist Terry McHale put it,
It is time for those moribund parks that are not being attended by people, that are sitting up there without being used, it's time to say either close to them down or let's be so bold -- we may not get Henry Coe State Park, but a lot of those parks are out there dying to be used. And you have a program where they can be used, and they can be used well.
Nick Haris of the American Motorcycle Association agreed:
Let's identify some State Parks units that are potentially good candidates for OHV use and work with State Parks, take that off their books, put them on our books, give us some opportunities.
Phil Jenkins, Chief of the State Parks' Off-Highway Motor Vehicle Recreation department, offered a suggestion:
[T]here are a couple of parks, most notably Red Rock State Park, where we have currently the state park system allowing Green Sticker activity. It might take some of the burden off of State Parks if we were assuming more responsibilities there.
Red Rock Canyon State Park, comprising 27,000 acres along Highway 14 in Kern County's portion of the Mojave Desert, is the scene of a significant amount of both street-legal and green sticker ORV use on the park's dirt roads. At the confluence of several distinct ecosystems, Red Rock Canyon is an ecological treasure. It's also home to significant paleontological resources, and its location along natural migration corridors has made it an archaeological wonderland as well. In 2007, the State Parks commissioned a report by State Archaeologist Michael Sampson to determine the impact of vehicular recreation on the park. Among Sampson's conclusions:
There are 35 years of scientific research that detail the serious adverse effects of off-highway vehicles upon desert soils, wildlife, vegetation, archaeological sites, spiritual values, scenery, solitude, passive recreation, and other values. Arid lands simply cannot sustain vehicular recreation for an appreciable period of time, in particular, when it is loosely regulated and not well maintained. Off-highway vehicles and customized street-legal vehicles provide access to previously remote locations where extant archaeological sites and natural resources cannot be regularly patrolled, studied, monitored, or maintained. A total of thirty-six archaeological sites are directly traversed by roads and informal OHV trails within Red Rock Canyon SP. Seventeen of the 36 archaeological sites (46%) manifest pronounced damage resulting from regular OHV use and erosion that follows from vehicular activity. Critical habitat occurs along these same routes of travel. The damage defined here as "pronounced" includes, measurable deflation of the sites within road beds or the trail treads, degradation of cultural deposits, vehicle scars resulting from off-trail riding, road damage requiring extensive and costly restoration efforts, loss of soils in measurable volumes, loss of vegetation, creation of deep gullies, displacement and damage to artifacts and cultural features, modern-day trash left on-site, alteration of natural hydrologic patterns, and other problems.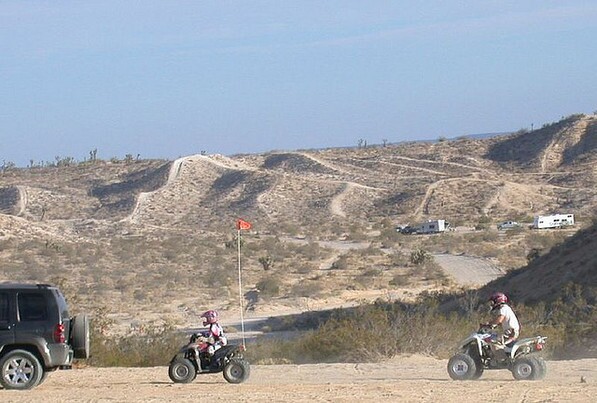 Handing more of Red Rock Canyon over to the OHV Division seems unlikely to address the worst of the abuses.
What fuels this acquisitiveness among off-roaders hungry for more parks in which to hill-climb? You do hear complaints about land formerly open to off-roading being locked up. Some of those complaints may be justified. Some are certainly the result of laws simply beginning to be enforced in places where violations of the law were once tolerated.
Either way, given the proximity of Red Rock Canyon to both the gigantic Jawbone Canyon off-road recreation area and the many square miles of open ORV desert in nearby California City, it's hard to see how opening up Red Rock to more vehicular use addresses any kind of shortage.
Part of the land hunger comes from the widespread notion among off-roaders that the OHV Trust Fund comes entirely out of their pockets, thus justifying the notion that using the funds for anything but "green sticker" activity is unfair. As it happens, the majority of the fund comes from gas purchases by Californians who may not consider themselves off-roaders. The fund is allocated based on the state's estimates of off-highway travel for recreation; if you drive your Subaru wagon four miles down a dirt road to get to a trailhead with your "fifty-pound pack," your gas taxes pay into the OHV Trust Fund.
A 2006 study commissioned by the State Department of Parks and Recreation found that "recreational driving" accounted for slightly more than half of the fuel consumption subject to OHV Trust Fund tax diversion.That "recreational driving" figure includes both the expected quad, four-wheeler and dirt-bike use as well as things like passenger car sightseeing along unpaved roads. The remainder of the Trust Fund comes from sales of gasoline used off-highway for recreational pursuits such as backpacking, bicycling, spelunking, stargazing, and picnicking. According to the study, 48.5% of the gas sold to support the Trust Fund went into the fuel tanks of street-legal, two-wheel drive vehicles.
According to California state law, the Trust Fund is supposed to be used to promote and facilitate the entire range of off-road recreation, from green-sticker off-roading to nonmotorized recreation that happens to take advantage of dirt roads. PEER estimates that based on state law, 83% of the Trust Fund should be going to support "motorized access to non-motorized recreation." The California Legislative Counsel's office held in 2009 that spending trust fund money to maintain dirt road access to non-motorized recreational activity was in keeping with the intent of the law. The OHV Commission has, however, resisted calls to spend the Trust Fund on anything other than strict off-roading, State Vehicular Recreation Area management, and grant-making to federal agencies that provide similar services to off-roaders.
Despite the likelihood that much of the OHV Trust Fund comes out of the pockets of people who've never driven a green sticker vehicle or strayed from a well-maintained dirt road, OHV lobbyists and advocates continue to claim that the money belongs to them by right, and that diverting it to other uses is an injustice.
This notion of entitlement will likely spur more talk about "quid pro quo" park swaps. In a phone call this week, Assembly Member Brian Jones (R-Santee) confirmed that he'd brought up the park exchange possibility during a meeting of Subcommittee 3 of the Assembly Budget Committee earlier this year. "I more or less asked 'why don't we look at the option of taking some of these parks and turning them into OHV parks?' It was kind of off-the cuff," Jones told me. "A shot across their bow. I knew it would raise hackles when I said it. But if the OHV community comes to me with a real plan, I'll support it."