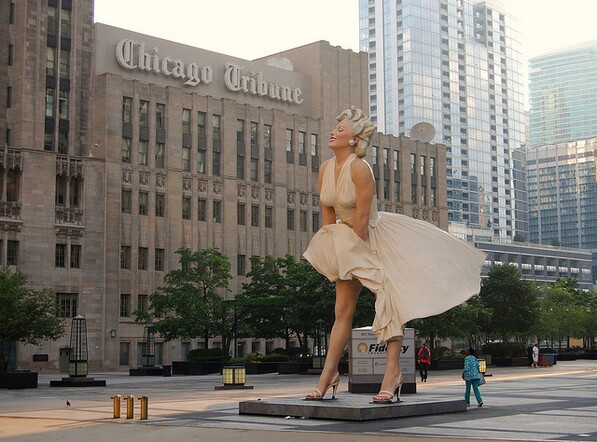 Before this week's dismantling in Chicago | Photo: UGArdener/Flickr/Creative Commons License
Palm Springs has a conflicted relationship with good taste. The town is a somewhat self-conscious shrine to the Mid-Century Modern aesthetic, with houses, bank buildings and diners reflecting that artistic movement. Design shops up and down Palm Canyon Drive offer stylish household accessories to the L.A. expatriate set. There's a top-notch art museum right downtown with pieces by Rauschenberg and Bourgeois in its permanent collection. And then you can walk out of the museum and find the local take on the Hollywood Walk of Fame, stars sunk into the sidewalk emblazoned with names of local notables, insurance brokers and restaurateurs sprinkled among the entertainers. The stars run right past an Uncanny-Valley-inducing statue of former mayor Sonny Bono.
It's directly on this cusp between tasteful and tacky that Seward Johnson's "Forever Marilyn" will plant its oversized sandals in the vacant Desert Fashion Plaza, in a spot approximately equidistant from the Art Museum's Chihulys and the California Pizza Kitchen.
The sculpture, which depicts the iconic subway grate scene from the film "The Seven Year Itch," unveiled last July in Chicago's Pioneer Court. It immediately met with near-universal derision from art and architecture critics. Virtualtourist.com dubbed it the worst piece of public art in the United States, handily beating Minneapolis' Mary Tyler Moore statue and the sculpture of Elizabeth Montgomery as TV witch Samantha Stevens in Salem, Massachusetts.
Chicago Sun-Times columnist Richard Roeper pulled no punches in his description of the piece:
Imagine gingerly walking down the rickety stairs of some musty, un-air-conditioned "antiques and collectibles" shop on some Main Street in a town that has seen better days. Imagine stepping past the old magazines and comic books and coming across an amateurish figurine of Monroe in her most famous pose from "The Seven-Year Itch," with a price tag of 89 cents. Now imagine that thing coming to life, springing to a 26-foot height and planting itself in the heart of one of the most magnificent stretches in downtown Chicago. That's what we're stuck with.
Twenty-six feet tall and some 30,000 pounds, in fact, with a skirt billowing far enough to serve as a taxi shelter. Roeper has a point about the quality of the likeness as well. Offered a close shot of "Forever Marilyn's" face without any of the context, a person might mistake her for an intern at the Dallas GOP headquarters. She looks much more country club than subway grate.
A common tourist interaction with the artwork | Photo: Berlyjen/Flickr/Creative Commons License
Not that many people in Chicago spent a lot of time looking at her face. The other main thing that bothered Chicagoans about the piece was that it provided a 24/7 opportunity for public upskirt gawkery. As a Chicago friend wrote me when I mentioned the statue's looming arrival in Palm Springs,
Our gift to you, my friend. Enjoy learning how disgusting your fellow citizens are every time you walk past.
Whether for engaging in adolescent jokery or using Marilyn's billowing skirt as an impromptu rain shelter, tourists in Chicago rapidly made Johnson's sculpture the most-photographed object in the Windy City. That's likely to happen in Palm Springs as well, likely a boon in the minds of the boosters on the Chamber of Commerce. Though tourists here will likely use it as a source of shade rather than as a rain shelter.
Local discussion of the statue's tenure here -- it'll remain until Summer, 2013 -- has split pretty much along the same lines, with tourism boosters lauding its arrival and people in the arts community smiling politely through tightly clenched teeth. Comments have been flying in both directions on local websites, with both opponents and supporters of the work citing Monroe's connections to Palm Springs as justification for their positions. (Monroe was discovered in town, and owned a home here for a time.)
More Art Around Palm Springs

Watch: Date Farmers: Desert Detritus Becomes Chicano Pop Art

Read: Destructing Modernism: Will Palm Springs School District Tear Down a Wexler Building?

Read: Jackrabbit Homestead: Artists, Off-Roaders, and the American Dream Writ Miniature
There's room for lowbrow art in Palm Springs. Southern California artist Josh Agle, better known as Shag, has a popular store in town, and his exuberant celebration of the lowbrow end of the Modernist aesthetic is completely in keeping with the best of the Palm Springs art world. There's room for camp as well, though few of the statue's supporters seem to be doing so ironically. And of course art doesn't have to be good to be loved. This isn't the first time Seward Johnson has been accused of kitschmongering, and it likely won't be the last. Once that oversized skirt is raised later this month, it's likely that gawkers and the eye-rollers will each find their points of view justified. There's no accounting for taste.
But really, Palm Springs. Come on. We've got a thriving community of talented artists right in town. We're a half hour from the amazing network of sculptors and other artists working in the environs of Joshua Tree, and two hours from one of the largest creative communities on the planet. We could so easily have had a piece of world class art here, one that wouldn't have been more at home in that theme park in Anaheim.
Forever Marilyn will definitely attract attention in Palm Springs. If that's your measure of artistic success, I can refer you to a lot of car accidents you might enjoy. If not, well, at least Forever Marilyn won't be here Forever.
Chris Clarke is an environmental writer of two decades standing. Director of Desert Biodiversity, he writes from Palm Springs regularly at his acclaimed blog Coyote Crossing and comments on desert issues on KCET weekly. Read his recent posts here.