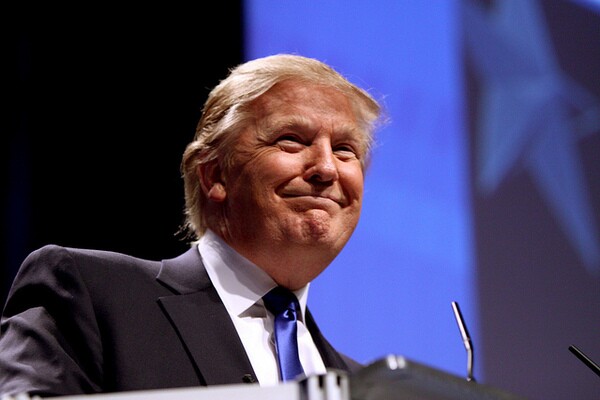 It's been a busy week for real estate tycoon and bad haircut enthusiast Donald Trump. In between defending Mitt Romney from criticism of the candidate's possibly disastrous "47%" speech and sharing his carefully considered thoughts on Kate Middleton's recent brush with the paparazzi -- spoiler: he thinks it's her fault -- Trump somehow found the time to tweet his opinion of the sprawling wind turbine complex east of San Gorgonio Pass.
His opinion was not a supportive one:
The twitlonger version:
Ugly wind turbines have destroyed the entrance to Palm Springs, CA. These monstrosities are ruining landscapes all over the globe--expensive & bad electric.
That sound you hear in the distance is the Coachella Valley's anti-wind-turbine activists saying "Donald, please stop helping."
In a followup interview with the Palm Springs Desert Sun, Trump expanded on his opposition. "[It's] like driving into a sad person's version of Disneyland," he told the Desert Sun's Liz Kelly Nelson. "And of course [the turbines] kill all the birds in the area. A friend of mine said that an area that used to be so beautiful is now strewn with rusting hulks."
That "friend of mine said" part is rather telling: it's unlikely that Trump has driven into Palm Springs in recent memory, given that he's got his own personal 757. And the Desert Sun, long a cheerleader for utility-scale renewable energy development, doesn't hesitate to point out social media-based ridicule of that very likelihood, along with public speculations that Trump hates wind power because of the wind's effects on his comb-over. Or comb-forward, more accurately. The Desert Sun also points out that Trump is opposing an offshore wind facility in Scotland.
But Trump isn't wrong. The abundance of wind turbines in the area, some of them decades-old, has utterly changed the character of the landscape. A century ago it was a botanical wonderland. Forty years ago, the desert vegetation depleted by collectors, it was still a distinctive desert rural area with abundant wildlife. Now it's an industrial landscape on a scale to match almost any the Rust Belt has to offer.
The turbines haven't "destroyed" Palm Springs nearly as much as they have communities like Desert Hot Springs, which Trump is more likely to buy by accident than he is to visit. In much of comparatively affluent Palm Springs the turbines are a distant presence. People in Desert Hot Springs, Whitewater, North Palm Springs, and Snow Creek live directly beneath the things. They tell tales of how the bats have gone missing, how they see orders of magnitude fewer hawks and eagles than they did in the 1970s, how the red lights atop the turbines glare into their bedroom windows at night.
Still, it would be foolish not to expect Trump to bear some class bias. And he's far from the only rich person to oppose wind turbines. Robert F. Kennedy Jr. famously opposed the Cape Wind installation off Cape Cod, though as a venture capital investor in the BrightSource Ivanpah solar project he took the other side.
A century ago the San Gorgonio Pass area was known as the Devil's Garden, a wonderland of huge barrel cacti, ocotillos and cholla that took advantage of the mixing of moist coastal air and desert sun. The pass's botanical wealth was crucial for the Cahuilla, who harvested fruit and hunted game there, but an early 20th-century craze for desert landscaping, and the new availability of motorized transport, pretty much doomed the Devil's Garden: one spectacular plant after another was dug up to be replanted in Los Angeles gardens -- and probably to die of root rot.
By the 1930s only a few representative plants remained to grace postcards. Horrified by the destruction of one of California's most distinctive landscapes, Pasadena socialite Minerva Hamilton Hoyt vowed that she would not let that devastation happen in other parts of the California desert. She founded the International Deserts Conservation League, with which Hoyt campaigned for the establishment of Joshua Tree National Monument in 1936. The League was influential in establishing Anza-Borrego Desert State Park and Death Valley National Monument as well.
In other words, the site of the San Gorgonio Pass wind turbine complex is of crucial historical importance in the California desert protection movement. It's the desert's equivalent of Yosemite's Hetch Hetchy valley, which inspired fierce activism when the City of San Francisco proposed to dam it for a municipal water supply.
Given that Trump followed up his criticism of Palm Springs' wind turbines with tweets like the one embedded below, his environmentalist cred is open to question.
Whether you're an opponent or a supporter of San Gorgonio's wind turbines, an honest appraisal of the complex's effect on the landscape involves a lot more than whether the turbines bum out wealthy tourists like Trump. Which is not to dismiss the potential economic effects of reduced tourism: those effects are important. They're just not the whole picture.
And as someone who just sweated through a couple of summers in the Coachella Valley, I have to say one thing: I don't like the San Gorgonio turbines either, but approving Keystone will go a whole lot further to make the valley uninhabitable. If you really want to save Palm Springs, Mr. Trump, why not put your abundant supply of money where your mouth is, and buy some solar panels with which to cover Palm Springs parking lots? I'm sure the city would be willing to name something after you.
Chris Clarke is an environmental writer of two decades standing. Director of Desert Biodiversity, he writes from Joshua Tree regularly at his acclaimed blog Coyote Crossing and comments on desert issues on KCET weekly. Read his recent posts here.