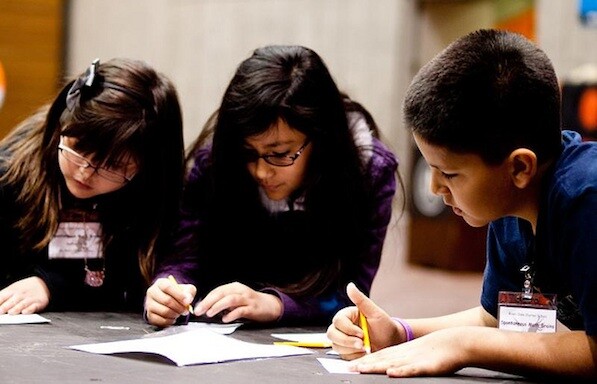 A survey released today by the Public Policy Institute of California (PPIC), provides insight into the mood and views of Californians on the state's budget and public education system.
Tax the Rich, Educate the Kids
One of main findings of the survey is that a majority of Californians want to protect funding for public schools, and prevent further cuts in that area by taxing the wealthiest Californians. Californians are in fact more concerned with protecting public education than any other major area of the budget. Significantly, however, barely more than a majority of likely voters (53%) would support a local bond measure to pay for school construction projects. That is a record low among likely voters, and short of the 55% needed to pass such projects.
Californians' concern over the public education system does not translate into a desire to decrease their pocket books. An increasing majority generally support Governor Jerry Brown's proposal to hold a special election which would ask voters to agree to temporary extensions of soon-to-be expired tax increases. However, when asked about the specifics of the plan, including an increase in the sales tax and the overall personal income tax support wanes significantly across every political affiliation.
What many Californians can agree on is raising personal income taxes on the highest earning Californians. Specifically, Democrats and Decline to State (DTS) voters are in favor of such a plan, while the majority of Republicans oppose such tax increases.
Who Are Decline to State Voters?
The survey sheds significant light on the political leanings of the fastest growing segment of the electorate--DTS voters. The survey suggests that voters declining to identify with a party are, perhaps unsurprisingly, somewhere in the middle of Democrats and Republicans.
The following provides just a few examples of the comparative moderate mood of DTS voters, and by extension the views of those on each end of the political spectrum.
Just over half of DTS voters (53%) think Brown's proposed special election is a good idea. By comparison, many more Democrats (72%) and fewer Republicans (38%) would support a special election. Similarly, more than half of DTS voters (54%) support Brown's overall budget plan of balancing the budget by equal parts spending cuts (not including cuts to K-12 schools) and tax extensions. Not surprisingly, an overwhelming majority of Democrats (72%) favor such a plan, while less than a majority of Republicans (47%) do.
When it comes to the impact of budget cuts on K-12 public education, DTS voters are firmly in the middle of Democrats and Republicans. Sixty four percent of DTS voters think budget cuts will hurt the quality of public education. More Democrats (77%) and fewer Republicans (49%) agree with that sentiment.
We Don't Loathe Jerry, But We're Not Too Keen on the Legislature
Having just garnered a 40% approval rating, Brown's numbers are on the rise. Yes, that's right, just a month ago, Brown's approval rating was a mere 34%. More good news for Brown, likely voters are even more enthusiastic of the job he's done. Bad news for the legislature, a mere 21% approve of the job our lawmakers are doing. That number drops even further, to 14%, among likely voters.
When it came to Brown's approval ratings, DTS voters are again wedged between Democrats and Republicans. While more than two-thirds of DTS voters (39%) approve of the way Brown is handling his job as governor, more than half of Democrats (54%) and less than a third of Republicans (31%) do.
DTS voters, however, were more closely aligned with Democrats when it came to approval ratings of the legislature.
How Much Do We Really Know?
As worthwhile as it is to take the pulse of different segments of Californians, the survey also shows that our perceptions are off the mark in a number of key areas. For instance, less than a quarter of Californians are aware that spending per pupil and student test scores are below average when compared to other states.
What Does the Survey Mean for the Future of California?
The results of the PPIC survey are unsurprising in many respects. Californians are worried about the budget, very concerned about the impact of the budget on public education, and have little faith in elected officials.
The survey also gives weight to the belief that DTS voters are likely to be moderate swing voters. DTS voters will play an ever increasing role in California not only because our--yes, I am a DTS voter--numbers continue to climb, but also because changes of changes to our election systems. First, redistricting could significantly change the way certain legislative districts are drawn, making races more competitive and giving DTS a deciding vote in some cases. Second, the state's new open primary, top two election system may not only motivate more DTS voters to go to the polls, but could also result in elect a set of lawmakers that are more moderate, and therefore more reflective of DTS voters.
The photo used on this post is by Flickr user Inkyhack. It was used under a Creative Commons License.