When Fires Blow up, They Rush In: Remembering the LA County Fire Department's 100 Years of Service
Mt. Gleason Fire Camp 16 sits atop a rocky ridge separating the North Fork of Mill Creek and the Gleason Canyon drainages. It is brutally rough country, with steep slopes falling away at 70° to 90° angles. Deep inside the Angeles National Forest, six miles out along a winding, narrow road off the Angeles Forest Highway, its very inaccessibility made it a perfect site for a Nike Missile base, which the U. S. Army maintained there between 1956 and 1974. Its isolation also helped determine its subsequent use: in 1979, Camp 16 was constructed under a cooperative arrangement between the Los Angeles County Fire Department and the California Department of Corrections and Rehabilitation, and has served as a fire-fighting training facility that can house more than 100 inmates.
None of those stationed there on August 26, 2009 could have known that within days their training would be severely tested. But that afternoon, an arsonist ignited a small patch of vegetation not far from the Angeles Crest Ranger Station.The first report came in at 3:20 p.m., and within 11 minutes Forest Service personnel noted that the fire already had ballooned to "three acres and running." It did not stop until what came to be called the Station Fire had blackened more than 160,000 acres, a massive conflagration whose convective energy created its own micro-climates, including pyro-cumulus clouds that billowed thousands of feet into the sky.
From afar, that churning column of smoke, gas, and heat signaled the fire's ferocity. So it was for those on the ground and in the air who were battling to control the swirling flames. But these firefighters also came to understand that this ominous formation intensified the event's unpredictability: as it periodically blew up and collapsed, the whole acted like a bellows, sucking up and flinging fiery brands a mile in advance of the main blaze; and then fanning those embers with powerful downdrafts and erratic winds.
It didn't help that the pine trees and live oaks, chaparral, manzanita, and other vegetation that clothed the canyons, ridgelines, and faces were tinder dry; or that the atmosphere was superheated; or that humidity was almost non-existent. Adding to the danger was that portions of this landscape, especially around Camp 16, had not burned since the 1919 San Gabriel Canyon and Ravenna fires; fuel loads--of woody material live and dead--were of far greater volume than they otherwise would have been.
For the veteran firefighters assigned to defend the camp or for the inmate-trainees who lived there, this data did not bode well. Although they all knew on the morning of August 30 that the fire was running in their direction, and as a precaution had combed the camp's perimeter and grounds, clearing away flammable debris; and although they rehearsed exactly what steps they must take to protect themselves, the fire's ground speed and ferocious energy took them by surprise.
Hoping to slow, perhaps even deflect the fiery rush, at 4:20 p.m. the Superintendent of Camp 16, Captain Ted Hall, and Arnie Quinones, foreman of Crew 16-3, drove to an access road beneath the camp to begin backfiring operations. Their valiant efforts were to no avail: conditions rapidly deteriorated around them, they tried to race through the hissing flames, thick smoke, and blistering heat to safety, but instead veered over a berm and plunged into the roaring canyon.
Their deaths are a stark reminder of the human costs associated with firefighting. Alas, Hall and Quinones join a long list of county firefighters over the past century who have given their lives in defense of this region's communities and landscapes. Since its establishment in May 1911, the LA County Fire Department has lost an estimated 81 firefighters. That's a mark of the dangers inherent in this profession, and these individuals' sense of dedication and duty.
Of them all, Stuart J. Flintham would have been proud. He is credited with developing the department's mission and launching many of the infrastructural initiatives that since have become essential to fighting forest fires in Southern California. When he was hired in January 1912 as the county forester, he was the third to have held the position in seven months. In accordance with the state's 1909 Shade Tree Act, the Los Angeles County Board of Forestry was created with the initial focus on the planting and maintenance of roadside trees (for my discussion of the significance of this work, click here). The appointed body hired its first forester on October 1, but he resigned before the month was out, and was replaced by an interim appointee who served until Flintham secured the position.Born in New York in 1879, Flintham was well educated--he did his undergraduate work at Williams College and finished his bachelor's in forestry at Cornell University; and well trained--in 1904, he received his M. A. in forestry from the Yale School of Forestry, which Gifford Pinchot, the first chief of the U. S. Forest Service had endowed and whose curriculum the legendary conservationist helped devise. Naturally enough, Flintham's first job was with Pinchot's outfit, serving as a forest inspector in California. In 1907, he was appointed supervisor of the Stanislaus National Forest, yet within a year Pinchot had fired Flintham because he was "displeased with the way he interacted with people."
This description of Flintham's personality would have surprised those who three years later began working with him as he industriously set up the county forester's office. They found him an engaging presence who tackled his array of duties with dispatch.
Flintham and his small staff managed and extended roadside tree-plantings, and among his other influential decisions was in selecting Coast Live Oaks and Jerusalem Pines to line Foothill Boulevard and other main streets across the county. He also initiated reforestation and afforestation projects in the foothills and high country watersheds.
Most consuming was the effort required to build a network of fire companies throughout the then-extensive unincorporated areas, linking them together in terms of equipment purchased and deployed and the uniformity and consistency of employee training. Having been the driving agent behind the formation of 40 fire districts, for which he served as their collective chief, Flintham succeeded in assembling what a contemporary characterized as the "State's largest fire-fighting organization outside of a municipality."
To accomplish this required a pragmatism and flexibility that as a young national-forest superintendent he may not have enjoyed. But these qualities appear to have been on full display in his work in greater Los Angeles. "Mr. Flintham was one of the best known men of the county, from the desert, over the mountains [and] to the sea," asserted a colleague. "Hardly a town or community but what at some time or other had called him in for advice on fire protection or planting of trees and shrubs."
Flintham's greatest impact, however, may have been in his pioneering management of SoCal's wildland fires. Drawing on his forestry training at Yale, and subsequent field work for the Forest Service; and making immediate use of some of the lessons that he and his professional peers learned in the wake of the devastating Big Burn of 1910, which torched nearly three million acres in Washington, Idaho, and Montana, Flintham devised a systemic approach to identifying, monitoring, and, where possible, suppressing these blazes.
This included building firebreaks that snaked up foothills and ridgelines; using horses, mules, and vehicles to mount patrols during fire season; constructing lookout towers to increase surveillance capabilities. First utilizing the telephone to speed up communication between firefighters on the ground, by the early 1920s the county force was making clever use of a mobile radio unit to coordinate its efforts. Even the local U. S. Army air squadron pitched in: its bi-planes provided aerial-mapping services and conducted fire overflights. In 1924, Flintham's deft administration earned the praise of one of his Yale classmates, William B. Greeley, then-Chief of the Forest Service. After inspecting the LA County forestry program, he reported to American City Magazine that it was "exceptionally well organized and eminently progressive."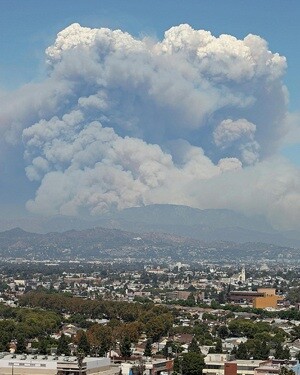 Months later, the San Gabriel fire, which erupted on August 31 and over the next 27 days burned upwards of 50,000 acres, tested this organizational structure and the cooperative arrangements between the county and federal agency. Like the Station Fire, this blaze was big, fast, and furious. It, too, drew on all available resources, human and technological, and equally frustrated those who tried desperately to put it down. One source of that frustration--suggested in the fire's sudden and swift surges up and down the jagged canyons--may have been meteorological: a photograph from Mt. Wilson captures a towering smoke plume that might have propelled these flames as did the pyro-cumulus cloud that energized the 2009 Station Fire. Although the Forest Service was in charge of the 1924 firefight across the Angeles National Forest, Flintham quickly offered his office's aid. Initially rebuffed, he and his men finally after a number of miscommunications were more fully integrated in the month-long struggle. Lauded as "the type of man who fought his fires right on the line rather than from a swivel chair" Flintham put in "such long hours and heavy work...that on the last day when the fire was brought under control he collapsed on Mt. Wilson." Friends believed that this extended period of stress, combined with his already diagnosed ulcers, were what led to the 46-year-old forester's death in June 1925.
The San Gabriel Fire of 1924 | Photo courtesy of USC Libraries Special CollectionsWhether Flintham belongs on the LA County fire department's memorial wall to fallen firefighters may be debatable. What is not in question was his formative and steadfast commitment to attacking fire in the Southland's rugged mountains, among the most challenging terrain on the planet. That this strategy has come with great cost, the county's memorial also attests.
Yet that monument, amazingly enough, contains only two names from Camp 16. Despite 200-foot flames flashing into and over the site, ember showers of great intensity, and the incineration of every building in the compound, 72 personnel safely retreated to an already burned space to their immediate north, sheltering in place for the next 90 minutes or so as the firestorm consumed everything in its path.
In their fortunate survival lies a message that the official "Factual Report" underscores: defending structures during conflagrations of the size of the Station Fire is tricky at best; it becomes even more so under the extreme heat and unstable weather conditions that prevailed on August 30, dangers that the site's difficult topography and dense fuel load amplified. Rethinking this defensive strategy may be the most enduring way to memorialize the special bravery of Ted Hall and Arnie Quinones.
Char Miller is the Director and W.M. Keck Professor of Environmental Analysis at Pomona College, and editor of the just-published "Cities and Nature in the American West." He comments every Wednesday at 2 p.m. on environmental issues.
The pyrocumulus photo is by Flicur user RobHelfman. It was used under a Creative Commons License.