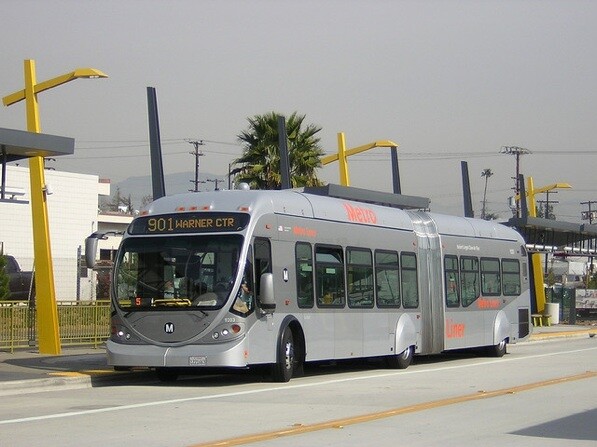 The island of Manhattan is 13.4 miles long and 2.4 miles across at its widest point. To get from Battery Park at the southern tip of the island, to Inwood Hill Park at its northern tip takes a 14-stop 37-minute ride on the A train. Not bad at all, considering you're traversing the most densely populated section of real estate in America. According to Google Maps, to drive that same section would take about 27 minutes--not including parking and the inevitable traffic jam or two.
The A train is an express train--the tiny island of Manhattan has no less than three of them. Meanwhile, here in the 469-square-mile city of Los Angeles, express service is just starting to register in our collective consciousness. Metrolink is unveiling new rush-hour express lines from San Bernardino and the Antelope Valley that could cut a half hour off each end of the trip.
Nice for LA's satellite communities, but what about the rest of us?
The San Fernando Valley has upwards of 1.7 million residents--tens of thousands of whom commute to the other side of the Santa Monica mountains for work. Yet the ridership numbers for Metro's Orange Line represent only a fraction of that populace. The line in March averages slightly more than 24,000 daily boardings during the working week. Metro sent me an itemized breakdown of those numbers, which revealed that, on average, around 1,800 people exit the Orange Line at North Hollywood station each morning--presumably to transfer to the Red Line and continue their commute.
That's not a whole lot of folks.
So why aren't more Valley commuters using the Orange Line to get to work? Well, perhaps because getting on the Orange Line at the Warner Center Transit Hub, transferring to the Red Line, and getting off in Downtown LA is a 28-stop, hour-and-a-half journey. Even driving in the worst of traffic hardly ever takes that long. The distance from Warner Center to Union Station is roughly 25 miles--nearly double the length of Manhattan. And yet despite the distance, and despite the fact that many stops along the routes hardly solicit any AM commuters, neither the Orange nor the Red Line offers express service. In fact, not a single rail/committed line in Los Angeles offers an express route. Yes, we have some rapid buses. But those are subject to the whims of traffic and still make routine stops. I've never been on a rapid bus that doesn't have a planned stop at least every 3/4 of a mile.
I spoke with Metro spokesman Marc Littman, who informed me that Metro has experimented with express service on the Gold Line before. It didn't work out so well.
"There were some confusion issues," Littman said. "People waiting at the platform as the trains passed them by--wondering what happened. We tried an express bus up Wilshire as well and ran into the same problems."
That seems like an issue that could easily be fixed with an information campaign. I suspect the true reason these express routes proved unsuccessful is that Metro chose the wrong routes to experiment with. The Gold Line, until the recent gas price hikes anyway, was not one of LA's more popular commuter lines. Meanwhile, Wilshire is so packed with traffic that express service (without a committed, cordoned off bus lane) isn't likely to save much time for commuters.
The Orange Line service area in the Valley, however, has far more people--especially working class people--than Pasadena and her Gold Line does. Not only that, but looking at the number there are obvious trims Metro could make to Orange Line service to create a rush-hour express route. The De Soto, Tampa, Woodley, and Woodman stations all solicit a paltry 100 riders or-so each during the AM hours. Reseda meanwhile--the most trafficked boarding point--gets about 500 riders. One has to imagine there are similar stops along the Red Line that could be trimmed for the benefit of more popular stops.
According to Littman, Metro "hasn't ruled out" express service. But they currently have no plans to experiment with it either. Nor is express service being accounted for in Metro's various Measure R projects. But it's time we start thinking about this issue. In 30 years LA could have the cleanest, most comprehensive rail system in America. But if it takes people an hour-and-a-half to get to work on public transit, odds are, they're not going to use it. With gas prices as high as they are, now is as good a time as any to attract new riders with convenient rush-hour service.
Why not experiment with a combination Orange/Red Line express route? Try to shave a half-hour off the Valley to Downtown trip, advertise it wildly and see who shows up. Call it the "Metro X Line," or something like that. Warner Center to Downtown in an hour--arriving at 8:45, giving people some time to get to the office by 9. Metro could also offer a similar service for the return commute.
Who knows: with the Gold Line's recent ridership boon--over the past two months the line has seen nearly 50 percent surge in riders--perhaps now is even the time to re-experiment with express rush-hour service on that line?
The simple fact is car owners in LA are not going to forgo their vehicles if riding public transit takes them an extra hour to get to work. Think about it: what's an hour worth to you? I think most people would pay a few extra bucks in gas for an hour of their time. Express service is an integral component for attracting rush-hour riders. We should be hammering out the kinks for that service now, so we can incorporate what works into our Measure R planning.
The L.A. Vitamin Report is a column about quality of life issues by Matthew Fleisher. It is brought to KCET's SoCal Focus blog in partnership with Spot.Us, which receives support from the Cailfornia Endowment.
The photo used on this post is by Filckr user Metro Transportation Library and Archive. It was used under a Creative Commons License.