Recently on a rainy morning in El Monte and South El Monte, students and teachers from Arroyo, Mountain View, and South El Monte high schools took out their rain coats and umbrellas and jumped aboard an orange and black time machine. Well, actually a school bus, but nonetheless a vehicle that would take everyone on a journey to learn about the past, present, and possible future of these two cities.
This journey took passengers to three locations and introduced them to individuals and organizations that are engaged in work and activities that enhance and celebrate the experiences of residents and visitors to both cities. This was an opportunity for the students to conduct research for their Youth Voices community cause, and identify people, places, and organizations to reach out to for their project and explore the history of their community to find possible precedent for their projects.
The first stop was Earthworks Farm in South El Monte, a work-training and educational urban farm located in the Whittier Narrows Recreation Area. Marianne Zaugg, development director, gave participants a tour of the farm and shared its history, work, and goals with the group. The farm bridges the agricultural past of the area with the current need for healthy and sustainable food choices for residents. The area nestled between the Rio Hondo and the San Gabriel River was known to have rich fertile soils and a temperate climate; now the area is considered to be a food desert with limited access to healthy and nutritious food.
Marianne invited the students, especially those interested in building school gardens, to participate in gardening workshops and seek out advice from the San Gabriel Valley Conservation Corps (SGVCC) interns and Earthworks senior farmer, Angel Abarca. Reaching out to the community is important to the farm and its overall goal to provide nutritious food, environmental education, and farm-related recreation to the the surrounding community. This was a wonderful opportunity for the students to be introduced to the Farm and for Marianne and her colleagues to connect with the students and their teachers.
Amigos de los Rios also made time to stop by the Earthworks Farm to talk to the students about the Emerald Necklace, volunteer opportunities, and invite the students to see them as a resources for their projects. Bryan Slade, Amigos volunteer and community outreach coordinator, and Nikol Hlady, organization Fellow, spent time with the students discussing their work, the importance of green spaces, funding possibilities, and partnership opportunities. They both encouraged the students to contact them if they had any questions or needed advice on how to proceed with their community causes.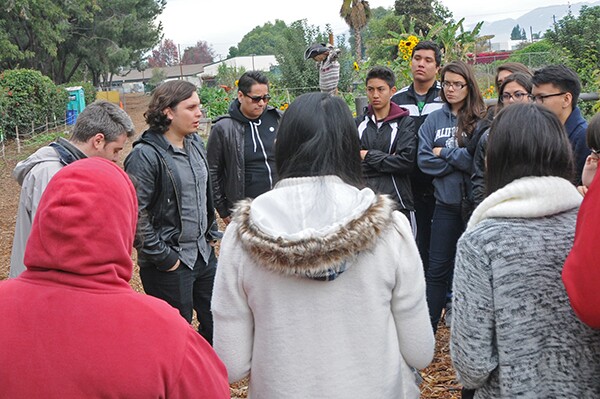 The next stop was the El Monte Historical Museum, a city-run archive of historical artifacts and stories from the pioneer past of the city. It offers a peek into scenes from the past, including a general store, school house, pharmacy, and a home. Students enjoyed the tour, conducted by curator Donna Crippen, which provided them with a treasure trove of information on the history of El Monte.
Some students were curious about the lack of content on Latino and Asian residents, as the current installations primarily highlight Anglo residents and artifacts pertaining to their experiences. This did not dampen the students enthusiasm for the museum and the history they learned, but it did motivate them to question and critique this gap and explore how their Youth Voices projects can help address this void.
Local history is a topic minimally explored in schools. Outside of California history in fourth grade, very few local stories are incorporated into the general curriculum. But for Romeo Guzman and his colleagues at the South El Monte Arts Posse (SEMAP) it is this local history that informs and may inspire students and residents alike to prioritize community engagement.
He spoke to students before and after they toured the El Monte Museum. He described how SEMAP collects oral histories and family photographs to assist in telling the stories of the residents of South El Monte and El Monte. He emphasized how their own family members may have wonderful stories to share that highlight important historical moments. He provided an example with the story of his father's belt buckle that offers a direct link to his dad, but is also connected to the story of Mexican immigrants in the United States and Southern California in particular.
Romeo invited the students to participate in various SEMAP events during the month of January, where they will be collecting oral histories and photographs that covers El Monte and South El Monte history. They will have a chance to shadow historians as they interview contributors, view interviewing techniques in action, and perhaps meet possible interviewees for their Youth Voices community cause projects. In the process, they will be able to learn more about the history of their community.
As half of the students visited the Museum, the other half met across the street at Arceo Park to listen to Romeo and other speakers. The park is named after Officer Manuel Anthony Arceo, an El Monte police officer killed in the line of duty in 1974. In addition to being an important memorial, the park also demonstrates the the City's growing commitment to providing healthy activities for it's residents through the implementation of the Arceo Walking path. Residents are encouraged to use the park for recreation and exercise.
This is a cause close to David Diaz and Amy Wong, representatives of DayOne, an organization focused on issues of community health and youth advocacy. David and Amy provided the students with information on projects that the students could participate in or incorporate into their Youth Voices community cause. They spoke about the recently passed El Monte and South El Monte Complete Streets initiative that seeks to ensure that roadways are designed and operated with everyone in mind, including pedestrians, bicyclists, public transit users, and vehicles. They also discussed future plans to open a bike depot at nearby Fletcher Park, where youth could take part in a variety of workshops related to biking and other creative endeavors.
Both David and Amy are from El Monte and South El Monte so their work is tied very closely to their experiences growing up in the community. In that way they are very similar to the students who have based their community causes on their own experiences being raised in the area.
This trip was an opportunity for the students to see and hear about great work already being done in the community and learn how they can be a part of this overall endeavor -- documenting the past, analyzing the present, and building the future of their communities through the development of their projects.