On a cool autumn morning The HeArt Project welcomed over 100 students and educators from eight alternative and continuation high schools throughout L.A. County to La Plaza de Cultura y Artes. Students stepped off their school buses and entered the courtyard of the museum with excitement and anticipation to what the morning would hold. They were there to exhibit and celebrate the work they had created as participants in a ten week course entitled, "Mapping the Metropolis: Finding the Heart of the City."
The HeArt Project has partnered with KCET Departures Youth Voices and La Plaza de Cultura y Artes to engage students in a multimedia exploration of the origins of Los Angeles and plot a path to their own communities, defining their place in the ongoing story of our Metropolis. The students had an opportunity to critically examine what they see around them, comment through their art, and share their creative assessment with the public at a final exhibit of their work.
Every ten weeks a new group of young people will offer their own interpretation of their community; approximately 300 students will ultimately have their point of view on Los Angeles on display.
The Departures Youth Voices media literacy curriculum is an ideal resource offering 11 workshop modules and hundreds of interviews, photographs and videos that are part of the Departures interactive neighborhood murals. The HeArt Project teaching artists were invited to pull ideas from all the Departures content (mapping, digital media production and interactive design) that complemented the project they were developing with their students. They also had an opportunity to blog about their classroom experiences and feature the student's work on the Departures website.
Teachers and students were also given an opportunity to visit La Plaza de Cultura y Artes, who generously provided transportation and a guided tour of the exhibit "LA Starts Here." The students examined Mexican and Mexican American history and identity in Los Angeles by exploring iconic artifacts, photographs, videos and listening to first person accounts of living and working in L.A. through the decades.
The teaching artists challenged the students to take a critical look at their lives and express what they learned in a creative and novel way. The students' work expressed their unique vision of themselves and their city, and provided new insights into their own lives. One student stated, "Doing this pushed me to think more about me and my family and to talk to my mom. She told me about how she came to L.A. I had never talked to her about that."
The HeArt Project has been successfully offering arts programs at alternative and continuation high schools for the past 20 years, partnering with Los Angeles arts organizations to provide young people with important life and professional skills, ultimately encouraging many to stay in school. The arts are used as a key to unlock the potential of young people who have been marginalized and are in danger of falling through the cracks of the educational system. The belief that the arts offer a way to connect with students, and a truly integrated academic approach, was recently addressed by the LAUSD Board of Education, when in early October the board established the arts as a part of the district's core curriculum. They noted that an arts rich education is essential for a complete and successful educational experience for all students. This is an important step with national implications, and one that highlights the innovative and leading edge work of the HeArt Project.
This was clear in the work exhibited by the students. The work shown was complex and featured a multi-layered understanding of place and community. One class created a wall size map of their neighborhoods and personal experiences that incorporated a soundscape of voices, street sounds, helicopters, and music. Other classes photographed and interviewed family and community members, created original videos, drawings and paintings that inserted their point of view into the conversation looking to define the metropolis, and ultimately locating the heart of the city in themselves.
The following photos are a sampling of some of the art work created by students from The HeArt Project:
Student work from Pueblo De Los Angeles High School
Teaching artist: Jonas Becker
Student work from Frida Kahlo High School
Teaching artist: Gustavo Baca
Student work from Culver Park High School
Teaching artist: Daniel Flores
Student work from Rose City High School
Teaching artist: Heriberto Luna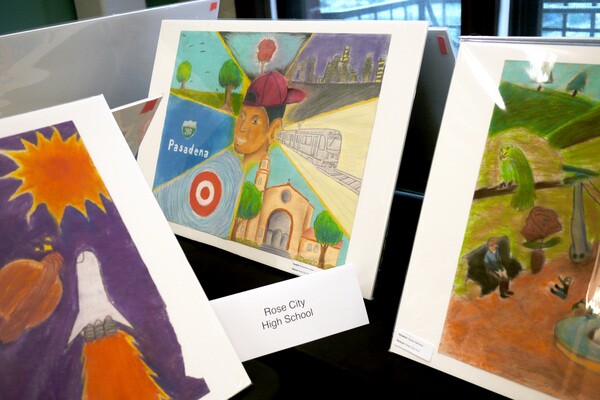 Student work from Destiny Girls School
Teaching artist: Erin Grayson
Photos by Yosuke Kitazawa and Justin Cram